You will still be mad about Mad About You
November 20th, 2019 under Helen Hunt, Paul Reiser, Spectrum. [ Comments:

none

]

Back in 1992, we got to know Paul (Paul Reiser) and Jamie Buckman (Helen Hunt), two New York newlyweds, trying to make their marriage work. In 1999, we said goodbye to the new parents. Or so we thought.
Twenty years later, they are saying goodbye to their daughter Mabel, who is going to college. Starting today, you can watch the 12-episode event on Spectrum TV as the Buckmans adjust to being empty nesters.
The revival starts off with Paul and Jamie getting their only child ready to leave for college. Sadly for Mable, she chose to go to school in Manhattan, so her parents will stop by all the time unannounced. Which, of course, she will not like. There will be growing pains for their parents, they will learn to adjust.
They are not the only ones adjusting, several of the original cast members are back and their lives are different too. Jamie's sister is still single and Lisa (Anne Ramsay) has a really cool job. Ira (John Pankow) has a woman in his life and they run a restaurant together. Mark (Richard Kind) and Fran have gone their different ways and he is married to someone new.
Like real life, their lives changed over the last two decades. What hasn't changed is the feel of the show. Like Will & Grace, it feels like no time has passed since the first run and this one. If you are a fan of the original, then you are going to love this update. I know I am loving it after watching the first six episodes.
---
Helen Hunt is Mad About Cloris Leachman
October 3rd, 2019 under Cloris Leachman, Helen Hunt, Spectrum. [ Comments:

none

]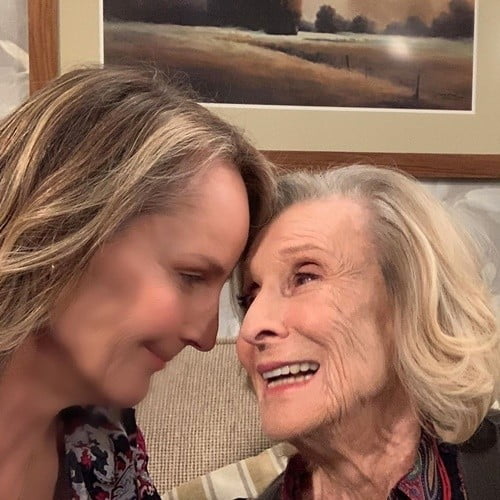 We already know that Spectrum Originals is doing a revival of Mad About You. What we did not know until today is that Cloris Leachman is going to guest star on the show. However, we do not know what she is going to be doing on it. What we do is the 93-year-old legend looks amazing with her co-star Helen Hunt.
This casting makes me more even excited for the series' debut on November 20th. Who doesn't love watching Leachman do her thing?
---
Mad About You fans have something to be thankful for this Thanksgiving
September 5th, 2019 under Helen Hunt, Spectrum. [ Comments:

none

]

For over a year, Paul Reiser tried to find a home for Mad About You. Finally, Spectrum decided to save the day and picked up the show as a limited series.
Today, they announced that the first 6 episodes of the show will debut on November 20th and the latter six will come out on December 18th. Not only that all 164 episodes are available now to watch on Spectrum OnDemand.
What can we expect from the 12 episodes? "The series will explore the fertile ground of modern marriage through the eyes of the Buchmans as newly minted empty-nesters after dropping their unpredictable, hard-to-control daughter Mabel (Abby Quinn) off at college." John Pankow and Richard Kind reprise their roles as Ira Buchman and Dr. Mark Devanow.
With all the blood, sweat and tears that Helen Hunt and Reiser put into this revival, I hope it is good. Which I am assuming it will be.
---
LA Finest is the finest LA cop show!
May 13th, 2019 under Gabrielle Union, Jessica Alba, Spectrum. [ Comments:

none

]

Bad Boys was good, but they have nothing on the television spinoff LA Finest. Jessica Alba and Gabrielle Union bring their sass to Spectrum OnDemand today. The networks might have rejected it, but Spectrum was smart to make it their first scripted show.
Syd (Union) moved from Miami to LA to have a calmer life as a detective after being shot and left for dead. That past makes her the tough cop that she is, but she does not share her former life with anyone including her partner.
Nancy (Jessica Alba) also has a troubled past, but she turned her life around. She is now married to Patrick McKenna (Ryan McPartlin) and together they are raising his teenage daughter Izzy (Sophie Reynolds). Patrick just got offered the job to be the District Attorney and that is going to affect the McKenna household
You don't care about that. You want to know if they are going to be explosions, car chases, shoot outs, fights and all those other things that come with Dick Flicks. The leads might be females, but they have bigger balls than most of their male competition.
They are women hear them roar on Spectrum.
---
Are you happy about Mad About You coming back to television?
March 6th, 2019 under Helen Hunt, Paul Reiser, Spectrum. [ Comments:

none

]

After a year of pitching a Mad About You revival, the show finally has a home. Spectrum Originals announced today that it picked up the sitcom for a limited event series to air later this year.
So far the only original cast members returning are Paul Reiser and Helen Hunt aka Paul and Jamie Buchman. I am sure that will change as they ramp up production. When they do start filming, Hunt will direct the first episode along with starring in it.
Katherine Pope, Head of Original Content, has this to say about it, "Two decades ago, fans fell in love with this show, and this time will be no different as Paul, Helen and Peter [Tolan, EP] explore modern marriage through the eyes of two people who have just become empty-nesters. We can't wait for everyone to fall in love with the Buchmans all over again.​"​
How much do you want to bet that they have an episode dealing with them trying to figure out how to use social media and how to do esex? I can just hear his NY accent whining about it now.
This is Spectrum's second original series. LA Finest, a spinoff of Bad Boys with Gabrielle Union and Jessica Alba, will debut on May 13th.
---