Does Ricky Schroder's wife get to keep half of the Silver Spoons?
September 13th, 2016 under Divorce. [ Comments:

none

]

After 23 years of marriage and 4 kids, Ricky Schroder's wife Andrea has filed for divorce. According to People, she cited Irreconcilable Differences as the reason for the split. As of now, we don't know what made her file two weeks before their 24th anniversary. What we do is that she is seeking spousal support, coverage of attorney's fees and both the legal and physical custody of the couple's only minor child, Faith.
I thought because they took their love out of Hollywood that they would be one of the ones that would actually last, I guess no where is safe.
---
Keshia Knight Pulliam and her husband split after 6 months of marriage
July 26th, 2016 under Divorce. [ Comments:

none

]

Last week, Keshia Knight Pulliam announced that she is pregnant with her first child, so you think this would be a happy time for her. Sadly it is not because her husband Ed Hartwell filed for divorce yesterday and reportedly didn't tell her that he did. According to YBF, not only did he ask for an end to their marriage, he also wants a paternity test to prove that the girl she is carrying is his. The site also claims that they have been bickering for a while before the surprise filing.
The ex-NFL player and the actress dated for four months before saying I do on New Year's Eve. The baby is due in January.
This is yet another story we would not have seen on The Cosby Show about the real lives of the stars from the show. I think we all know a lot of the other plots they could never do on the family friendly sitcom.
---
Kaley Cuoco and Ryan Sweeting's marriage turned sour
September 25th, 2015 under Divorce, Kaley Cuoco. [ Comments:

none

]

Kaley Cuoco and Ryan Sweeting's one night stand has ended almost three years after it started. The couple told People that they have decided to divorce after 21 months of marriage. No word was given for the split, but I am assuming they fell out of luv.
They are third couple to have their divorce announced today, according to TMZ Anthony Anderson's wife filed for divorce after 20 years of marriage and also per TMZ Casper Van Dein and Catherine Oxenberg are ending their royal affair after 16 years.
You have to wonder on a day like this, who is next?
---
The nightmare before Christmas
December 23rd, 2014 under Divorce. [ Comments:

none

]

Helena Bonham Carter and Tim Burton announced today, two days before Christmas, that they have split after 13 years, 5 movies and 2 kids together. Her rep told People, the couple who never married "separated amicably earlier this year and have continued to be friends and co-parent their children."
Now I have to wonder, who will Johnny Depp choose because you always have to pick one person in the couple to continue doing movies with after they split. Please say he chooses the actress because I hate his over-the-top movies.
Who do you think should get custody of Edward Scissorhands?
---
Richard Gere is an American Gigolo again!
September 25th, 2013 under Divorce. [ Comments:

1

]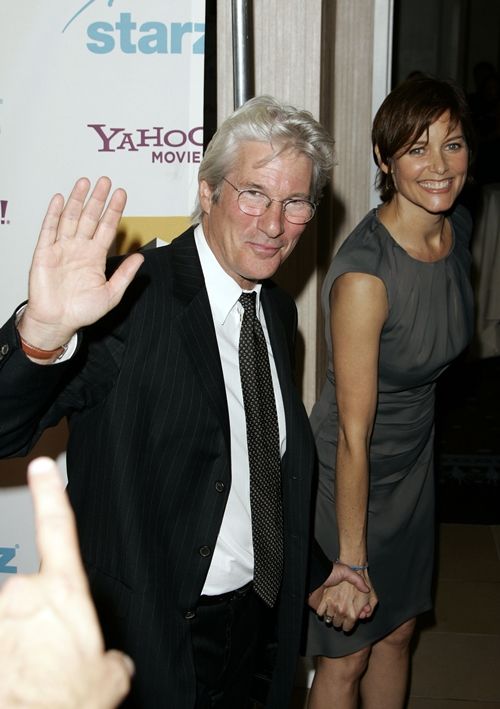 (photo from Fame Flynet)


Richard Gere and his wife, Carey Lowell, have called it quits after 11 years of marriage. According to Page Six the two grew apart because of their different lifestyles. He likes the quiet life and she likes the party scene.
The two have a 13 year old son, Homer James Jigme, together.
BTW am I the only one who has found him extremely attractive after he starred in And the Band Played On?
---