Of course, 2020 gives us a Star Wars Holiday Special
August 14th, 2020 under Disney+, Lego, Star Wars. [ Comments: none ]

Back in 1978, Star Wars got its own holiday special. It was so horrendous that people tried to bury it with E.T.: The Extra Terresterial Atari game. Therefore, you would think they would never attempt another one again.

Well, Disney+ says how much worse can 2020 get. Therefore, they are teaming up with Lego to do a Christmas special with Star Wars' most loved characters.
Set after the events of Star Wars: The Rise of Skywalker, Rey leaves her friends to prepare for Life Day as she embarks on a new adventure with BB-8 to gain a deeper knowledge of the Force. At a mysterious Jedi temple, Rey finds herself hurled into a cross-timeline adventure through beloved moments in Star Wars cinematic history, coming into contact with Luke Skywalker, Darth Vader, Yoda, Obi-Wan Kenobi and other iconic heroes and villains from all nine Skywalker saga films. But will she make it back in time for the Life Day feast and learn the true meaning of holiday spirit? You'll have to watch to find out!
The LEGO Star Wars Holiday Special will debut on November 17th.
On a positive note, Bea Arthur will not be part of this special. Maybe they can get Brad Garrett to play her part.

---
Zac Efron reunites with Disney for a Three Men and a Baby remake
August 10th, 2020 under Disney+, Zac Efron. [ Comments: none ]

Disney+ is remaking Three Men and a Baby, and Zac Efron is going to play one of the men according to The Hollywood Reporter. However, we don't know which one. Do you think he is a Tom Selleck, Ted Danson, or Steve Guttenberg? I say he is playing Guttenberg's character.
When it comes to the remake, I don't think it needs to be made. I would rather have a third film with the original three. If not, then I want the infamous ghost from the first picture to get his own movie.

---
Hamilton comes to Disney+ on July 3rd
May 12th, 2020 under Disney+, Lin-Manuel Miranda. [ Comments: none ]

We might not get fireworks this Fourth of July, but we will have them inside our homes. That is because Bob Iger, Executive Chairman, The Walt Disney Company, and Lin-Manuel Miranda announced on Good Morning America this morning that Hamilton will be coming to Disney+ on July 3rd.
This recording of the Broadway show's performance was recorded for three days back in June 2016 before some of the original cast members left the musical to pursue other opportunities. It is directed by the man who directed the original production.
Miranda described it as, "just imagine having the best seat in the house." Now, we have the best seat in that house, in our houses anytime we want! See fireworks!
This movie was originally slated to hit the big screens in October 2021, I am so thankful Disney moved it because it is exactly what we all need now.

---
Hilary Duff wants the Lizzie McGuire revival to move to Hulu
February 29th, 2020 under Disney+, Hilary Duff. [ Comments: none ]

Last year, Disney+ announced that they were reviving Lizzie McGuire with Hilary Duff. Then last month, they fired the creator, because they wanted to go in a different direction, and put the show's production on hold. Yesterday, the actress took to social media, asking that Lizzie move from Disney+ to its sister streaming site Hulu like the Love, Simon sequel will do.
Was incredibly excited to launch "Lizzie" on Da- and my passion remains! However, I feel a huge responsibility to honor the fans' relationship with LIZZIE who, like me, grew up seeing themselves in her. I'd be doing a disservice to everyone by limiting the realities of a 30 year old's journey to live under the ceiling of a PG rating. It's important to me that just as her experiences as a preteen / teenager navigating life were authentic, her next chapters are equally as real and relatable. It would be o dream if Disney would let us move the show to Hulu, if they were interested, and I could bring this beloved character to life again!".
To me, it sounds that Lizzie will no longer be happening. At least we are getting Proud Family!

---
Justin Theroux reveals how the Tramp went from a shelter to Hollywood
August 26th, 2019 under Disney+, Justin Theroux. [ Comments: none ]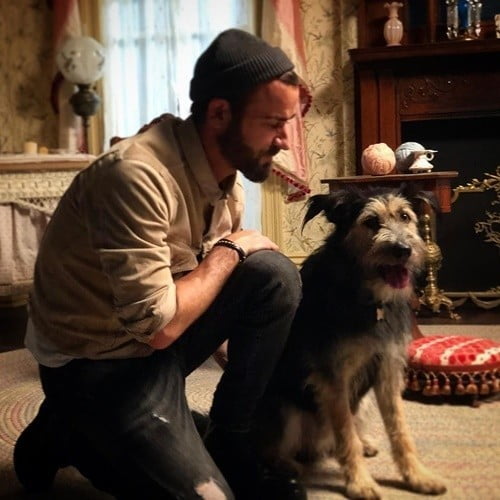 Over the weekend, we fell in love with Lady and The Tramp all over again. Today, we have more reason to arfdore the live-action film that is coming to Disney+ on November 12th. Justin Theroux shared Monty's (The Tramp) story and it is the perfect tail, I mean tale, for National Dog Holiday. A day, my cat thinks is far from purrfect.
Anyways, here is what Theroux wrote:
MEET MONTY!!!! 🐕 ❤️ Sometimes things work out perfectly. PLEASE scroll through for HIS VERY very cool story.. Monty was rescued from @halorescue … an amazing NO KILL shelter in Phoenix AZ 🙏🏼 … he was found by @disney who was looking for shelter animals to cast in LADY AND THE TRAMP! IN which there are TONS of rescue dogs. 🐾 Woohoo! Including, yours truly… KUMA who was given a really huge starring role (okay, it was teensy but don't tell her 😬). A huge thank you to @disney for giving not just Monty, but so many dogs a big break, not just in the movie, but a life outside of the shelter!
And a huge thank you @ladyandthetramp for letting me be Monty's voice, so he can show the world how amazing shelter animals really are.
#adoptdontshop
@ladyandthetramp
#DisneyPlus
#LadyAndTheTramp
@tessamaethompson my Lady! ❤️
I love when movies, like this and Pet Sematary, give rescue animals a second chance of life. One that is better than us people, who walk on two legs, can ever imagine. Thank you, Disney, for rescuing Monty and all of the other dogs.
My first cat was a stray and my other two are rescues. Therefore, I strongly believe is Adopt Don't Shop. Thank you to Seth and Rachel MacFarlane, and Heaven on Earth for letting me adopt my latest furbaby from Perry's Place.

---