BTWF: Ty Burrell in Law & Order
December 29th, 2021 under Before They Were Famous, Modern Family. [ Comments: none ]
Before Ty Burrell was happily married on Modern Family, he was divorced on Law & Order. Even though this was his on-camera debut, the 33-year-old gave an Emmy-winning performance in the 2000 episode.

---
Has Nolan Gould gone from Modern Family to stripping?
August 17th, 2021 under Modern Family. [ Comments: none ]
It has been over a year since Modern Family ended. Since then, we have not seen Nolan Gould do much, so has the actor decided to try a new career?
He shared a video of himself working the pole, so is he earning a living as a stripper now?
"Tragic Mike. Might delete this immediately but had to share the results of my first pole dancing class," he wrote. "Always wanted to try it. Thanks @alyssadventures for an amazing class and my supportive friends for helping make it happen. I am uncoordinated and inflexible as hell. My body is basically made of Lego bricks."
You know, he did a good job. He should consider doing it for a living if times get rough. Although, I don't think it will get that way anytime soon.
Oh, and if we were to picture any of his castmates becoming a stripper, he would not be on top of the list. Instead, that title would go to Ty Burrell. Wink, wink!

---
Ariel Winter calls out her TV family for not inviting to their picnic
June 24th, 2021 under Ariel Winter, Modern Family, Sarah Hyland. [ Comments: none ]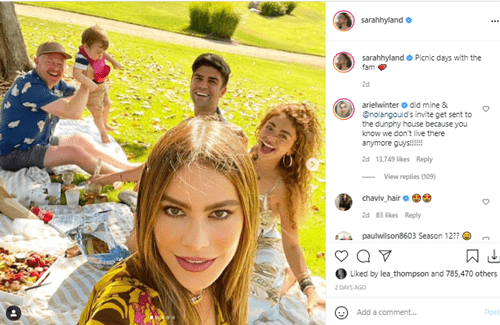 Over the weekend, Jesse Tyler Ferguson, Sofia Vergara, and Sarah Hyland all got together for a picnic. Where were the other cast members from Modern Family?
It seems like we got an answer. Ariel Winter posted this comment to her TV sister, "did mine & @nolangould's invite get sent to the dunphy house because you know we don't live there anymore guys!!!!!!" Me and ow.
It sounds like we are not going to have a friendly reunion with this cast anytime soon.

---
A mini-Modern Family reunion
June 21st, 2021 under Joe Manganiello, Modern Family, Sarah Hyland, Sofia Vergara. [ Comments: none ]
There were three Pritchett houses on Modern Family. Over the weekend, one member from each house met up in an undisclosed location and broke bread.
Sofia Vergara brought her husband, Joe Manganiello, to the picnic instead of Jay. Jesse Tyler Ferguson who cheated on his husband Cam with his real-life husband, Justin Mikita. And finally, they were joined by Sarah Hyland and her fiance' Wells Adams. He is a lot smaller than I remember. That could be because he is off filming Bachelor in Paradise, and she is stuck holding her TV uncle's baby, Beckett. Would that make him her cousin?
Anyways, it is nice to see that not only did they play a family on TV, but they also became one who likes to spend time together.
Now back to the nearly one-year-baby, how awwwwdorable is he? He looks just like his fathers.

---
Jesse Tyler Ferguson had skin cancer removed
June 7th, 2021 under Modern Family. [ Comments: none ]
Jesse Tyler Ferguson has pale skin, which means he is at higher risk to develop skin cancer. Therefore, he goes to the dermatologist often to make sure everything is OK. Today, he went to the doctor, and they noticed something that looked abnormal.
"Reminder to stay up to date on your dermatology checks… especially if you're fair like me. I always wind up getting something taken from me, every time I go. 😩," the Modern Family star wrote. "Today, they took a bit of skin cancer that they found. Don't worry, I got it early and I'm gonna be just fine. 🔪 (and, wear sunscreen! SPF 1000 for me!)"
Thankfully, he is going to be fine.
And he is correct. If you are fair-skinned like us, then go see your dermatologist and wear sunscreen between visits. No one told us when we were younger not to lay out as much.

---