Jesse Tyler Ferguson is expecting a human in July
January 23rd, 2020 under James Corden, Modern Family. [ Comments:

none

]

They say as one door closes, another one opens. For Jesse Tyler Ferguson, that is very true. The actor revealed on The Late Late Show with James Corden yesterday that he and his husband Justin Mitka are expecting their first child in July. The same month as their seventh anniversary.
That is the door that is opening, the one that closes happens on April 8th. That is when we will say goodbye to his show Modern Family.
He won't be too sad that the show is ending, now that he has a baby to put bow ties on. You know he will do that whether it is a boy or a girl. As of now they do not know what they are having.
---
Is this Ellen DeGeneres' greatest Eric Stonestreet scare?
November 22nd, 2019 under Ellen DeGeneres, Modern Family. [ Comments:

none

]

Ellen DeGeneres loves to scare Eric Stonestreet, and I enjoy her doing it. Yesterday, when the Modern Family star was the show, he thought he was safe because she already scared him once on the episode.
He also thought he was out of the woods because she asked him to play a game. He was wrong. She had one more trick up her sleeve. When they asked him, "Name three things you are scared of," during 5 Second Rule, someone jumped out of the table and scared him. So much so, he walked off the set.
Don't worry, he will be back! And Ellen will scare him again.
---
Modern Family is filming in Paris!
November 13th, 2019 under Modern Family. [ Comments:

none

]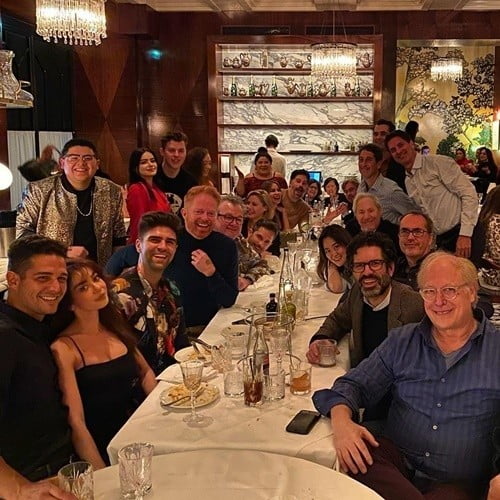 Modern Family is filming their final episodes, and they are going to take one more epic trip before they say goodbye. The sitcom's creator, Steve Levitan, took the cast and writers to Paris for a special episode and they also shares a celebratory dinner while they are there.
While we do not know why the Pritchetts are going to the City of Love, we can see in this photo that they all love each other like a family. You could say they are like a modern family.
---
Modern Family goes as Christmas for Halloween
October 31st, 2019 under Modern Family. [ Comments:

none

]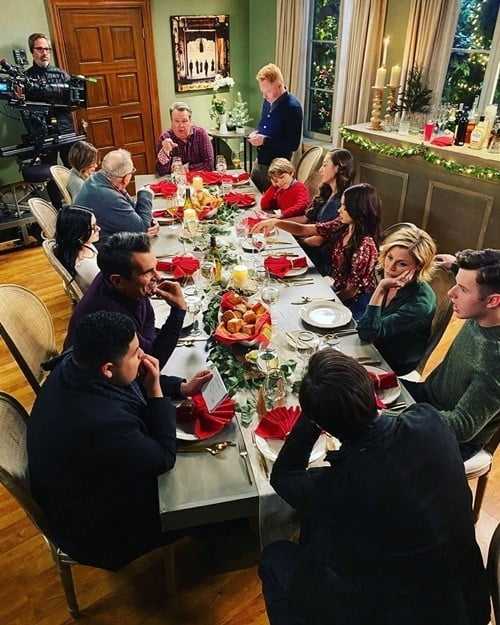 Even though today is October 31st, it is looking like December 25th on the Modern Family set. That is because Jesse Tyler Ferguson and the cast of the ABC show are filming their Christmas episode now. It must be so confusing for everyone, is it Christmas or Halloween. Unless they think of it as dressing up for a different holiday on today's holiday. Which works, I think?
---
Julie Bowen was caught between David Beckham's legs
October 27th, 2019 under Modern Family, Saved by the Bell/City Guys. [ Comments:

none

]

David Beckham is going to guest star on Modern Family again and Julie Bowen decided to have some fun. She saw that her co-star's legs were wide open so she decided to go for it. The actress got on the floor and walked between his legs.
The big question is not why she did it. It is why didn't she look up at his golden balls when she was under them.
---