Modern Family is filming in Paris!
November 13th, 2019 under Modern Family. [ Comments:

none

]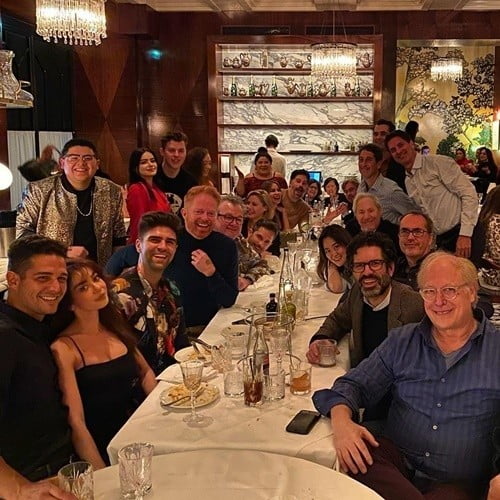 Modern Family is filming their final episodes, and they are going to take one more epic trip before they say goodbye. The sitcom's creator, Steve Levitan, took the cast and writers to Paris for a special episode and they also shares a celebratory dinner while they are there.
While we do not know why the Pritchetts are going to the City of Love, we can see in this photo that they all love each other like a family. You could say they are like a modern family.
---
Modern Family goes as Christmas for Halloween
October 31st, 2019 under Modern Family. [ Comments:

none

]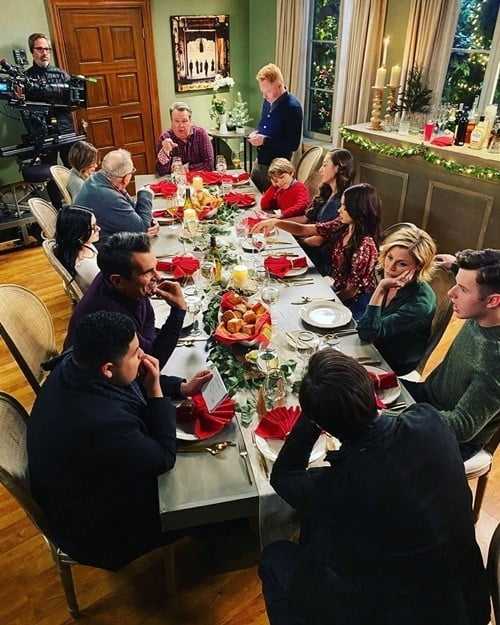 Even though today is October 31st, it is looking like December 25th on the Modern Family set. That is because Jesse Tyler Ferguson and the cast of the ABC show are filming their Christmas episode now. It must be so confusing for everyone, is it Christmas or Halloween. Unless they think of it as dressing up for a different holiday on today's holiday. Which works, I think?
---
Julie Bowen was caught between David Beckham's legs
October 27th, 2019 under Modern Family, Saved by the Bell/City Guys. [ Comments:

none

]

David Beckham is going to guest star on Modern Family again and Julie Bowen decided to have some fun. She saw that her co-star's legs were wide open so she decided to go for it. The actress got on the floor and walked between his legs.
The big question is not why she did it. It is why didn't she look up at his golden balls when she was under them.
---
Is Eric Stonestreet trying to make Jesse Tyler Ferguson's B-day his last one?
October 22nd, 2019 under Modern Family. [ Comments:

none

]

Today is Jesse Tyler Ferguson's 44th birthday and his TV husband wanted to surprise the B-day boy. How did Eric Stonestreet do it? Basically, when Mitchell would least expect it, Cam would scream out, "Happy birthday!"
Which makes you wonder if Stonestreet is trying to make it so that Ferguson's birthday is also his deathday?
Too bad, Eric's birthday was last month. I would like to see how Jesse gets him back. If he gets revenge next year, it will be even sweeter. That is because they will be done filming Modern Family, so the prankster would never ever expect it.
---
Reid Ewing's tan is enough reason to watch Modern Family tonight
October 2nd, 2019 under Modern Family. [ Comments:

none

]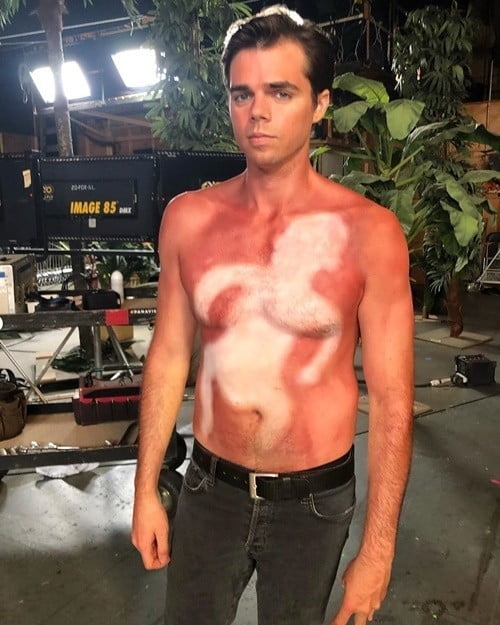 Modern Family is in its final season. However, it is not over yet. Tonight at 9p on ABC, they are keeping us all laughing with the newest members of the Dunphy Family.
We know that Haley (Sarah Hyland) is in over her with her twins and she is not alone. It looks like her husband is also having his own issues with them too. It appears that Dylan (Reid Ewing) falls asleep in the sun with one of them on his chest. Which one and how it happened? We do not know, so we will have to tune in to find out how he got the worst tan line in television history. There are people who have had worse ones in movies.
Seriously, I love this behind the scenes photo that Modern Family Hair & Makeup posted so much, I had to share it with all of you.
---