Is Sofia Vergara trying to write Eric Stronestreet out of her life?
August 22nd, 2019 under Do they have something to tell us?, Modern Family, Sofia Vergara, Uncategorized. [ Comments:

1

]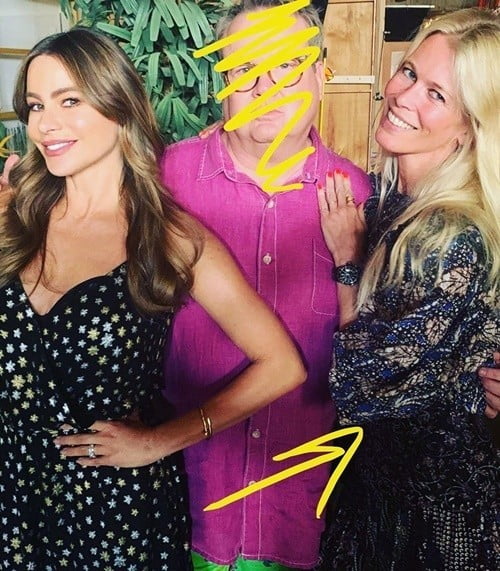 Sofia Vergara posted a photo with Eric Stonestreet crossed out, so are Modern Family stars no longer family? Nope. She explained, "My teenage girl crush came to visit!!! Sorry @ericstonestreet!!! I needed a picture alone!!! @claudiaschiffer 😍😍😍😍"
I am sure he would not mind being in the meat in that sandwich if Vergara's teenage dream was able to be fulfilled.
When it comes to what the Supermodel is doing on the show, we do not know. We will find out on one of the Wednesdays after September 25th. That is when the ABC sitcom returns for its final season.
---
How much has the cast of Modern Family changed since 2009?
July 31st, 2019 under Modern Family. [ Comments:

none

]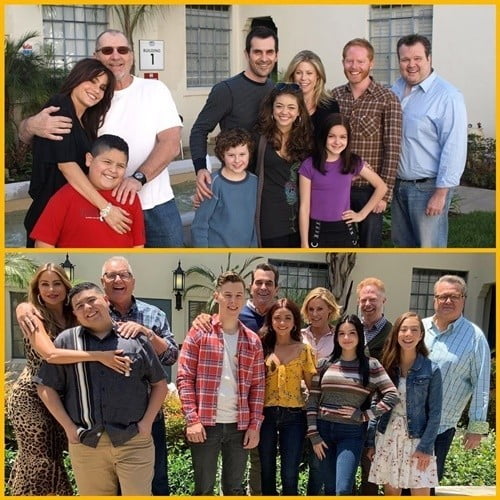 Back in 2009, EP Steve Levitan took a photo of the cast of his then brand new show, Modern Family, on their first day of filming their first season. Today, was their also their first day of filming but for their last season of the show and he took another group photo.
He showed how much Sofia Vergara, Rico Rodriquez, Ed O'Neill, Nolan Gould, Ty Burrell, Julie Bowen, Sarah Hyland, Ariel Winter, Jessie Tyler Ferguson and Eric Stonestreet have changed in 10 years. The kids got taller, the hair color got lighter and their`bodies got rounder. However, one thing has not changed and that is how much they love each other.
Which is why we are sad to see this sitcom go. However, they still have a whole season to air before they say goodbye. Therefore, mark your calendars because season 11 starts airing on ABC September 25th.
---
Eric Stonestreet is secretly gray?
March 26th, 2019 under Modern Family. [ Comments:

2

]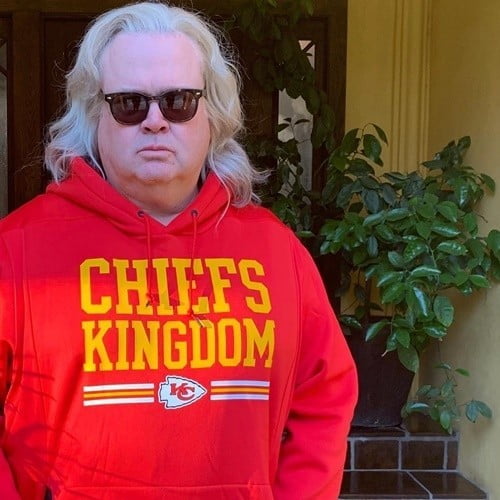 Ever since we got to know Eric Stonestreet on Modern Family, he has had short brown hair. Now that the sitcom is going into its final season, he let his real locks flow freely. The actor revealed that he has wavy grey hair doww to his shoulders. Who knew? You know what, it oddly works on him.
---
ABC renews 4 shows and announced Modern Family is ending
February 5th, 2019 under ABC, Modern Family, Uncategorized. [ Comments:

none

]

ABC announced today that they are picking up The Good Doctor, Shark Tank and the depressing A Million Little Things for another season. That is the good news.
The bad news in that they also picked up Modern Family for an 11th and finale season. That means we have to sit through another season of the sitcom that should have ended a few seasons ago. Hopefully, they will get back to how good they were the show first started which would be really nice to the loyal fans. Are you sad MF is adding? What will Sofia Vergara do?
When it comes to TGD, I am happy about the renewal after last night's episode. It got back to where they were last season. Let's just hope it doesn't go downhill when the show's Executive Producer joins the show as Chief of Surgery later this month.
---
Even when Ellen DeGeneres is trying not prank Eric Stonestreet, she does!
January 18th, 2019 under Ellen DeGeneres, Michael Bublé, Modern Family. [ Comments:

none

]

Ellen DeGeneres decided to send Michael Bublé to Handy Market in Burbank to work as a cashier. While that would be good enough, she took the prank one step further. The host was going to tell him what to do in his earpiece.
How did it go? His first costumer was Eric Stonestreet. Since the Modern Family actor has been pranked before by Ellen several times, he knew something was up. He was right, although it was his girlfriend who realized it was the crooner who was packing their groceries.
The lesson of this story is Burbank is the real Hollywood, where the magic really happens.
---