ZOMBIES 3 is out of this World!
July 15th, 2022 under Camryn and Milo Manheim, Disney+. [ Comments: none ]
A few years ago, I was sitting at home looking for something to watch and I watched ZOMBIES. It was love at first viewing.
The movie is a modern take on civil rights. It is about integrating Zombies from Zombieland into Seabrook High School with your run-of-the-mill humans. At first, the humans and the Zombies are not willing to integrate with each other. But then Addison (Meg Donnelly), the popular cheerleader, falls for Zed (Milo Manheim), the Zombie football player. Once everyone learns about their interspecies love, the two species decide to get along and live in harmony!
Now that the Zombies and humans get along, it is time for the second movie. That is when we meet the Werewolves who have been banished from Seabrook. They come out of hiding when they see Addison. That is because they need to find something that belongs to them. At first, Seabrook and Zombietown don't want to integrate with them. But then they all live happily ever after.
And that brings us to ZOMBIES 3, which is streaming now on Disney+. Zed wants to be the first monster to go to college. A recruiter from Mountain College, where Addison is going, is in Seabrook to watch Zed in the most important football game in his life.
What could go wrong? Aliens! That's right; a spaceship decides to land before he even has a chance to play.
What do the Aliens want? Their planet was destroyed, and another one of their kind crashed down on Earth many years ago and hid the map to Utopia in the most precious thing in Seabrook. What is it? That Alien didn't say, so they are going to have to befriend the humans, Zombies, and Werewolves. While the former two are willing to accept the visitors from another planet, the Werewolves are not. Things get even worse for the two when the Aliens think the map is hidden in the Werewolves' most special thing.
Can all four species get along? Will Seabrook go down in flames in the final movie of the franchise???
I can't tell you that! What I can tell you is there are plenty of great song and dance numbers, which are an added bonus to all of the ZOMBIES movies.
I also can tell that ZOMBIES is the best Disney Channel/Disney+ trilogy. Suck it, High School Musical and Descendants.
If you are looking for something to watch this weekend that requires no brains (because you don't want the Zombies to eat them), check out the ZOMBIES trilogy on Disney+. I promise when you are done, you will love the three movies as much as I am. Plus, the messaging behind it is so important. So much so, I think it should be shown in schools all over the galaxy.
The movie also stars Chandler Kinney as Willa, Ariel Martin as Wynter, Pearce Joza as Wyatt, Carla Jeffery as Bree, Trevor Tordjman as Bucky, Kylee Russell as Eliza, Terry Hu as A-spen, Matt Cornett as A-lan, Kyra Tantao as A-li, James Godfrey as Bonzo and Kingston Foster as Zoey.

---
The aliens are coming for Zombies 3
June 23rd, 2022 under Camryn and Milo Manheim, Disney+. [ Comments: none ]
On July 15th, we are getting the final chapter in the Zombies franchise. Today, Disney+ dropped the trailer for the Zombies 3, and Addison (Meg Donnelly) and Zed (Milo Manheim) are not going to go down without a fight.
So who is going to win? Will it be the humans, zombies, and werewolves (who we got to meet in the second film), or will it be the aliens? My money is the former, but this is their last movie…
Either way, I will be watching! If you haven't seen to first two movies, you should watch them now. The first one is an interesting way to teach kids what it was like when schools were desegregated. Plus, the music is really catchy.

---
Camryn Manheim's career goes full circle with Law & Order
December 10th, 2021 under Camryn and Milo Manheim, Dick Wolf. [ Comments: none ]
Back in 1991, Camryn Manheim made her television acting debut as a guest star on a show called Law & Order.
Now 30 years later, she is back on the series as a star. Therefore, I think, she can retire if and when it gets canceled. I mean, how many actors can say they get to star on the show that launched their careers on decades later. I can't think of any, can you?
When it comes to her character, Deadline says she's playing Lt. Kate Dixon who is the successor to Lt. Anita Van Buren. Buren was played by S. Epatha Merkerson, who is now on Dick Wolf's other show Chicago Med.

---
Z-O-M-B-I-E-S 3 is happening, and it will be the franchise's final movie
March 22nd, 2021 under Camryn and Milo Manheim, Disney Kids. [ Comments: none ]
Disney Channel announced today that Z-O-M-B-I-E-S 3 will begin production this Spring with Meg Donnelly and Milo Manheim. That is the good news. The bad news is that this will be the last Z-O-M-B-I-E-S movie. Just like all of the other popular Disney movie franchises like High School Musical and Descendants.
"After the enormous success of 'Z-O-M-B-I-E-S 2,' we wanted to raise the stakes in this third and final installment," said Lauren Kisilevsky, Vice President, Original Movies. "So when the ultimate outsiders descend on Seabrook, our team of cheerleaders, zombies and werewolves must band together to face a threat of galactic proportions that may change the face of Seabrook forever."
That's right, The cheerleaders, Zombies, and Werewolves (the latter were introduced in the sequel) will be taking on extraterrestrial beings. The only thing they are missing is Vampires. They probably would have shown up in the fourth movie.
Seriously, ever since I saw the first film, I have been telling everyone how amazing it is. The movie was able to give an updated take on school integration in a way that this younger generation can understand. It teaches us we should accept people no matter what they look like, and we should welcome them into our lives, even if they are Zombies.
Plus, the music is outstanding, and I am still listening to it two years later. If you haven't seen it yet, you should watch it on Disney+. I promise you will love it as much as I do.

---
Camryn Manheim wins best dressed at the SAG Awards
January 20th, 2020 under Camryn and Milo Manheim. [ Comments: none ]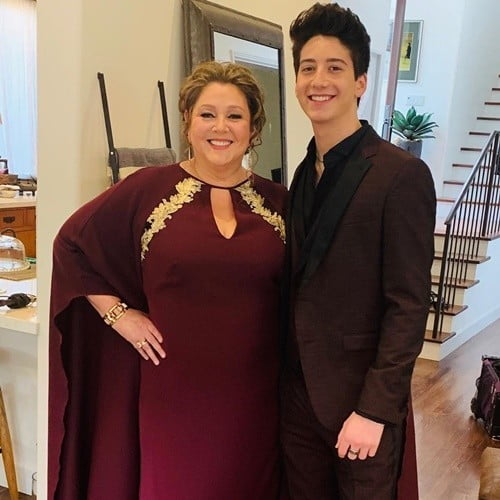 As I was scrolling down Instagram yesterday, I came across Camryn Manheim's photo, and I did not recognize her. She looked gorgeous. Not that she doesn't always appear that way, but she looked different for the SAG Awards. Her glam squad styled her hair differently, and they lightened up the makeup colors. Thus changing up her normal appearance. Not only that, the maroon and gold gown really works well with her skin coloring. Whoever styled her deserves an award as does she.
When it comes to her son Milo, the Z-O-M-B-I-E is not looking too shabby either. Don't forget the sequel to his impactful movie debuts Valentine's Day on Disney Channel.

---