This Thanksgiving, we will be eating up Thanksgiving
September 7th, 2023 under Camryn and Milo Manheim, Eli Roth, Patrick Dempsey, Suits. [ Comments: none ]
Back in 2007, Eli Roth shot a fake trailer called Thanksgiving , which was included in the Grindhouse double feature.
On November 17th, 16 years later, that trailer is finally being released as a full movie that starts Rick Hoffman, Patrick Dempsey, and Milo Manheim.
Today, the teaser trailer was released for Roth's upcoming film. And you know the saying, "Good thing comes to those who wait?" Well, it is true.
This looks so good. And I am so happy to have another Horror movie besides Thankskilling to watch on the fourth Thursday of November.
To see how the new teaser compares to the original one, then click here!

---
ZOMBIES gets re-animated on Disney Channel
June 13th, 2023 under Camryn and Milo Manheim, Disney+. [ Comments: none ]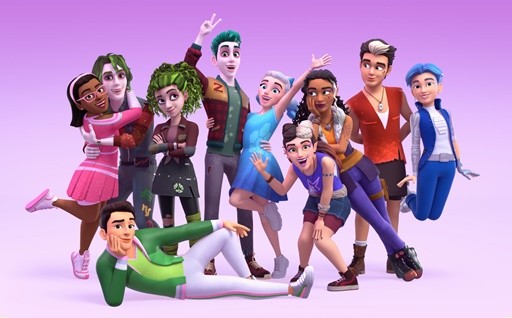 We got not one, not two, but three ZOMBIES movies from Disney Channel and Disney+. We thought after the third one; it was the last we were going to see of Zombie Zed (Milo Manheim) and his girlfriend, Cheerleader/Alien Addison (Meg Donnelly).
Today, we found out the couple and their friends are going to be back on July 21st. But they are going to look different. That is because they are getting animated.
ZOMBIES: The Re-Animated Series Shorts is an animated short-form series that continues the adventures of fan favorites Zed, Addison, and the Seabrook crew from the hit ZOMBIES franchise. The shorts, which keep the spirit and jam-packed music of the movies, find the friends encountering new monsters — a carnivorous plant monster, horrifying mega-cricket, and even evil clones — while dealing with school and new experiences like a never-ending summertime loop.
ZOMBIES will premiere on Disney Channel and then stream on Disney+.
This so made my day because I love the ZOMBIES franchise, and I can't wait to watch what trouble they get in and hear their new songs.

---
Eli Roth's Thanksgiving is coming this Thanksgiving
April 4th, 2023 under Camryn and Milo Manheim, Eli Roth, Patrick Dempsey. [ Comments: none ]
Back in 2007, Eli Roth made a trailer for a fake movie called Thanksgiving that was part of the Grindhouse movies Planet Terror and Death Proof.
Sixteen years later, that trailer is becoming a reality. The movie is currently filming in Massachusetts and stars Patrick Dempsey, Rick Hoffman, Addison Rae, Gina Gershon, and Milo Manheim.
Not much is known, but Roth wrote this with the date announcement, "Arrive hungry. Leave stuffed. #ThanksgivingMovie only in cinemas November 17th. This year, there will be no leftovers. 🔪🦃"
This news makes me so happy because I watch Horror movies based on the holiday on the day of that holiday. And I desperately need a break from Thankskilling and Thankskilling 3. So, I hope this is good because there are not enough Turkey Day horror movies to choose from.
This is not the first fake trailer from the Grindhouse film to become a feature. In 2010, Robert Rodriguez released Machete with Danny Trejo.
To see the trailer from Thanksgiving, then click here!

---
ZOMBIES 3 is out of this World!
July 15th, 2022 under Camryn and Milo Manheim, Disney+. [ Comments: none ]
A few years ago, I was sitting at home looking for something to watch and I watched ZOMBIES. It was love at first viewing.
The movie is a modern take on civil rights. It is about integrating Zombies from Zombieland into Seabrook High School with your run-of-the-mill humans. At first, the humans and the Zombies are not willing to integrate with each other. But then Addison (Meg Donnelly), the popular cheerleader, falls for Zed (Milo Manheim), the Zombie football player. Once everyone learns about their interspecies love, the two species decide to get along and live in harmony!
Now that the Zombies and humans get along, it is time for the second movie. That is when we meet the Werewolves who have been banished from Seabrook. They come out of hiding when they see Addison. That is because they need to find something that belongs to them. At first, Seabrook and Zombietown don't want to integrate with them. But then they all live happily ever after.
And that brings us to ZOMBIES 3, which is streaming now on Disney+. Zed wants to be the first monster to go to college. A recruiter from Mountain College, where Addison is going, is in Seabrook to watch Zed in the most important football game in his life.
What could go wrong? Aliens! That's right; a spaceship decides to land before he even has a chance to play.
What do the Aliens want? Their planet was destroyed, and another one of their kind crashed down on Earth many years ago and hid the map to Utopia in the most precious thing in Seabrook. What is it? That Alien didn't say, so they are going to have to befriend the humans, Zombies, and Werewolves. While the former two are willing to accept the visitors from another planet, the Werewolves are not. Things get even worse for the two when the Aliens think the map is hidden in the Werewolves' most special thing.
Can all four species get along? Will Seabrook go down in flames in the final movie of the franchise???
I can't tell you that! What I can tell you is there are plenty of great song and dance numbers, which are an added bonus to all of the ZOMBIES movies.
I also can tell that ZOMBIES is the best Disney Channel/Disney+ trilogy. Suck it, High School Musical and Descendants.
If you are looking for something to watch this weekend that requires no brains (because you don't want the Zombies to eat them), check out the ZOMBIES trilogy on Disney+. I promise when you are done, you will love the three movies as much as I am. Plus, the messaging behind it is so important. So much so, I think it should be shown in schools all over the galaxy.
The movie also stars Chandler Kinney as Willa, Ariel Martin as Wynter, Pearce Joza as Wyatt, Carla Jeffery as Bree, Trevor Tordjman as Bucky, Kylee Russell as Eliza, Terry Hu as A-spen, Matt Cornett as A-lan, Kyra Tantao as A-li, James Godfrey as Bonzo and Kingston Foster as Zoey.

---
The aliens are coming for Zombies 3
June 23rd, 2022 under Camryn and Milo Manheim, Disney+. [ Comments: none ]
On July 15th, we are getting the final chapter in the Zombies franchise. Today, Disney+ dropped the trailer for the Zombies 3, and Addison (Meg Donnelly) and Zed (Milo Manheim) are not going to go down without a fight.
So who is going to win? Will it be the humans, zombies, and werewolves (who we got to meet in the second film), or will it be the aliens? My money is the former, but this is their last movie…
Either way, I will be watching! If you haven't seen to first two movies, you should watch them now. The first one is an interesting way to teach kids what it was like when schools were desegregated. Plus, the music is really catchy.

---