Disney reminds us that We're All In This Together
April 17th, 2020 under Disney Kids, High School Musical. [ Comments: none ]

Television is desperate for new programming, but how can you do that when everyone is trapped at home? ABC got creative with Disney's Family Sing-Along. They asked some of their biggest stars to take part in a sing-along of Disney's beloved songs, all from the comfort of their own houses.
There was Josh Groban singing You've Got a Friend in Me, Ariana Grande belting out I Won't Say I'm In Love, Little Big Town harmonizing A Spoonful of Sugar, and many more surprises like one from Beyonce. The show-stopper came at the end when the cast of High School Musical along with some other Disney Channel stars brought the joy with We're All In This Together.
It was a spectacular evening that was pure magic. ABC needs to do this every week because it is the spoonful of sugar we need to make the medicine go down. Hopefully, in the next edition, which I am sure they will do, they will include Twist Your Frown Upside Down from Teen Beach 2. Even if they don't, they need to make the next sing-along happen next week. Who's with me Wildcats?

---
The Proud Family is coming back Louder and Prouder!
February 27th, 2020 under Alisa Reyes, Disney Kids, Soleil Moon Frye. [ Comments: none ]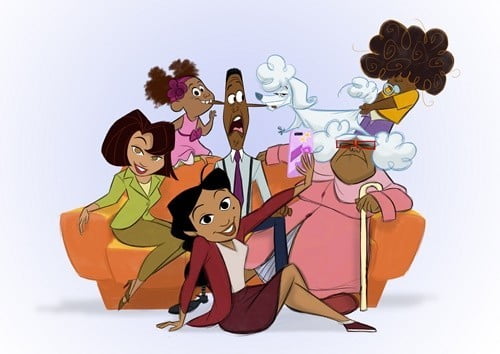 For months there have been rumors that The Proud Family is coming back, and Disney+ finally made it official today! It has been 18 years since the show premiered, so it makes sense that they would make Penny a teenager for The Proud Family: Louder and Prouder.
Kyla Pratt will once again voice Penny, and she is not the only one who is back from the original run. Tommy Davidson as Oscar Proud, Paula Jai Parker as Trudy Proud, Jo Marie Payton as Suga Mama, Karen Malina White as Dijonay Jones, Soleil Moon Frye as Zoey Howzer, Alisa Reyes as LaCienega Boulevardez, and Cedric the Entertainer as Uncle Bobby Proud are also once again joining in on the fun.
The keep the animated show feeling like it did, Academy Award-winning creator/executive producer Bruce W. Smith and executive producer Ralph Farquhar are back to keep the Prouds in line. At least, they will try to do so.
We don't know when the revival will begin to stream. Therefore, in the meantime, you can watch the OG run on Disney+ anytime you want. It will get you even more excited for the new episodes.
One of the most excited people for the reboot is Alisa Reyes, and she told me how much she is looking forward to returning as LaCienga Boulevardez. She said, "I am just so grateful and blessed to have a full-circle moment it started with All That on Nickelodeon and now again with The Proud Family. I am humbled and so thankful for this opportunity to continue doing what I love and that fills my soul with joy!" It fills our souls with joy to see our childhood favorites coming back to life in our adulthood. Who says we have to grow up?

---
Bambi's mom's death scene should be fun in the live-action version
January 25th, 2020 under Disney Kids. [ Comments: none ]

Whenever I hear that Disney is turning one of their classic cartoons into a live-action movie, I am so grateful I do not have kids. Now that The Hollywood Reporter is saying they are working on one for Bambi, I am sure parents feel the same way.
How are they going to start the movie after Bambi's mom dies if they are in the theater? You know their kids are going to want to see it on the big screen. Imagine all the toddlers screaming and crying when they hear that fatal gunshot? All the parents having to explain what happened to her?
Maybe now, there is finally a Disney live-action remake I want to see in the theater!
Seriously, how can they do the film without that scene? It is Bambi's defining moment and sets up the rest of the feature. It should be interesting to find out how they plan on handling that heart-wrenching scene.

---
Jimmy Fallon and Kristen Bell sing a History of Disney Songs
November 13th, 2019 under Disney Kids, Jimmy Fallon, Kristen Bell. [ Comments: none ]

Kristen Bell is one of the stars in Disney's biggest movie Frozen. Now that we are days away from the sequel's release, she is doing press for the film. Yesterday, she stopped by The Tonight Show, and she and Jimmy Fallon paid tribute to Disney's musicals by singing a medley of the studio's greatest hits. They did a good job and all, but Todrick Hall's mashup is much better.
You should listen to both today because they will put in you in a happy place.

---
Do you want to share a meatball with Lady and the Tramp?
August 24th, 2019 under Disney Kids. [ Comments: none ]

Disney+ released the first trailer for the live-action version of Lady and the Tramp and I am in puppy love. I cannot wait to see the awwwdorable film on November 12th on the streaming site. Who doesn't love a talking dog film? I eat them all up like a strand of spaghetti with someone special?

---