What do you think of Gwen Stefani's two-tone hair?
May 25th, 2021 under Bad Hair, Gwen Stefani. [ Comments: none ]
Gwen Stefani has changed up her hair color. The front and back are black, and the middle is blonde. I don't know who told her that was a good idea, but I think she should Don't Speak to them again.
It is not the future Mrs. Blake Shelton does not look great as a brunette. She just does not look good as a bronde or blonette.
Do you think she looks as good with this hairdon't as Two-Face?

---
Debra Messing is having a bad hair day
May 5th, 2021 under Bad Hair, Debra Messing. [ Comments: none ]
There are a lot of things I don't miss about living in NYC, and that is what the humidity and the rain in the summer do to my naturally curly hair. It makes my curls look like something the cat threw up.
You can't that image in your head? Take a look at the hair day Debra Messing had today in Manhattan. It is total frizz ball city. Granted, there is a reason why we don't brush our hair after it is dry; this is why.
Stars might not want to be recognized when they are out in public, but you can't miss her on a day like this. Not that she will read this, but my locks are loving the African Pride hair products.

---
Donald Fasion with hair
April 27th, 2020 under Bad Hair. [ Comments: none ]

Ever since Donald Faison was on Scrubs, the top of his head was scrubbed clean like Mr. Clean. However, the same cannot be said during the quarantine, because the actor has grown out his hair and beard.

In fact, he said, "I've been drinking… I refuse to shave my head or face till this thing is over…. holler if ya hear me!!! #nofilter."

Do you think he should keep it this way, or should he get the razor? I say let it grow out!

---
Alex Borstein shows off her roots
April 10th, 2020 under Bad Hair. [ Comments: none ]

Now, that people can't go to the hairdresser to get their roots touched up, they are letting their natural color grow out. For Alex Borstein, it means accepting the fact that she is going grey.

Will she go back to black when the stay at home orders are lifted? I am sure Seth MacFarlane doesn't care because Family Guy is an animated show. However, I don't think The Marvelous Mrs. Maisel's Amy Sherman-Palladino will let Susie go grey. Although, her character is always wearing a cap, so maybe she can get away with it.

---
Sarah Hyland is having a bad hair day
December 4th, 2019 under Bad Hair, Sarah Hyland. [ Comments: none ]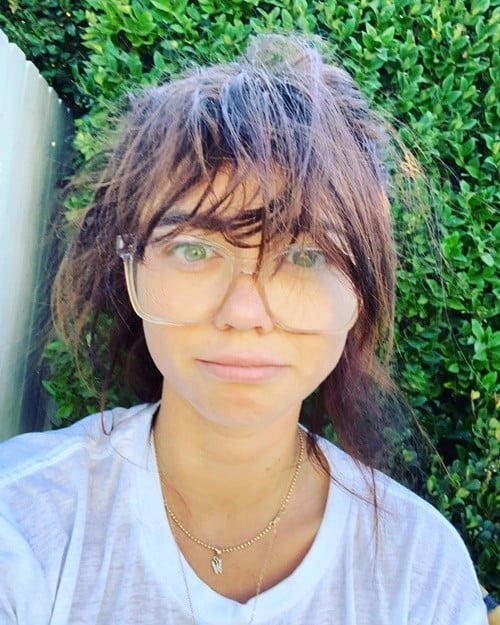 Sarah Hyland has naturally curly hair that she straightens for work. However, I don't know what I would call this hairdo besides a hairdon't.
In her defense, we all have bad hair days. It is just no one cares when we do. Nor do we look as good.

---