Oh baby, Will & Grace's final season is expanding
October 16th, 2019 under Debra Messing. [ Comments:

3

]

Will & Grace is back for its final season next Thursday and they have some big news. Grace is going to have a baby. Although, I feel like we have been through this before. Hopefully, this time around it won't just be Karen's dream.
---
Will & Grace is ending…again
July 25th, 2019 under Debra Messing, Megan Mullally and Nick Offerman, Sean Hayes. [ Comments:

2

]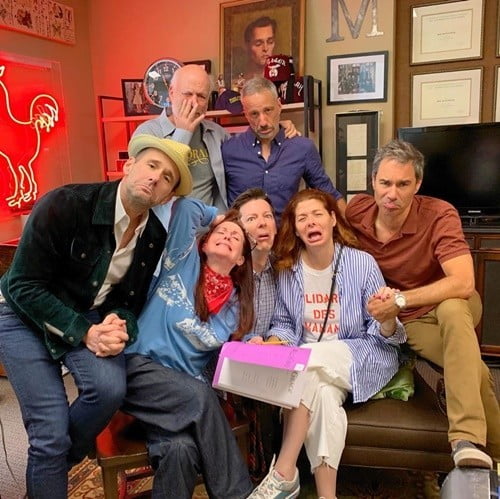 Back in 2006, NBC cancelled Will & Grace. Then in 2017, they picked it up for another season and two more after that. Today, the cast announced that this season will be the show's last…again. At least for now because with this sitcom, you never know.
Debra Messing wrote, "ANNOUNCEMENT~ to the best fans IN THE WORLD, W&G fans, we wanted to tell you that this will be the last season of the Reboot. The creative team (pictured) got together and we decided it was the right time. We were so lucky to have the opportunity to reunite and do the show AGAIN. It was only supposed to be 10 episodes, but because of you, the fans, it has turned into 3 YEARS. What a miracle. We are all committed to making this season the best ever, and to wrap up the story of Will, Grace, Jack and Karen in a way that feels meaningful and right. THANK YOU @nbc and @bobgreenblattpics for bringing us all back together. We have been spoiled,once again, by brilliant writers and producers, and the best crew in town. I love you all. ❤️"
Eric McCormack had this to say, "Well, we're taking this one out like we brought it in: with love, laughs, gratitude… and on our own terms. Season 3 of #WillandGrace (we'll, season 11) will be our grand finale… and it's gonna be fantastic!"
Megan Mullally said, "all things must pass, and the Will & Grace television program is no exception. we've decided to end the show after this 3rd revival season… i know, it's very sad! we'll miss you! the 3rd and final season of #willandgrace will begin airing on #nbc january #2020, so don't miss out. lots of love and huge thanks to you from everyone at Will & Grace 🙋‍♀️🙋‍♂️🙋‍♀️🙋‍♂️ @nbcwillandgrace"
Finally, Sean Hayes weighed in with, "For all 'Will & Grace' fans, I am sharing the news that this is going to be our last and final season (which premieres this winter). To everyone who watched the first run and to everyone that encouraged this reboot, we did it all for you.
"What a blast it's been reliving these characters for these three seasons. Thank you so much for allowing us the opportunity to entertain you. I am forever grateful. ❤️ We'll see you in 10 years for the third installment! 😃"
I am sad to see Will & Grace end. I did not watch it the first time around, caught up before the revival and now I am hooked. It always makes me laugh. Now that I am losing The Good Place and Will & Grace, I wonder how NBC is going to continue to bring the funny. And I am not talking the reality show with Kenan Thompson and Jeff Foxworthy and Chrissy Teigen.
---
Debra Messing actually wants you to look at her boobs!
June 28th, 2019 under Debra Messing. [ Comments:

1

]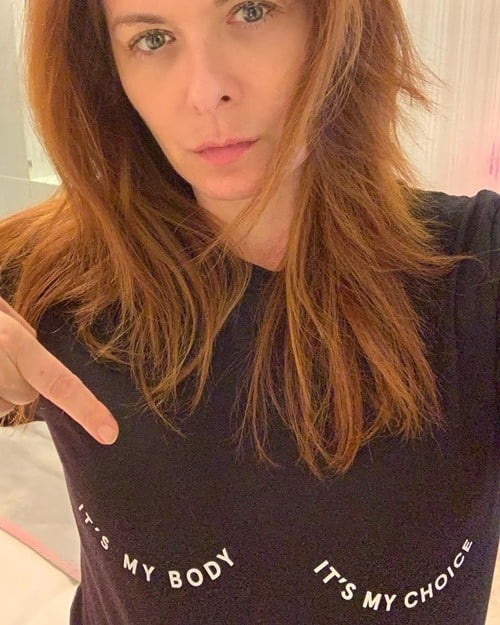 Most of the time, women want you to look at their eyes and not their breasts. However, this time around Debra Messing wants your eyes to look down instead of up.
Why? Her girls have a message for politicians. They want them to know, "It's my body. It's my choice." The perfect place to get the word out because you know those holier than though men are really not that holy. Therefore, they are looking where they shouldn't.
For just $32 at The Outrage, you can own that shirt and let the world know that it is our bodies and we can do with what we want. You want to take away our ability to choose what we want to do with our own bodies. I think then we get to choose not to do the stuff with you that leads to us needing to making a choice. In other words, no sex for you.
Proceeds from the shirt go to NARAL who is fighting to keep abortion legal. The anti-choicers need to stay out of our bodies. Literally and figuratively.
---
Debra Messing lets her go natural!
April 23rd, 2019 under Debra Messing. [ Comments:

none

]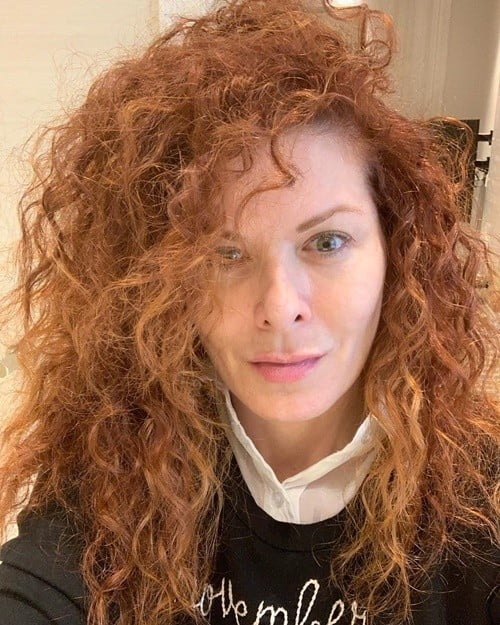 Whenever you see Debra Messing, her natural curls are always perfect. Anyone who has curly hair, like me, will tell you that is very rarely the case. The other day, the actress was like all of us mop tops and let her locks do whatever they wanted. Since they were free, they went wild. Giving her the hairdo that so many women in the '80s paid for with a perm, hairspray, a diffuser, mouse and hairspray.
Now let's talk about her face being all naturel too. Without makeup, the 50-year-old looks half her age. She looks even younger than she did when she started out on Will & Grace the first time.
---
Is Will Jack's soulmate? Find out on Will & Grace tonight!
January 31st, 2019 under Chelsea Handler, Debra Messing, Sean Hayes. [ Comments:

none

]

It has been 20 years since we got to know Will (Eric McCormack) and Jack (Sean Hayes) and we have always thought they are soulmates. Tonight at 9:30p on NBC's Will & Grace, after drinking some special chocolate milk, they have an epiphany. They are each other's soulmate. How long will that revelation last?
They are not the only ones who enjoyed the special chocolate milk, so does Karen (Megan Mullally). She just signed her divorce papers and the drink causes her to say goodbye to her marriage to Stan in a very Karen way. All I will say is Mullally can sing!
Meanwhile, Grace (Debra Messing) gets a visit from her newly single sister. Janet (Mary McCormack) won't be single for too long because she hooks up with Grace's client (Chelsea Handler). That causes the feuding sisters to have a sweet heart to heart.
Tonight's episode is really sentimental and yet it is still very funny. Every episode Hayes finds a way for me to do a spit take, and on this one, they all make me do one, Let's just say it involves butterflies. It is a must not miss, so do not miss it.
---