Helen Hunt is Mad About Cloris Leachman
October 3rd, 2019 under Cloris Leachman, Helen Hunt, Spectrum. [ Comments:

none

]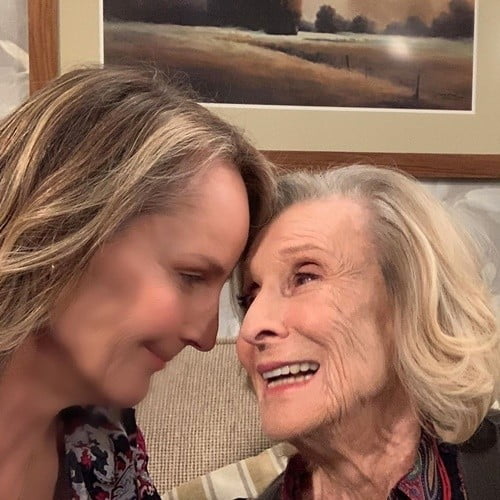 We already know that Spectrum Originals is doing a revival of Mad About You. What we did not know until today is that Cloris Leachman is going to guest star on the show. However, we do not know what she is going to be doing on it. What we do is the 93-year-old legend looks amazing with her co-star Helen Hunt.
This casting makes me more even excited for the series' debut on November 20th. Who doesn't love watching Leachman do her thing?

---
Do Tom Arnold and Cloris Leachman have something to tell us?
April 29th, 2019 under Cloris Leachman, Do they have something to tell us?, Tom Arnold. [ Comments:

none

]

Cloris Leachman was seen amorously sitting on Tom Arnold's lap and him telling her she is the one. Does that mean they have something to tell us? Yes, the two of them are working on Christmas movie called High Holiday with Jennifer Tilly, Diane Franklin and Robert Carradine. I do not know about you, but I cannot wait to see this film.
You know what, if they were really hooking, it would not be such a bad thing for him. After all, we all know he has done much worse.

---
Cloris Leachman is still acting!
April 24th, 2019 under Cloris Leachman, Tom Arnold. [ Comments:

none

]

I don't know about you, but I was getting worried about Cloris Leachman because I could not remember the last time we saw her. Well, the worrying is over because the beloved actress, who is going to turn 93 on April 30th, is starring in a new movie with Tom Arnold and Jennifer Tilly that is filming now. I don't know what High Holiday is about, but I am so excited to see this film with a cast as awesome as this.
Now, can we get back to Leachman being 92? She looks fantastic, just like she did when she was on The Mary Tyler Moore Show in the '70s.
In case you were wondering why she seems a little stoned, Tilly says that she was just getting into character because that is what she is in this scene. Then Tilly added that she is still sharp as a tack. Nothing can ever stop Leachman from being the funny lady that she is naturally.
I wish that someone would do a show with Sue Ann and Phyllis reuniting at Lars' funeral and deciding to move in together. Could you imagine the hijinx that she and Betty White could get into if they worked together again? Comedic diamonds.

---
That is quite a blow job for Cloris Leachman!
May 1st, 2016 under Cloris Leachman. [ Comments:

1

]

Yesterday was Cloris Leachman's birthday, and they gave her a cake fitting for a 90 year old. Candles and all. Only problem is, can a nonagenarian handle blowing out all of those candles? Granted it is Cloris Leachman; and if anyone her age can handle it, it is her. As long as there are several hot fireman nearby to put out any fires. Which coincidentally enough is also the perfect present for her!

---
Is Cloris Leachman starting to look her age?
June 11th, 2014 under Cloris Leachman, Raising Hope. [ Comments:

none

]

Even though Cloris Leachman is 88 years young, she never looks her age. That is until this picture. So has the former-Miss America contestant lost her looks? No, she is just wearing some heavy duty makeup for her upcoming appearance on Franklin & Bash. Even if this was how she really looked, I wouldn't say anything negative about her. I mean look at her expression in the picture that Mark Paul Gosselaar shared on Instagram, is it scary or what? Neigh!

---