Cloris Leachman passed away from stroke with COVID-19 being a contributing factor
February 19th, 2021 under Cloris Leachman. [ Comments: none ]

On January 27th, we lost Cloris Leachman at the age of 94. Now, we know what killed the legendary actress.

According to Entertainment Tonight, she suffered a cerebrovascular accident, also known as a stroke. The actress had also been dealing with COVID-19. While the medical examiner says that the stroke was not caused by coronavirus, the virus did contribute to her death.

Leachman was cremated on February 7th, and her ashes reside with her daughter, Dinah Englund.

---
BTWF: Craig Ferguson in Maybe This Time
January 28th, 2021 under Before They Were Famous, Betty White, Cloris Leachman, Craig Ferguson, The Osmonds. [ Comments: none ]

Before Craig Ferguson did bits with Betty White on his former talk show The Late Late Show, the two of them starred together in Maybe This Time. He looks the same now as he did when he was 33 in that 1995 episode.
Thank you to Marie Osmond for posting this as a tribute to Cloris Leachman who guest-starred in this episode as Ferguson's grandmother.

---
BTWF: Cloris Leachman in Forgotten Children
January 27th, 2021 under Before They Were Famous, Cloris Leachman. [ Comments: none ]

Before Cloris Leachman took care of the girls on The Facts of Life, she was a teacher on Forgotten Children. How beautiful was the 26-year-old in that 1953 episode?

---
RIP Cloris Leachman
January 27th, 2021 under Cloris Leachman, Obits. [ Comments: none ]







Cloris Leachman passed away in her sleep at the age of 94, according to the AP.
Cloris Leachman was a beloved actress that was as zany as she seemed on the screen. That is why we loved her whether she was the judgmental Phyllis on The Mary Tyler Moore Show, the supportive Beverly Ann on The Facts of Life, or the bitchy grandmother on Malcolm in the Middle or Raising Hope. She had a way of making you laugh with her face as well as with the lines they gave her.
She was a beautiful woman, and that is why she competed in the Miss America pageant. However, she had no problem getting ugly for the role of Frau Blücher (neigh) in Young Frankenstein and many others.
Leachman did whatever it took to win the audience. Something that was very easy to do because she was such a lovable character on and off of the camera.
She was a special lady until the end of her life, and that is why she never stopped acting or talking risks. Risks like doing Dancing with the Stars at the age of 82 or stripping down in her 80s.
They truly broke the mold when they made her, and the World is a sadder place without her in it. While she might be gone, her work lives on. Today, let's honor her by watching many of the things she did to make us fall in love with her.

---
Helen Hunt is Mad About Cloris Leachman
October 3rd, 2019 under Cloris Leachman, Helen Hunt, Spectrum. [ Comments: none ]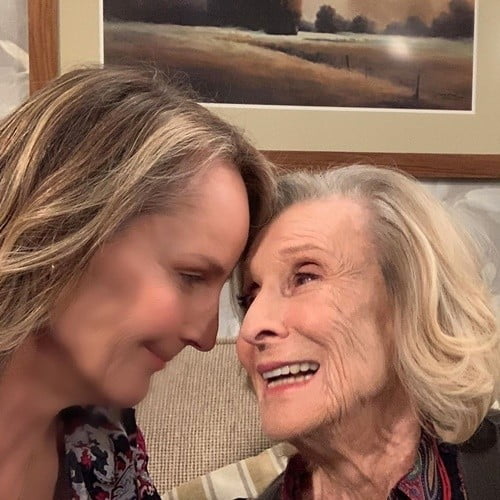 We already know that Spectrum Originals is doing a revival of Mad About You. What we did not know until today is that Cloris Leachman is going to guest star on the show. However, we do not know what she is going to be doing on it. What we do is the 93-year-old legend looks amazing with her co-star Helen Hunt.
This casting makes me more even excited for the series' debut on November 20th. Who doesn't love watching Leachman do her thing?

---