Marie Osmond is all talked out
September 2nd, 2020 under The Osmonds. [ Comments:

2

]

Last year, Marie Osmond announced that she was joining The Talk. Today, the icon revealed she is leaving the daytime talk show.
"One of the highlights of my year at #TheTalk was working with my dear friend John Redmann (former EP and showrunner) and I'm excited to continue our working relationship on several projects we are developing," she said. "Also, my husband and I just dropped our last two kids off at college, we looked at each other, laughed and remembered we hadn't been this alone together since 1982!! So, at this stage of my life, I'm looking forward to spending more time with him and visiting all the kids/grandkids. ♥️"
Her hiring always seem odd to me because the show already had an alpha female in Sharon Osbourne. I can't see either woman wanting to share the spotlight. Now, Osbourne doesn't have to anymore. At least for now.
No word who will replace Osmond on the CBS program. My gut says it will be either Kristan Alphonso or Tisha Campbell. Who do you think will be sitting next to Osbourne, Carrie Ann Inaba, Eve, and Sheryl Underwood? Or were you like, The Talk is still on?

---
Donny Osmond got into a car accident with a semi truck
June 10th, 2020 under The Osmonds. [ Comments:

none

]

Donny Osmond's day started off with a bang, just not the type of bang he wanted. That is because the beloved singer got into an accident today in Utah.

Osmond wrote, "My #Tesla had a messy encounter with a semi truck today.😬 I'm grateful to report that no one was hurt." So are we because he is a national treasure.

I wonder if his computer system saved him. If you have never been in a Tesla, the navigation screen shows how close automobiles are to you. This way you can see if someone is getting too close to your trunk, sides, or frunk. The frunks (front trunk) scare me because there is nothing inside to protect you if you get into a fender bender with the vehicle in front of you. Plus, that is where my friend makes me ride whenever he is my chauffeur.

Seriously, it is good to see that a Tesla can take a licking and not be totaled. 2020 would have been totaled if we lost the man we have Puppy Love for.

BTW That is the maddest I have ever seen him look. He is always smililng and happy, I never thought he could get upset. Then again, who isn't pissed after a car crash?

---
Has Donny Osmond hit hard times?
October 24th, 2019 under Hard times, The Osmonds. [ Comments:

none

]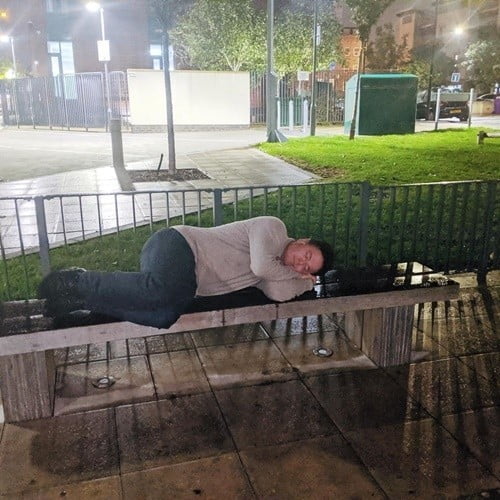 Donny Osmond has been performing nonstop since he was little boy, so you think he would be comfortable with money. However, he was seen sleeping uncomfortably on bench in London. Does that mean the singer hit hard times?
Yes, but not financially. He explained, "Just touched down in London! Long flight, no bag and mistake in my hotel reservation. This is turning out to be a trip I'll never forget! 🤷🏻‍♂️The good news is I need a shower, and the #London rain is working magic. 😆"
Hopefully, he will get a new hotel where his luggage will be waiting for him. If not, that bench now has his name written all over it.

---
Donny Osmond has some advice for The Talk ladies on working with Marie
May 7th, 2019 under The Osbournes, The Osmonds. [ Comments:

none

]

The Talk made it official today that Marie Osmond will be joining the daytime talk show in September. She is filling the seat that will be vacated by Sara Gilbert. The Conners' actress said she is leaving the show to spend more time with her family.
This is not the first time Marie has done a daily talk show. She and her brother had one for almost 2 years in the late '90s. Therefore, Donny Osmond knows what it is like to work with his sister. Especially since they spent the last half a century doing just that. Anyways, he has some advice for Sharon Osbourne, Eve, Carrie Ann Inaba and Sheryl Underwood. His words of wisdom are, "Ladies of #TheTalk, good luck getting a word in edgewise… I've been trying for years!😆"
That is what is going to get me to tune. I do not think that the two lady Os are going to like not being #1. They are going to talk over each other to be the alpha female. I think it is going to get Rosie O'Donnell/Elisabeth Hasselbeck good at some point during the season. Something, I think, the show needs. It is why we like The View more, we want to see a fight!!!

---
Who looks better with their arm in a sling: Donny Osmond or Josh Duhamel?
January 9th, 2019 under Better than..., Josh Duhamel, The Osmonds. [ Comments:

none

]

On January 4th, Donny Osmond had surgery on his right shoulder. While Josh Duhamel's left elbow went under the knife yesterday. Now both of them are stuck wearing a sling while their arms get better.

And talking about better, who do you think looks better with their newest fashion accessory? The guy we have Puppy Love for or the actor we want to win a date with?
I say it is a tie. As in, I think they should meet up and be tied together like in a three-legged race and help each other out. Duhamel could be Osmond's right-hand man and Donny could do whatever is left.

---