Milo Manheim graduated high school with bright green hair
June 1st, 2019 under Camryn and Milo Manheim. [ Comments: none ]

Even though Milo Manheim came in second place on Dancing with Stars last year and stars in a hit franchise on Disney Channel, he did not graduate high school until yesterday. And he did it with bright green hair.
Is he saying he is too cool for school? Nope, he is still playing a high school student, who is a Zombie, in Z-O-M-B-I-E-S 2 that is filming now and he had to dye his hair for the anticipated (by me) movie.
Hopefully, he will be able to go back to black before he starts college in the fall. But then again he will fit right in at NYU. How is mother, Camryn Manheim, going to handle being away from her boy?

---
Has Milo Manheim hit hard times?
April 9th, 2019 under 60s, Camryn and Milo Manheim. [ Comments: none ]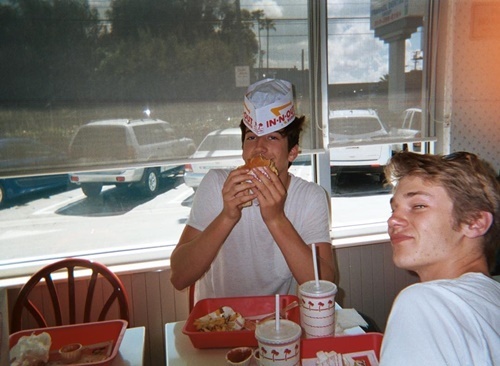 In the last year, Milo Manheim made it to the finals of Dancing with the Stars, guest starred on several episodes of American Housewives and is filming the sequel to Z-O-M-B-I-E-S, and yet he shared a photo of himself looking like he was on a break at In-n-Out. What is going on? Has the actor hit hard times?
Far from it. His mom, Camryn Manheim, revealed he will be going to NYU Tisch School. Since there are no In-N-Outs in NYC, I am sure he was just having some fun at the fast food joint.

---
Z-O-M-B-I-E-S come alive for a second movie!
February 11th, 2019 under 60s, Camryn and Milo Manheim, Disney Kids. [ Comments: none ]

Movies like La La Land can win and lose the Oscar for Best Movie in a matter of minutes, but I would rather watch the Disney Channel Musical Z-O-M-B-I-E-S over and over again instead. In fact, I have. I am not alone because Disney finally announced today that they will begin filming the sequel in the spring. I don't know why it took them a year to make it official because I knew after watching it for the first time that it needs as many sequels as they can produce.
The first film is about Zombies being integrated into a human high school for the first time and the normals don't want to accept them. Think what it was like when schools ended segregation, but this is with Zombies, who are no longer brain eaters. Powerful, right? Plus, this movie is filled with several catchy songs and I cannot get enough of it.
Now we just have to wait for the sequel. Which according to press release, the telemovie, "will pick up at Seabrook High where, after a groundbreaking semester, Zed (Milo Manheim) and Addison (Meg Donnelly) continue to steer both their school and community toward unity, but the arrival of a new group of outsiders—mysterious werewolves—threatens to shake up the newfound peace and causes a rift in Zed and Addison's budding romance."
Unlike the big screen features, Disney Channel actually makes good sequels for their movies like Descendants 2 and Teen Beach 2. I might have aged out of their demographic a long long long time ago, but that does not mean I do not still love their movies. Teen Beach and Z-O-M-B-I-E-S are two of my all-time favorites and I don't care who knows it!
Sincerely, if you have not seen Z-O-M-B-I-E-S, then you need to watch it on the ABC app ASAP. Trying saying that three times fast. However, you will want to watch it three times fast!

---
BTWF: Milo Manheim home video
November 19th, 2018 under 60s, Before They Were Famous, Camryn and Milo Manheim. [ Comments: none ]

Before Milo Manheim was robbed of the mirror ball trophy on Dancing with the Stars, he was in a tap dance club with his best friend. How cute was the sixth grader back in 2013? How is cute is it that his proud mother, Camryn Manheim, is sharing these home videos of her son?

---
Here's the CBS Fall schedule!
May 17th, 2017 under 60s, Camryn and Milo Manheim, CBS. [ Comments: none ]

CBS announced their Fall schedule today and they are very stable. Of course they have a confusing start on Mondays because of Football but then things calm down.
Mondays starts off with The Big Bang Theory for a few weeks and it will be used to launch Mark Feuerstein's 9JKL which is loosely based on his life when he was filming USA's Royal Pains. Then at 9p it is Kevin Can Wait and Me, Myself & I. The latter is about a man's perspective through three different times of his life, the cast looks off because the younger two don't look like John Laroquette. Finally, Scorpion closes the night.
Tuesday and Fridays are the exact same. Wednesdays opens with Survivor and ends with Criminal Minds, but in the middle they have David Borenaz's Seal Team.
Thursdays after NFL starts off with The Big Bang Theory followed by its spinoff Young Sheldon. At 9p, it is still Mom and Life In Pieces. They close the night with Shemar Moore's SWAT.
Finally, on Sunday they start off with Wisdom of the Crowd and end with NCIS: LA and Madame Secretary.
There is not much to say, but I think it was really smart for them to put The Big Bang Theory and Young Sheldon together.
To see the schedule and read descriptions, then click here!

---