Patrick J Adams suits up one more time for Suits
June 3rd, 2019 under Suits. [ Comments:

none

]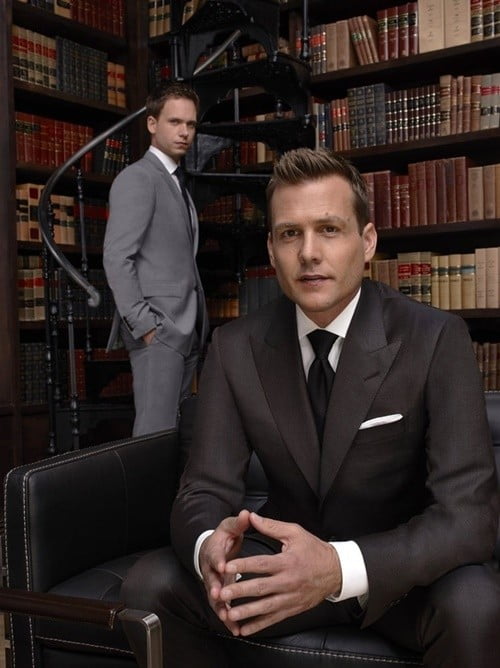 Ever since USA announced that Suits will be ending this upcoming season, fans of the show have wondered whether or not Patrick J Adams and Meghan Markle will return to say goodbye. Today, we found out the answer.
Well, at least one of them will be back for one more episode, so far. Adams will reprise his role in the fifth episode and this time, instead of working with his mentor Harvey Spector, he will be working against him. Adams told Deadline, "I couldn't be happier to be part of the final chapter of Suits. I've missed my TV family, and am looking forward to seeing what kind of trouble Mike Ross can stir up at the firm one last time."
As I said, he will appear halfway through the final season, but will he back for the show's final episode? The show's creator, Aaron Korsh, said, "He may or may not be back again. If you know the history of my answers to that question, I'm leading you down a certain answer."
The actor will be busy filming Nat Geo's The Right Stuff around the same time the show is taping its final episode. While he is busy playing Scott Glenn, his TV wife is busy being a real wife to a Prince. In case you have not heard she is married to Prince Harry. Is she too busy being a mom and the Duchess of Sussex to be Rachel Zane one last time? Korsch said it is up to her call him if she wants to say goodbye to the show with us. If she calls, then he will write something for her.
Personally, I am OK if she doesn't dial his number because the legal drama was always about Mike and Harvey, Rachel was just a third wheel to their bromance.
---
BTWF: Gabriel Macht on Beverly Hills, 90210
May 30th, 2019 under Before They Were Famous, Suits. [ Comments:

none

]

Before Gabriel Macht was a lawyer in Manhattan on Suits, he was a high school student on the other side of the country in Beverly Hills, 90210. What a head of hair the 19-year-old had in 1991. Now that Suits is ending, maybe he can grow it back?
I would pick on his dancing, but since we are from the same hometown I cannot diss him.
---
The cast of Suits lets loose when they are not wearing suits!
May 9th, 2019 under Suits. [ Comments:

none

]

Suits is filming its final season and that is not getting the cast down. Yesterday, when they were in the makeup trailer Sarah Rafferty and Rick Hoffman decided to dance to the music that was playing. You know what, it is not too late for them to throw in a dance-filled episode. I would watch.
Especially since Dule Hill can tap dance and Center Stage's Amanda Schull is a series regular. Can you believe she wants to know why they don't include her when they dance? I mean, come on, she was a professional ballet dancer, so she would one-up them all. Although, I love Louis and Donna's moves. Why does Suits have to end? The last season was so very good. Maybe Gabriel Macht is too sad to dance and that is why he only filmed it.
---
Someone gets disbarred on tonight's Suits season finale
February 27th, 2019 under Suits. [ Comments:

none

]

Tonight at 10p, it is time for the Suits season finale on USA Network. So much happens that it feels like a season worth of episodes in just one. Therefore, brace yourselves and get the tissues ready.
Last week, Harvey (Gabriel Macht) put the firm in danger when he shared with Donna (Sarah Rafferty) that her boyfriend was going to get screwed by his client. Harvey told her not to say anything to him, but she did. Her boyfriend pulls out of the deal and that causes his client to hire their arch-nemesis Daniel Hardman (David Costabile) to represent him.
Now that you are caught up. Hardman has is own motives for taking on the case. He wants to get Harvey disbarred as revenge for forcing him out the firm. Now Louis (Rick Hoffman), Zane (Wendell Pierce) and Alex (Dule Hill) will do all they can to help save Harvey's job. How far will they go? As we know, they will do whatever it takes. This time one of them will pay the consequences.
I did not mention Samantha (Katherine Heigl) because she has her own problems. She gets mugged and she is not going to take it lying down.
And then there is that final moment which will make you be really pissed that there are no new episodes for several months.
Tonight's episode, in my opinion, is one of the series best. Therefore you do not want to miss it because it is just that good. I just wish it was the not show's last season finale. Why does have it to end next season?
---
BTWF: Sarah Rafferty on Walker, Texas Ranger
January 23rd, 2019 under Before They Were Famous, Suits. [ Comments:

none

]

Before Sarah Rafferty worked for a law firm on Suits, she needed them to defend her on Walker, Texas Ranger. She looks the same now as she did when she was 28 in that 2001 episode.
---