BTWF: Gabrielle Macht in Why Would I Lie?
February 10th, 2021 under Before They Were Famous, Suits, Treat Williams. [ Comments: none ]

Before Gabrielle Macht has mommy issues on Suits, he really had mommy problems in Why Would I Lie. How cute was the 7-year-old in that 1980 movie?
Treat Williams, who starred in the movie, shared a photo of him on the set with Macht back when they were filming. To see the two of them together, then click here!

---
Pearson no longer Suits USA
November 3rd, 2019 under Suits. [ Comments: none ]

On Friday, USA announced that they did not pick up the Suits' spinoff Pearson for a second season. The show was centered around Gina Torres' character being the Mayor's fixer in Chicago.
I cannot say I am disappointed about the show not being back. I wanted to like it, but I just could not get into it. I guess I was not alone.
Out of all of the Suits characters, I wanted Gretchen to get her own show. Maybe USA will consider it now?

---
Suits' Rick Hoffman got a new look!
September 6th, 2019 under Suits. [ Comments: none ]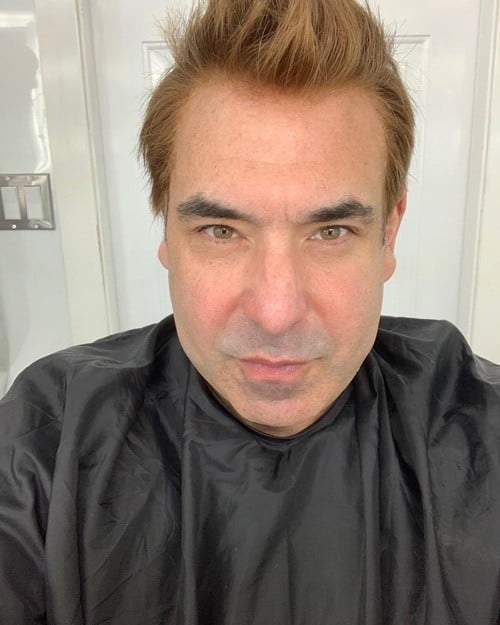 We are normally used to seeing Rick Hoffman with not as thick hair as his Suits co-stars. However, on this week's episode, he had hair like Gabriel Macht.
What is up with the new look? Someone mistook Louis Litt for Harvey Specter over the phone. Thus, he put on a wig and went as his partner.
You know what, the full head of lighter hair works on him. Not saying he looks bad without. I am saying he looks good either way. The new hairdo really brings out his eyes.

---
Will Suits get Samantha back?
August 21st, 2019 under Suits. [ Comments: none ]

Last week when Suits ended, Faye (Denise Crosby) fired Samantha (Katherine Heigl). Tonight at 9p on USA Network, the named partners are going to try to get her back.
The episode starts off with Faye calling Donna (Sarah Rafferty) and telling her to get the partners not to try to get Samantha back. If they do, then the firm will be lucky to last a year. Do you think Harvey (Gabriel Macht) and Louis (Rick Hoffman) are going to listen to her warning? Nope. They will find something on Faye that will destroy her. Will they go through with it?
Meanwhile, Samantha is working her angles. She is determined to get her job back. How far will she go and who will she go to for help? She will have help from a friend, but is that friend enough? Will they tell her to move on? After all, it is the final season, so it is OK if she departs early and we focus on the originals.
Talking about another non-original, Katrina (Amanda Schull) has a case up against Brian (Jake Epstein). How will she react when she sees him for the first time since he left the firm because of their feelings for one another. Is that spark still there? Will he leave his wife for her? Will she ask him to do that?
You just have to tune in to find out what happens on another great episode that makes me so sad that Suits is ending. Why does have to end? Why?

---
BTWF: Gabriel Macht naked on Spin City
August 15th, 2019 under Before They Were Famous, Suits. [ Comments: none ]

Before Gabriel Macht was known for Suits, he was wearing his birthday suit on Spin City. How good does the 25-year-old look not wearing any clothes back in 1997?

---