An '80s music fan's wet dream: Billy Idol and Bryan Adams on tour
April 29th, 2019 under 80s, Billy Idol, Bryan Adams, Wet dream. [ Comments:

none

]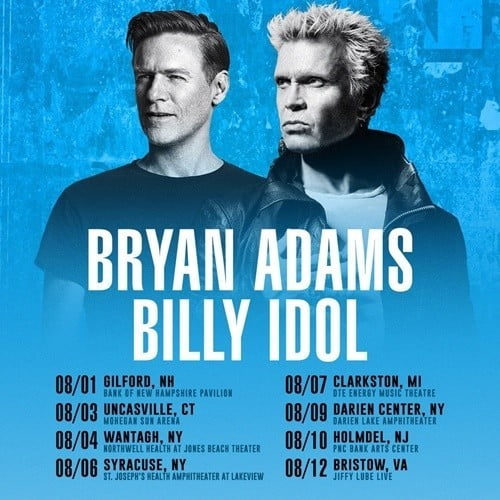 Back in the '80s, Billy Idol and Bryan Adam were two of the decade's biggest rockers. The Rebel Yell singer was a harder rocker while the Summer of '69 one was softer. Which means, they were opposites and they would not have gone on tour together.
That was then and this is now. They are no longer only Dancing with Myself because 35 years later, the two of them are hitting the road in August together with an epic 8-city tour in the North East. Giving fans of the '80s a wet dream of a double bill.
Hopefully, if it makes a lot of Mony, Mony, they will expand their dates to the rest of the country. So on May 1st, Run to You computer and get your tickets to see them rocking. I bet you it is a night that will leave you in Heaven.
I wonder what song they will sing together on the tour? I am thinking it will be the Canadian's Diana because it was about Princess Diana and Idol is British.
---
Bryan Adams is part of Taylor Swift's squad
August 6th, 2018 under Bryan Adams, Taylor Swift. [ Comments:

none

]

Remember when everyone wanted to be part of Taylor Swift's squad? Well, over the weekend Bryan Adams got to be one of the members when she performed his hit song Summer of '69 in Toronto. The crowd went wild when one of their favorite sons joined her on stage.
To make that moment even more special, they kept his appearance a secret. In fact, the singer did something he has never done before in his 40-year career. He took an elevator lift up on to the stage.
During sound check, the two singers had someone fun when he was below the stage. You know they have such great chemistry, I would not be surprised if they release that song as a duet. Their vocals and strumming worked really well together. Don't you agree?
---
Did Bryan Adams have a one night love affair with Princess Diana?
June 26th, 2018 under Andy Cohen, Bryan Adams, The Princes of England. [ Comments:

1

]

For decades it has been rumored that Bryan Adams and Princess Diana had an affair. Yesterday, when the singer was on Watch What Happens Live, Andy Cohen asked him what type of relationship they had during Plead the Fifth. Adams told the Bravo host they were, "great friends!"
When it comes to rumors that butler used to sneak him into Kensington Palace, he says, "She didn't sneak me in. I would just roll up." There you have it, straight from the heart of Adams.
Another thing he talked about is the only dick pic he ever gave to someone. That person is a good friend of Princess Diana's and it is Elton John. John put the artistic photograph in a gold frame so that no candle in the wind could ever destroy it.
The thing I took away from this chat between Adams and Cohen is that I so want to be friends with the Canadian rocker. He is the epitome of a what a rock star is supposed to be!
---
Bryan Adams walked off of The Late Late Show with James Corden
May 18th, 2018 under Aerosmith, Bryan Adams, James Corden. [ Comments:

none

]

Yesterday on The Late Late Show, James Corden challenged Steven Tyler to Spill Your Guts, Fill Your Guts. It is a simple game, where you either answer a question or eat something really disgusting like a pig head's jelly.
From this game, we learned that the Aerosmith singer spent over $2 million on drugs over the decades and hit on Liv Tyler's best friend, Cameron Diaz, in front of his daughter. She was not happy about it obviously.
But the biggest reveal came from the CBS host who admitted that Bryan Adams walked off of the set. But wait, you did not hear about it? That is because it was for a taped segment that never aired. A few years ago, for Back to Future's anniversary, they were going to do a Carpool Karaoke in a DeLorean celebrating the music of the '80s. It was going to be a compilation of several artists including Adams. Well, Corden assumes his people did not tell him who else was involved. After James handed the list to Adams, he read it and walked out without saying a word and was never heard of from again.
Since that segment never aired, we don't know who else was part of it. In other words, we do not know who was the person or people that cut likes a knife to him. Or maybe, he thought it was only going to be him? But knowing what I do, I want to think it is feud with another musician from the era. Although, I never heard of any rumors of him not getting along with anyone besides Prince Charles. Have you heard of any?
When it comes to if Corden holds a grudge against the Summer of '69 singer, he does not. In fact, he understands why he did it. Maybe, he can make peace with rocker and do a solo Carpool Karaoke with him? I would like to see that.
---
An '80s girl's wet dream, Bryan Adams and Bruce Springsteen!
October 2nd, 2017 under Bruce Springsteen, Bryan Adams, Wet dream. [ Comments:

none

]

Back on the '80s, two of the biggest rockers were Bryan Adams and Bruce Springsteen. Now 30 years later, the two of them performed at the Invictus Games in Toronto. Before they went on stage together to sing the Canadian's hit Cuts Like a Knife, they practiced it backstage.
Thankfully, someone got their camera out and phonecorded it for all us of to enjoy their raw voices harmonizing as one. Their duet does anything but cut like a knife, although you can feel it in your soul.
BTW they might be old enough to live in a retirement community, but there are still a lot of women who would like to be dancing in the dark with them in bedroom! Me being one them. Seriously, they get better with age!
---