Don't ask Bryan Adams about Summer of '69
March 24th, 2022 under Bryan Adams. [ Comments: none ]
Bryan Adams was being interviewed by Today Extra in Australia, and the interview went as south as the country's location itself.
Belinda Russell innocently asked the singer what is the meaning behind his song Summer of '69. I guess he really didn't want to talk about it because he responded with, "I don't want to talk about that. I want to talk about the new album. That's why I'm here." Russell is used to a$$holes, so without skipping a beat, Russell said, "Sure, well, let's talk about it."
Now, he was rude with his response. But he might have reason to be that way. Because if he answered that the song is about a couple going down under on each other at the same time. I don't think the morning audience would have approved.

---
Bryan Adams' daughters sing Must Be Santa with him
November 15th, 2019 under Bryan Adams. [ Comments: none ]

Bryan Adams released a holiday EP today called Christmas. The album includes 5 songs to get you into the mood for the season and one of them includes his daughters. Bunny, 8, and Lula, 6, joined him on the track for Must be Santa. Together the three of them turned a really cute song into a really awwwdorable one. So sweet I am craving sugar plums already!

---
Is this hotel room haunted by the ghost of Bryan Adams?
November 11th, 2019 under Bryan Adams. [ Comments: none ]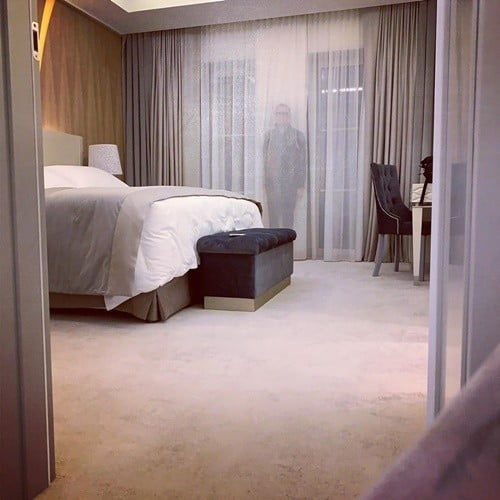 Bryan Adams did a concert in Romania. When he got back to his hotel room at 3a, he decided to have some fun and posed behind a sheer white curtain. Making him look like the ghost in Three Men and a Baby. While the latter turned out to be a cardboard cut out of Ted Danson, the former is the real thing. Or is it? After all it is Romania…

---
An '80s music fan's wet dream: Billy Idol and Bryan Adams on tour
April 29th, 2019 under 80s, Billy Idol, Bryan Adams, Wet dream. [ Comments: none ]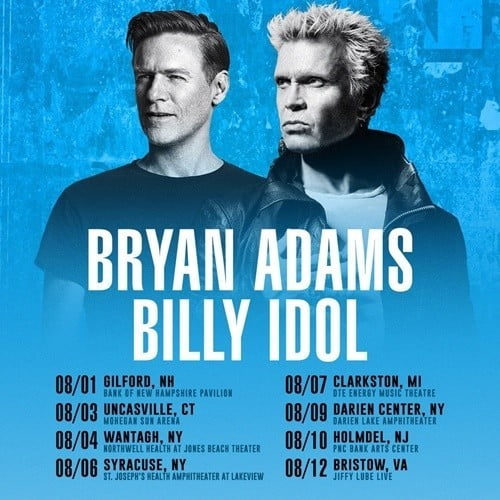 Back in the '80s, Billy Idol and Bryan Adam were two of the decade's biggest rockers. The Rebel Yell singer was a harder rocker while the Summer of '69 one was softer. Which means, they were opposites and they would not have gone on tour together.
That was then and this is now. They are no longer only Dancing with Myself because 35 years later, the two of them are hitting the road in August together with an epic 8-city tour in the North East. Giving fans of the '80s a wet dream of a double bill.
Hopefully, if it makes a lot of Mony, Mony, they will expand their dates to the rest of the country. So on May 1st, Run to You computer and get your tickets to see them rocking. I bet you it is a night that will leave you in Heaven.
I wonder what song they will sing together on the tour? I am thinking it will be the Canadian's Diana because it was about Princess Diana and Idol is British.

---
Bryan Adams is part of Taylor Swift's squad
August 6th, 2018 under Bryan Adams, Taylor Swift. [ Comments: none ]

Remember when everyone wanted to be part of Taylor Swift's squad? Well, over the weekend Bryan Adams got to be one of the members when she performed his hit song Summer of '69 in Toronto. The crowd went wild when one of their favorite sons joined her on stage.
To make that moment even more special, they kept his appearance a secret. In fact, the singer did something he has never done before in his 40-year career. He took an elevator lift up on to the stage.
During sound check, the two singers had someone fun when he was below the stage. You know they have such great chemistry, I would not be surprised if they release that song as a duet. Their vocals and strumming worked really well together. Don't you agree?

---