An '80s girl's wet dream: Billy Idol and Dave Wakeling
July 29th, 2019 under 80s, Billy Idol, Wet dream. [ Comments:

none

]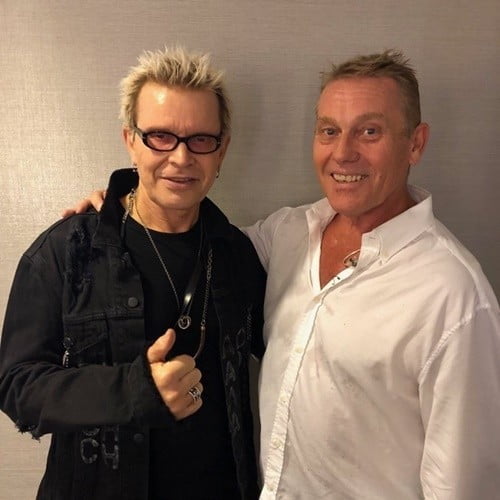 Back in the '80s, Billy Idol was dancing with himself. While Dave Wakeling was dancing with English Beat and General Public. One was a little bit Rock'n'Roll, while the other one was a little bit New Wave. Therefore, never should the two not meet!
That was then and this is now. Over the weekend, they showed a little Tenderness towards each other as you can see in this photo! Maybe they can make some Mony Mony together and go on tour. I know seeing them on one bill will take me there.
Sadly, Ranking Roger Charlery will not be able to join them. He passed away in March at the age of 56.
---
An '80s music fan's wet dream: Billy Idol and Bryan Adams on tour
April 29th, 2019 under 80s, Billy Idol, Bryan Adams, Wet dream. [ Comments:

none

]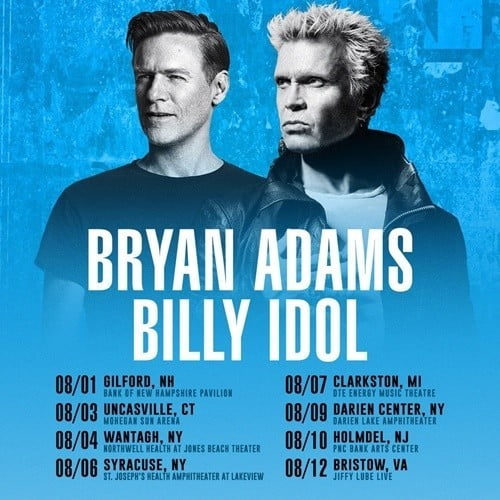 Back in the '80s, Billy Idol and Bryan Adam were two of the decade's biggest rockers. The Rebel Yell singer was a harder rocker while the Summer of '69 one was softer. Which means, they were opposites and they would not have gone on tour together.
That was then and this is now. They are no longer only Dancing with Myself because 35 years later, the two of them are hitting the road in August together with an epic 8-city tour in the North East. Giving fans of the '80s a wet dream of a double bill.
Hopefully, if it makes a lot of Mony, Mony, they will expand their dates to the rest of the country. So on May 1st, Run to You computer and get your tickets to see them rocking. I bet you it is a night that will leave you in Heaven.
I wonder what song they will sing together on the tour? I am thinking it will be the Canadian's Diana because it was about Princess Diana and Idol is British.
---
An '80s girl wet dream: Billy Idol and Boy George!
October 4th, 2018 under Billy Idol, Boy George, Wet dream. [ Comments:

none

]

Back in the '80s, Billy Idol and Boy George caused girls around the world to want a White Wedding with them. Although, one was a little bit punk and the other one was a little bit new wave. Two different types of music that were never meant to go together. Therefore, their fans were left dancing with themselves.

After all of these decades, the Crying Game is over because the two met up after a Culture Club concert. Making it Hot in the City. Maybe now that Time has passed they would consider doing a duet like Rebel Yell Karma Chameleon.

Imagine Boy George's sweet voice with Idol's rasp. It would make a lot of Mony Mony! So I say to both singers Do You Really Want to Hurt Me?
---
An '80s teen girl's wet dream!
August 22nd, 2018 under Billy Idol, Wet dream. [ Comments:

none

]

Back in the '80s, girls were saying Oh L'amour to Erasure and wanted to have a White Wedding with Billy Idol, but never the two should meet. Yesterday, when the duo was playing Wiltern in Los Angeles, the rocker was dancing with himself to their tunes.

Then when the show was over they posed for this photo. All I could think of is how cool would it be if Erasure worked their magic with one of his tunes like they did with Abba and he tried to do one of theirs. Heck, I would totally love to see them to a duet to Yahoo. But only because it is one of my all-time favorite songs.

Not only that, I would love to see them tour together. How awesome would that double bill be? I would go see it, but then again out of all of the concerts I have seen, Erasure has remained my favorite and I have never seen Billy Idol.
---
Billy Idol's son is his mini-me
February 20th, 2018 under Billy Idol. [ Comments:

none

]

Billy Idol shared a photo with his son, Willem Wolf Broad, and the 29-year-old is totally his father's mini-me. If the younger Idol spiked his hair and gnarled his upper lip, then I would not be able to tell the two of them apart. Would you be able to do it?
---