Who knew Rob Lowe could sing?
April 5th, 2022 under Billy Idol, Rob Lowe. [ Comments: none ]
gi78
We know there are many things that Rob Lowe is good at, like acting, never aging, writing interesting books, and making good sex tapes. Is the last one too soon?
Anyways, we now know something else he is good at, and that is singing. The 9-1-1: Lonestar actor shared a video of him belting out Billy Idol's Rebel, and I think we can all agree he is hot in the city with that performance.
I hope he does a Keifer Sutherland or a Kevin Bacon, and he hits the road with a band. I would go to see him live.

---
Billy Idol cancelled his tour, and not because of COVID-19
February 2nd, 2022 under Billy Idol. [ Comments: 1 ]
Billy Idol was supposed to go on a journey with Journey later this month. However, today he told them they are going to be going separate ways.
I haven't felt like myself since mid-December with a sinus infection that won't respond to medication. It has worsened to the point where I have no choice but to have a procedure which I expect will put me on a path to recovery soon.

The last thing I ever want to do is cancel shows and I am absolutely gutted that I won't be able to perform the upcoming dates with Journey as planned.

I wish Journey only the best on their tour and give thanks to TOTO for stepping in for me.
Hopefully, he will be better soon because we are not ready for his rebel yell to be silenced.

---
Billy Idol dancing with his granddaughter to Jingle Bell Rock is pure joy
December 22nd, 2021 under Billy Idol, Christmas Music. [ Comments: none ]
Billy Idol released a remastered version of his 2006 Christmas album this year. To celebrate it, he stopped dancing with himself, and he danced with his granddaughter to his take of Jingle Bell Rock. Poppy Rebel might not even be 18 months old yet, but she already has the Jingle Bell Hop down, thanks to her loving grandfather.
When it comes to Idol, he hasn't been that tough Punk Rocker we got to know in the '80s ever since I heard his holiday album, and this solidifies it. Not that there is anything wrong with that.
Now let's talk about his record Happy Holidays. It has been my favorite Christmas album ever since I heard it. Forget Perry Como, Mariah Carey, and Michael Bublé; Idol owns this season. The others are just fruit cake as compared to him.

---
Guess who is behind that Billy Idol album cover?
August 30th, 2021 under Billy Idol, Guess who?. [ Comments: none ]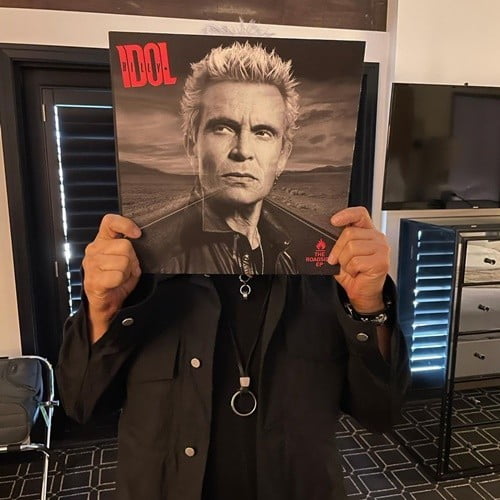 Want to see who is dancing by themselves, then click here!

---
Who knew Billy Idol was an angel?
August 16th, 2021 under Billy Idol. [ Comments: none ]
When I think of Billy Idol, I think of the Rocker as having a devilish side. However, that is not how he was seen in this photoshoot. That is because he is wearing angel wings.
So, do you think he is a good boy or a bad one?
Whether he is an angel or the devil, the imagery of this shoot is right on the Mony, Mony.

---