Billy Idol teases a collaboration with Miley Cyrus
January 21st, 2020 under Billy Idol, Miley Cyrus. [ Comments:

none

]

Billy Idol and Miley Cyrus have performed his song Rebel Yell live a few times, and now he hinted they did something else together.
The rocker is in New Zealand on tour, and he sat down with The Project NZ to talk about it. One of the hosts asked him what is most proud of in his 40+ year career. He told them, "Just the fact that I've kept at it. I love Rock'n'Roll. I love playing with Steven Stevens. I'm still playing with Steve." Then he added, "We still have new things we are finding out like I just did a collaboration with Miley Cyrus. And I am still enjoying what I do. New things happening, that is the point."
Sadly, the anchor did not follow up, and to find out what he did with Miley, so we are left to assume they recorded a song together. Especially since she shared a photo of them, earlier this month, at what look likes Andrew Watt's studio.
I hope they did a new song together and not an updated version of Rebel Yell. Although, I like her take on Girls Just Want to Have Fun better than Cyndi Lauper's. Oh, the horror. You know which song of his I would like to see them do? Cradle of Love! Not that there is anything going on between them, but it would be fun if they could have a single like Aerosmith and Run DMC joint venture with Walk This Way.
---
Imagine Billy Idol singing Imagine
January 10th, 2020 under Billy Idol. [ Comments:

none

]

We are used to Billy Idol rocking out like the Rocker that he is. However, when he was in the studio with Yoshiki, he changed his tune. Literally.
As the pianist tickled the ivories with John Lennon's Imagine, Idol sang the words. Even though the singer kept the melody authentic, he was dancing like himself. Therefore, I do not know what to make of it. He sounded great, but it looked strange.
I wonder why he did that like that because his Christmas album looks and sounds very Perry Como. That is why it is my go-to one for the holiday season. This song, better than most of the people who did it on American Idol, but his dancing was so distracting. I guess he made it his own.
---
Billy Idol is still dancing with himself
October 16th, 2019 under Billy Idol. [ Comments:

none

]

Back in 1981, Billy Idol released Dancing with Myself as a solo artist and he is still dancing with himself to it nearly 40 years later. The other day when he heard the song playing at a restaurant, he did what that tune is all about. Granted, the mirror this time around turned out to be a cellphone camera.
---
An '80s girl's wet dream: Billy Idol and Dave Wakeling
July 29th, 2019 under 80s, Billy Idol, Wet dream. [ Comments:

none

]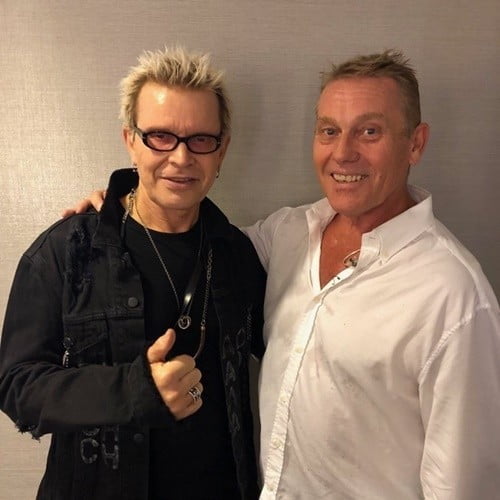 Back in the '80s, Billy Idol was dancing with himself. While Dave Wakeling was dancing with English Beat and General Public. One was a little bit Rock'n'Roll, while the other one was a little bit New Wave. Therefore, never should the two not meet!
That was then and this is now. Over the weekend, they showed a little Tenderness towards each other as you can see in this photo! Maybe they can make some Mony Mony together and go on tour. I know seeing them on one bill will take me there.
Sadly, Ranking Roger Charlery will not be able to join them. He passed away in March at the age of 56.
---
An '80s music fan's wet dream: Billy Idol and Bryan Adams on tour
April 29th, 2019 under 80s, Billy Idol, Bryan Adams, Wet dream. [ Comments:

none

]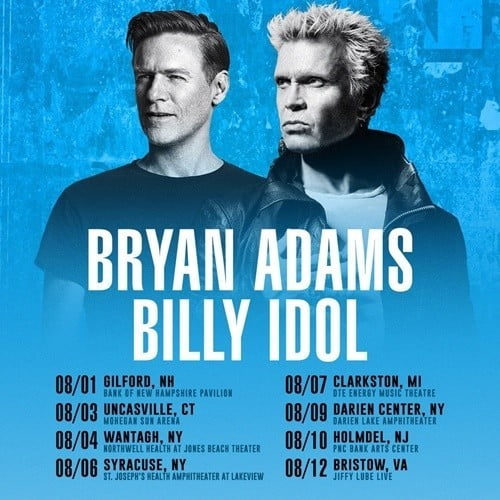 Back in the '80s, Billy Idol and Bryan Adam were two of the decade's biggest rockers. The Rebel Yell singer was a harder rocker while the Summer of '69 one was softer. Which means, they were opposites and they would not have gone on tour together.
That was then and this is now. They are no longer only Dancing with Myself because 35 years later, the two of them are hitting the road in August together with an epic 8-city tour in the North East. Giving fans of the '80s a wet dream of a double bill.
Hopefully, if it makes a lot of Mony, Mony, they will expand their dates to the rest of the country. So on May 1st, Run to You computer and get your tickets to see them rocking. I bet you it is a night that will leave you in Heaven.
I wonder what song they will sing together on the tour? I am thinking it will be the Canadian's Diana because it was about Princess Diana and Idol is British.
---