Joey King brushing her teeth
January 31st, 2022 under Brushing their teeth, Joey King. [ Comments: none ]
The Kissing Booth franchise might be over with for the time being. However, that doesn't mean that Joey King doesn't want her mouth to still be kissable. So here she is brushing her teeth.
Celebrities are just like us.

---
BTWF: Brooke Shields for Colgate
May 24th, 2021 under Before They Were Famous, Brooke Shields, Brushing their teeth. [ Comments: none ]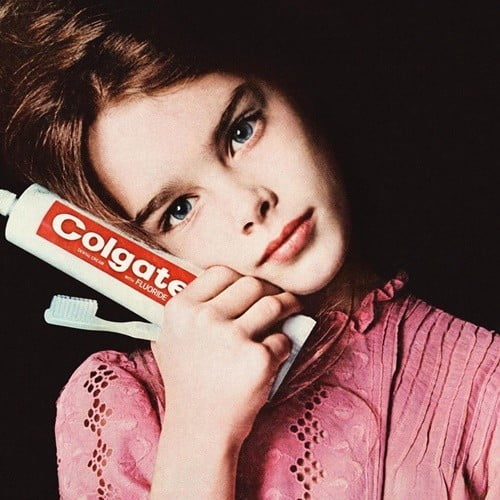 Before nothing came between Brooke Shields and her Calvins, she and Colgate toothpaste were inseparable. How gorgeous was the 9-year-old in that 1975 print ad?
Shields and Colgate are still together, want to see, then click here!

---
This Is Us watching Milo Ventimiglia brushing his teeth!
January 5th, 2017 under Brushing their teeth, Milo Ventimiglia, This Is Us. [ Comments: none ]

Milo Ventimiglia shared a video of himself brushing his teeth and titled it Fighting Tooth Decay. I don't know what it is about it, but I can't stop watching it. It is oddly hypnotizing.

---
50 Cent wants us to watch him brush his teeth!
June 28th, 2016 under 50 Cent, Brushing their teeth. [ Comments: none ]

While most celebs just share still Selfies of themselves from the bathroom, 50 Cent is not like most celebs. The rapper shared a video of himself wearing just a towel as he brushed his teeth. I don't know why, but I found this extremely sexy and I never find anyone brushing their choppers as a turn on. But then again, I wasn't focusing on his top head. Are you?

---
Hilary Duff posts the most boring video!
May 22nd, 2015 under Brushing their teeth, Hilary Duff. [ Comments: none ]

We have seen celebrities do many interesting things on video, but I think Hilary Duff posted the dullest one of them all. She recorded herself brushing her teeth with her new toothbrush. Too make it seem more exciting she slo-mo'ed it down. That just made it worse. Can we go back to the days when she posted photos of herself in her underwear in front of the bathroom mirror and not watching herself clean her pearly whites in it?

---