Megan Fox is expandable
August 30th, 2021 under 50 Cent, Megan Fox, Sylvester Stallone. [ Comments: none ]
Megan Fox is an action star, thanks to movies like Transformers and Teenage Mutant Ninja Turtles, but we forget that because she is so beautiful.
While we forgot that, Sylvester Stallone did not. That is why he cast her and 50 Cent for Expandables 4. They will be joined by Jason Statham, Dolph Lundgren, and Randy Couture, who are returning for the fourth film, according to IGN.
Fox is the first actress to lead the franchise since Charisma Carpenter was in the first two films. She was replaced by wrestler Ronda Rousey in the third film.

---
IMDB TV will not save For Life nor Rebel
August 16th, 2021 under 50 Cent, Andy Garcia, IMDB TV. [ Comments: none ]
ABC decided not to renew For Life and Rebel, so Sony was hoping that IMDB TV would give them another season on the streaming service. However, today they announced that they are not picking up either legal drama after a trial run of their old episodes, according to Deadline.
For Life was produced by 50 Cent and starred Nicholas Pinnock as a man, who was wrongfully convicted and sentenced to life in prison. He decides to get a law degree and gets his conviction overturned. Once he is free, he tries to help others gain their freedom.
Rebel starred Katey Sagal as a woman who fights for those who need someone to fight for them. She didn't do it alone. She had help from her husband, John Corbett, and her late best friend's husband, Andy Garcia.
Are you sad that neither show was saved? I was hoping that they would've saved Rebel because it was an enjoyable hour of television.

---
Remember Fred Durst?
July 29th, 2021 under 50 Cent, Fred Durst, Remember?. [ Comments: none ]
Fred Durst has always looked like grunge to match the music he sang. But that was then, and this is now. Now the 50-year-old Limp Bizkit singer looks like a '70s shop teacher.
In Shop 101, he will teach you how to make your own guitar to play Christian music. However, when you get home, you will be playing the Devil's music like Knights In Satan's Service.

---
50 Cent thinks the Burger King's coffee price is about him
March 20th, 2019 under 50 Cent, Fast Food. [ Comments: none ]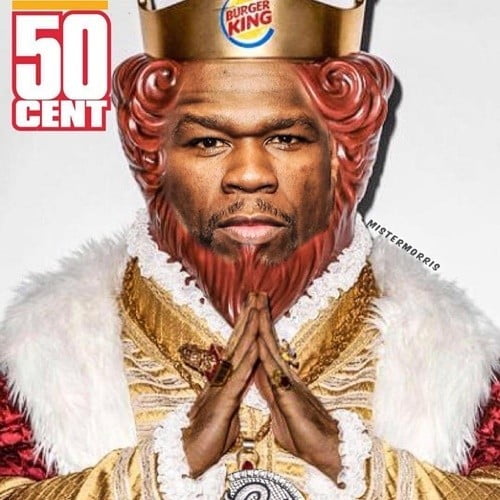 Burger King got into the coffee business and they are charging just two quarters for a cup of Joe. When 50 Cent heard about that, he thought it was in honor of him.
Therefore, he photoshopped his face onto the Burger King and wrote, "Yeah so you should go get 50cent coffee from Burger King.🤨because I'm bigger than Starbucks. Get the strap #lecheminduroi"
You know what, they should make him their mascot. I know you are saying, but clowns are McDonald's thing. Sorry, it was too easy not to go there so I went there!

---
Katy Perry's lyrics are perfect for a Soap Opera
April 5th, 2017 under 50 Cent, James Corden, Katy Perry, Lady Gaga. [ Comments: none ]

Throughout his reign of hosting The Late Late Show, James Corden has taken the lyrics of singers like Lady Gaga and Beyonce and turned them into a script for a Soap Opera. Yesterday, he used the words that come out of Katy Perry's mouth, and made it the best one yet!
If you didn't know they were her lyrics, you would swear those were real lines of dialogue. They are that believable. It could also be because that be piece of work I have ever seen Claire Danes do. She should give comedy a try because she has the chops for it. The only thing missing was her doing her ugly cry. When it comes to Christine Baranski and Jack McBrayer, we already know they can do comedy and drama, so this was perfect for them.
Seriously though, how much did you love the Days of our Katy Perry? It made my world turn because it was such a guiding light.

---