Oh, look, it's Frankie and Sue Heck from The Middle!
July 24th, 2023 under Patricia Heaton, The Middle. [ Comments: none ]
It has been five years since The Middle ended. And Patricia Heaton and Eden Sher still have the wonderful relationship they had on the heartwarming sitcom.
The TV mother and daughter met up in London over the weekend because Sher is performing her one-woman show I Was On A Sitcom at the Bill Murray Comedy Club.
Seeing the actresses together, makes me want a revival of their series even more. I don't know why ABC hasn't brought it back. What else do they have on their network?

---
Is Patricia Heaton really 62?
December 7th, 2020 under Are they really their age?, Patricia Heaton. [ Comments: none ]

Patricia Heaton shared a photo of herself getting her makeup removed on her latest project the Unbreakable Boy. I can't get over how young she looks here. I think she looks even younger than she did when we got to know her on Everybody Loves Raymond in 1996. Don't you think she looks great? Even the highlights are working on her.

---
Will there ever be an Everybody Loves Raymond revival?
October 21st, 2020 under Brad Garrett, Patricia Heaton, Ray Romano. [ Comments: none ]

It has been 15 years since Everybody Loves Raymond ended, and people still love it. Therefore, you have to wonder if we will ever get a revival of the sitcom.
Ray Romano told Harry Smith on Today, "We've kind of agreed…it won't happen with us. We are missing Peter [Boyle]. We are missing Doris [Roberts]. We're missing the crux of the show."
While we will never see them do a new script together, Romano, Patricia Heaton, and Brad Garrett are getting together tomorrow to read scenes from old scripts to raise money for International Myeloma Foundation. The cancer that took Peter Boyle away from us.
I wish they would consider doing a reboot because it is doable.

---
Patricia Heaton forgot her youngest son's 21st birthday
June 4th, 2020 under Patricia Heaton. [ Comments: none ]

Let's be honest, we do not know what day of the week it is because of the coronavirus lockdown. If we do not know that, then how are we expected to know what day of the month is? That means we might forget important dates like birthdays, anniversaries, and rent.
Therefore, it would make sense that Patricia Heaton forgot her youngest son's 21st birthday. Even though Daniel's big day was before the pandemic.
What did she do to make up for forgetting it? She told Extra that she asked her TV husband from Everybody Loves Raymond to wish him one. Not only did Ray Ramona save her butt, but he also sent the birthday boy a sweet video. That is what fake spouses are for!
The actress not only talked about her son, but she also talked about the wonderful charity work she does. One of the things I respect most about The Middle star is that she is one of the few celebrities who is always volunteering at places that need her help all over the world. She doesn't just throw money at them, but she actually gets her hands dirty.

---
Carol's Second Act goes to the dogs!
December 4th, 2019 under Cedric Yarbrough, Patricia Heaton. [ Comments: none ]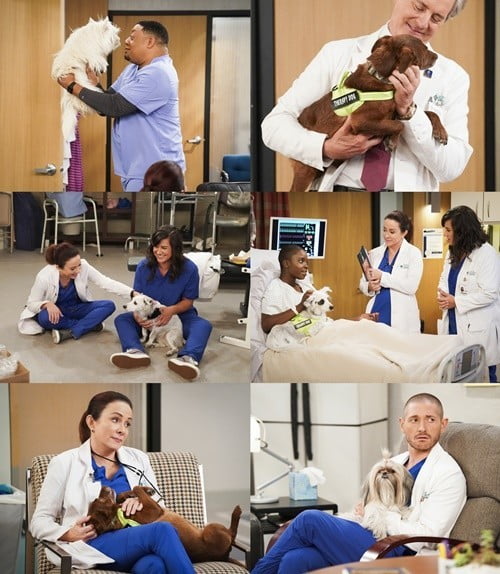 Tomorrow night at 9:30p, Carol's Second Act has a bunch of arfdorable guest stars. That is because the human hospital is allowing therapy dogs in to help take care of the sick patients.
It looks like Patricia Heaton, Jean-Luc Bilodeau, Sabrina Jalees, Lucas Neff, Cedric Yarbrough, and Kyle MacLachlan are having a lot of fun with their co-stars. Can you blame them, look at the sweet faces!
Back to the CBS sitcom, you should definitely check it out. It is my favorite new show of the year and gets better with each episode. And I am not saying that because they are getting taken over by dogs tomorrow. I really enjoy perky Heaton as compared to the grumpy one. Well, that and it makes me LOL every Thursday night. I will never understand why CBS didn't schedule it after Young Sheldon as compared to that unfunny sitcom. It is a much better fit with the Lorre show. However, that is a post on its own, and I don't want to get barking mad over it.

---