Justin Bieber shows off the Beebs
March 5th, 2020 under Justin Bieber. [ Comments:

none

]

Last week, Justin Bieber became one of the the new faces of Calvin Klein underwear. Now, he showing off his head in them.

He is no Jon Hamm or Jason Derulo, but he is no baby, baby, either.

Having said that, I wish we never saw that. I think the singer needs to sing Sorry to me because of that.
---
Justin Bieber gave David Beckham a scary-scar
March 4th, 2020 under Ellen DeGeneres, Justin Bieber, The Beckhams. [ Comments:

none

]

David Beckham is on Ellen today, and he tells Ellen DeGeneres what a good guy Justin Bieber is. Although, I am sure he no longer has the same impression of the Popstar.
That is because Ellen got their friend to hide in her little table and scare Golden Balls. I was so expecting the Becks to scream like a little girl (to match his voice) when the Beeds frightened him. Sadly, he pretty much sat there, stunned into silence.
If I were Bieber, then I would be afraid. Doesn't he realize that Beckham is known for kicking balls!
---
We can see nothing comes between Justin Bieber and his Calvins
February 28th, 2020 under Justin Bieber. [ Comments:

none

]

Justin Bieber is one of the new faces for Calvin Klein underwear. However, we are not looking at his face in this ad. That is because all he is wearing is a pair of their undies.
Maybe we should call him Justy Just, although he is far from having Marky Mark's body when he was their body.
Also, I know that I am getting old, but who thinks a shirt of ink is attractive? At least he has not gotten tats on his face yet, but it is still so unappealing to me.
---
Justin Bieber finally did it!
February 17th, 2020 under Justin Bieber. [ Comments:

none

]

For months, Justin Bieber has been trying to grow a mustache, and his fans were not fans of it. So much so, they begged him to shave it off. He told them it was here to stay.
The singer lied to them. Yesterday, he shaved it off. Don't get used to his baby, babyface, because he says that Mustashio will be back. Let's see what Mrs. Bieber has to say about that. She is the end-all to all of his decisions.
---
Justin Bieber has a message about his mustache
January 30th, 2020 under Justin Bieber. [ Comments:

none

]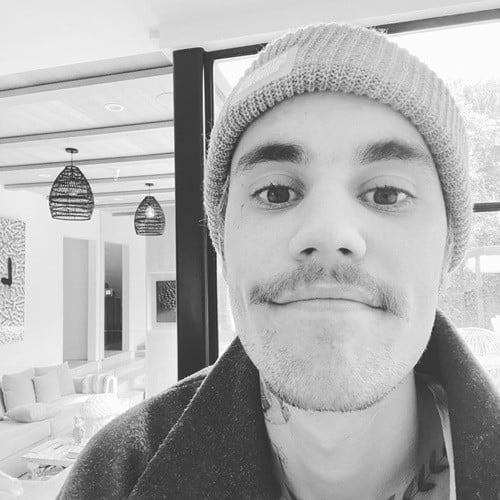 Not all men can grow a beautiful bushy mustache like Tom Selleck, and Justin Bieber is one of them. Ever since he has been trying to grow one, people have been telling him to shave the peach fuzz off. To them, he says, "MY STASH MY LIFE DEAL WITH IT HAHA."
He might think he has the last laugh, but he does not. That is because we are still laughing at his sad attempt to hide his baby, babyface.
---