BTWF: Ben Affleck in The Dark End of the Street
January 10th, 2023 under Before They Were Famous, Ben Affleck. [ Comments: none ]
Before Ben Affleck was an Oscar winner, he got his start in The Dark End of the Street. How good of an actor was the 9-year-old in his debut role in 1981?

---
Bennifer 1.0 finally got married
July 17th, 2022 under Ben Affleck, J-Lo. [ Comments: none ]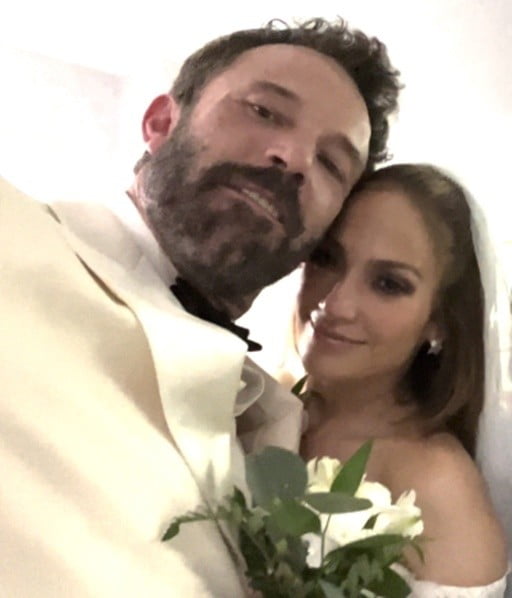 On the JLo
Jennifer Lopez and Ben Affleck dated from 2002-2004 until he left her at the altar. Then in April 2021, they started daring again and got engaged a year later.
However, they decided not to wait a year to get married. So now J-Lo announced that she is now J-Aff.
We did it. Love is beautiful. Love is kind. And it turns out love is patient. Twenty years patient.

Exactly what we wanted. Last night we flew to Vegas, stood in line for a license with four other couples, all making the same journey to the wedding capital of the world. Behind us two men held hands and held each other. In front of us, a young couple who made the three hour drive from Victorville on their daughter's second birthday—all of us wanting the same thing— for the world to recognize us as partners and to declare our love to the world through the ancient and nearly universal symbol of marriage.

We barely made it to the little white wedding chapel by midnight. They graciously stayed open late a few minutes, let us take pictures in a pink Cadillac convertible, evidently once used by the king himself (but if we wanted Elvis himself to show, that cost extra and he was in bed).

So with the best witnesses you could ever imagine, a dress from an old movie and a jacket from Ben's closet, we read our own vows in the little chapel and gave one another the rings we'll wear for the rest of our lives. They even had Bluetooth for a (short) march down the aisle. But in the end it was the best possible wedding we could have imagined. One we dreamed of long ago and one made real (in the eyes of the state, Las Vegas, a pink convertible and one another) at very, very long last.

When love is real, the only thing that matters in marriage is one another and the promise we make to love, care, understand, be patient, loving and good to one another. We had that. And so much more. Best night of our lives. Thank you to the Little White Wedding chapel for letting me use the break room to change while Ben changed in the men's room.

They were right when they said, "all you need is love". We are so grateful to have that in abundance, a new wonderful family of five amazing children and a life that we have never had more reason to look forward to. Stick around long enough and maybe you'll find the best moment of your life in a drive through in Las Vegas at twelve thirty in the morning in the tunnel of love drive through, with your kids and the one you'll spend forever with. Love is a great thing, maybe the best of things-and worth waiting for.

With love,
Mrs. Jennifer Lynn Affleck
Not to be a pessimist, but how long do you give their marriage?

---
GOP Senator John Kennedy references Ben Affleck and J-Lo on Fox News
August 11th, 2021 under Ben Affleck, J-Lo, Mila Kunis, Politics. [ Comments: none ]
Louisiana Senator John Kennedy looks like he should be working in a funeral home instead of Congress. But today, he said something that made him look more hip than his usual look of needing a hip replacement.
When he was on Fox News, he said that "Democrats desperately wanted this infrastructure bill…They wanted it like Ben [Affleck] wants J-Lo."
Who knew instead of watching Fox News, he was watching Entertainment Tonight?
Seriously, I am sure if he were asked to point to them out of a lineup, he wouldn't be able to do it. I am betting that some intern told him to say that to make him look cool.
However, since he is from Louisiana, he should've said that the Dems wanted it as much as Britney Spears wants to be free of her dad. I mean, that is where she is from, so you would think he would know that. Oh wait, what am I thinking? He knows nothing.
Oh, and when it comes to horrible Democrats. Isn't it awful that they want safer roads and to fight climate change? They are just awful for literally wanting a better America. They are so despicable.

---
Who knew Ben Affleck was so short?
June 11th, 2021 under Ben Affleck, Shaquille O'Neal. [ Comments: none ]
When I think of Ben Affleck, I think of him as one of the taller actors in Hollywood. However, here, in this photo, that is not the case. That is because anyone who stands next to Shaquille O'Neal looks tiny.
Even The Rock looked like Kevin Hart next to him, and Kevin Hart looked like a toddler standing side by side with the basketball giant.

---
Kevin Smith has the best reaction to Bennifer 1.0 meeting up
May 3rd, 2021 under Ben Affleck, J-Lo, Kevin Smith. [ Comments: none ]
Back in 2002, Ben Affleck and Jennifer Lopez took Hollywood by storm when they started dating. Then after two years and two horrendous movies, their engagement was off right before they walked down the aisle.
Now, almost two decades after they started dating, along with divorces, having kids, several breakups, and more failed movies, they were seen together. That got everyone wondering if they were dating again.
One of those people is Kevin Smith, who directed them in Jersey Girl, a movie I thought was worse than Gigli and I joined the Razzies because of their first film together.
Sorry, back to Smith. When he saw the news, he took social media to give his two cents. "I hope this is true. I was there at the beginning of their relationship and they were adorable and very in love. It'll be wonderful for both of them if they find their way back to each other now, years later," the director wrote. "Unrelated side note? Coming soon…JERSEY GIRL 2: NECRONOMICON!" The sequel is enough of a reason to make sure they don't reunite.
No one is happier about this news than Brad Pitt and Jennifer Aniston. That's because the pressure is temporarily off of them to get back together. I say both men can do better.
Do you want Bennifer 1.0 to be a thing again?

---