Laverne Cox got her own Barbie doll!
May 25th, 2022 under Barbie, Laverne Cox. [ Comments: 9 ]
In a time when Transgender people, especially children, are watching their rights being taken away from them, Mattel and Barbie found a way to stand with the Trans community. The toy company released a Laverne Cox Barbie doll so that every Transgender person can say there is a Barbie in their image.
Mattel Creations described the $40 doll: "As a four-time Emmy-nominated actress, Emmy-winning producer, and the first transgender woman of color to have a leading role on a scripted TV show, Laverne Cox uses her voice to amplify the message of moving beyond societal expectations to live more authentically. She wears a triple-threat original design, featuring a deep red tulle gown gracefully draped over a dazzling, silver metallic bodysuit. Her hair is swept into glamorous Hollywood waves while dramatic makeup completes her look."
This morning the actress spoke to Today about why her mini-me is so important to her. "I was talking to my therapist how I was really shamed by my mother when I was a kid when I wanted to play with a Barbie doll but I was denied. And I had a lot of shame and trauma about that. And my therapist said to me, 'It is never too late to have a happy childhood.' She said, 'Go out and buy yourself a Barbie and play with her. There's a little kid that lives inside of you. Give her space to play.' And I did.
I told my mother about it, and the next Christmas my mother bought me a Barbie doll. And on my next birthday, my mother bought me another Barbie doll. For the next several years, she would always give me Barbies. My mommy finally got me a Barbie. And there's a kid in me, in all of us.
"Barbie has been a really healing experience for me as an adult and I hope Barbie fans of all ages can find healing and inspiration in this doll."
I hope that every little boy and girl can find inspiration in her Barbie because the real Laverne Cox is an inspiration to me and so many people.
Cox's doll is just as beautiful as she is, and any little boy and girl would be lucky to have her in their collection. Plus, this little girl at heart wants the outfit they gave her. How creative and gorgeous is that interchangeable look?

---
American Girl is telling an important story on HBO Max and Cartoon Network
May 11th, 2022 under Barbie, HBO Max. [ Comments: none ]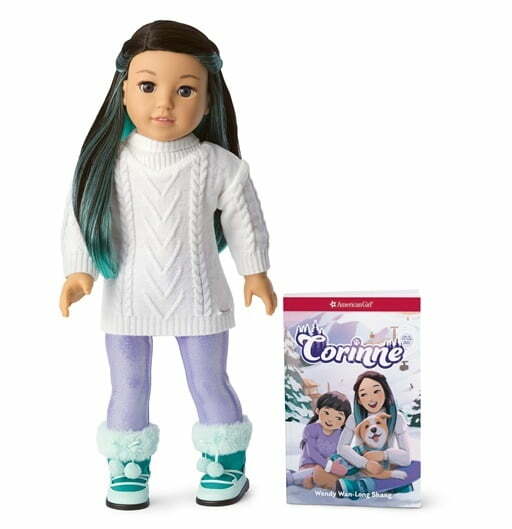 With half of all marriages ending in divorce, that means there are a lot of kids who will grow up without a two-parent household like their friends. Unfortunately, there is not a lot on TV that is made for them.
However, American Girl and Mattel teamed up with HBO Max, Cartoon Network, and MarVista to tell the story of Corrine Tan who is dealing with her parents' recent divorce with two 60-minute specials.
The first 60-minute special follows 13-year-old ski enthusiast Corinne Tan as she navigates her parents' recent divorce while her 10-year-old sister, Gwynn, dad, mom, and stepdad Arne have adjusted to their new roles in this blended family. She discovers a new purpose when she challenges herself to train a rambunctious puppy named Flurry to become a search and rescue dog. American Girl: Corinne Tan tells the inspirational story of a proud big sister as she comes to understand family, perseverance, and self-acceptance.
Fred Soulie, Senior Vice President and General Manager, Mattel Television. "Corinne is a strong role model, encouraging viewers to be their true, authentic selves. We are proud to bring her rich story to life and inspire television audiences of all ages."
American Girl: Corinne Tan debuts in December on Cartoon Network and will stream the next day on HBO Max. The second special will air in 2023.

---
Doesn't the Queen Elizabeth II Barbie doll look like Helen Mirren
April 21st, 2022 under Barbie, The Princes of England. [ Comments: none ]
In honor of Queen Elizabeth II's Platnum Jubilee, Mattle released a Barbie doll of her on her 96th birthday.
The doll is gorgeous, but I think she looks more like Helen Mirren than the British Monarch. However, it is an honest mistake because the actress did win an Oscar for portraying Her Royal Highness in the movie The Queen.
If you were hoping to buy the beautiful Barbie, you are out of luck. The $75 is sold out.

---
Helen Keller is a Barbie doll
May 18th, 2021 under Barbie. [ Comments: none ]
Helen Keller is a role model for the deaf and blind community and people who aren't in it. She was the first person to earn a Bachelor's degree with her disabilities. This was during a time when it was even difficult for women to go to college.
After she graduated, she became an outspoken person for people with disabilities, women's rights, and against racial inequality.
Keller was an inspirational woman. So much so that Barbie is honoring her with a doll in their Inspiring Women series.
"My favorite part of the design process for the Inspiring Women series is the research," Carlyle reveals. "Because of her achievement as the first deafblind person to earn a Bachelor of Arts degree, I wanted to capture that time in her life, imagining what she might have looked like and worn as a student at Radcliffe College in the very early 1900s. I found a few pictures of a young Helen during that time and combined that with research on women's style during the Edwardian period."
Keller is the 12th doll in the series. She joins an elite group of women in this category. They are Amelia Earhart, Billie Jean King, Rosa Parks, Susan B. Anthony, Sally Ride, Ella Fitzgerald, Maya Angelou, First Lady Eleanor Roosevelt, Katherine Johnson, Frida Kahlo, and Florence Nightingale.
If you want to add Keller to your collection, the beautiful doll is available now for $29.99.

---
Want to stay at a real Barbie™ Malibu Dreamhouse?
October 17th, 2019 under Airbnb, Barbie. [ Comments: none ]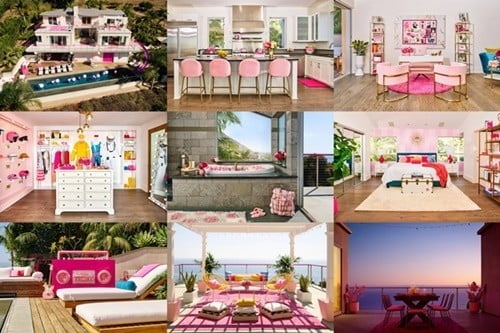 Have you ever wanted to stay in a Barbie™ Malibu Dreamhouse? Well now you can! AirBNB and Barbie teamed up to make our dreamhouse come true. For $60 per night, you can stay at home that is Barbie approved between October 27-29th.
It is being described as, "Located in the heart of Malibu, my Dreamhouse has three floors with ocean views and open spaces for friends and family to hang. My pool is the perfect place to cool off from the California sun, but I never travel without my waterslide, so I'll be taking that with me. And whether you're enjoying an outdoor meal, watching a movie in my personal cinema, or making s'mores under the stars, the best part is just being together."
Heck for $60 a night, even I am thinking about doing it. Who is with me?
BTW I wonder if Ken is included! I guess if he was, it would cost a little more for that service.

---