The new trailer for Elvis got my legs shaking like his
May 23rd, 2022 under Austin Butler, Baz Luhrmann, Elvis Presley. [ Comments: none ]
Baz Luhrmann released a new trailer for his epic biopic about Elvis Presley starring Austin Butler, and I already have a hunka, hunka, burning love for this film.
If it is as trippy and as beautiful as Romeo & Juliet and Moulin Rouge, then I think they are going to have a very busy awards season as they should because the movie seems to have matched the caliber of the greatness of the King himself.
It looks so mind-blowingly good that it might even bring Elvis out of hiding. Where has he been?
So mark your calendars for June 24th because you are not going to want to miss the day this film comes out. And if you do, then we might have to send you to Jailhouse Rock!

---
Watch Austin Butler shake his pelvis as ELVIS
February 17th, 2022 under Austin Butler, Baz Luhrmann, Elvis Presley. [ Comments: none ]
Baz Luhrmann released the first trailer for his ELVIS biopic with Austin Butler in the title role.
I am not sure how I feel about it because it is just a series of flash cuts. However, I know that the director makes everything beautiful, so I am sure this is a movie fit for the King.
When it comes to Butler, I think he looks like himself as the younger Elvis. However, he is the spitting of Elvis when they put the prosthetics on him.
Talking about prosthetics, what about Tom Hanks as the Colonel? It looks, and it doesn't look like the two-time Oscar winner. Could he win his third? If it is a boring year of movies like this one, then yes.
I hope it is because Luhrmann deserves an Oscar because he has an eye like no other in the movie business.
ELVIS comes out on June 24th.

---
See Austin Butler as Elvis in the teaser
November 15th, 2021 under Austin Butler, Baz Luhrmann, Elvis Presley. [ Comments: none ]
View this post on Instagram
For years, we have been hearing about how Baz Luhrman is doing a movie about Elvis Presley with Austin Butler in the title role. However, it got delayed because Tom Hanks was the first celebrity to reveal he tested positive for COVID-19. And then the virus went into full pandemic.
Well, after several delays, the movie has a release date of June 24th. So today, the director released a teaser for his film.
Well, the teasing worked because I can't wait to see it. Between Luhrman, Hanks, Butler, you know we are going to get a movie that is fit for a King, the King of Rock'n'Roll!

---
BTWF: Austin Butler in Hannah Montana
November 15th, 2021 under Austin Butler, Before They Were Famous. [ Comments: none ]
Before Austin Butler was brave enough to play Elvis, he was totally scared watching a horror movie with Hannah Montana. He looks the same now as he did when he was 15 in that 2007 episode.

---
Vanessa Hudgens and Austin Butler don't get a fairy tale ending
January 14th, 2020 under Austin Butler, Vanessa Hudgens. [ Comments: none ]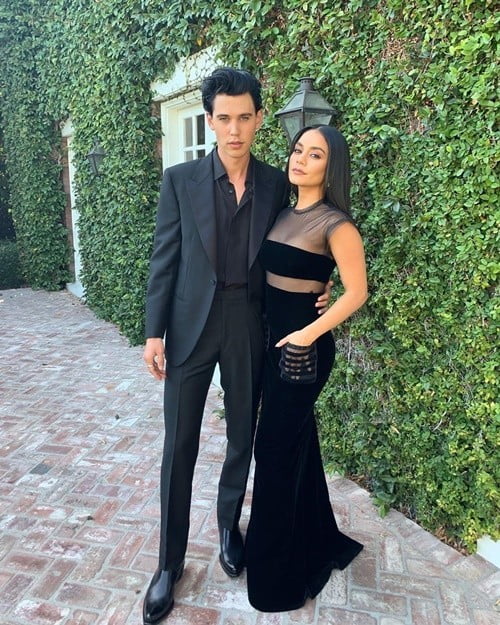 Vanessa Hudgens and Austin Butler have been dating for over 8 years, but their romance has come to an end according to Us Weekly. No reason was given for the split.
I really thought these two were going to make it. Maybe after all of this time, and no ring on her finger, it was a sign that it was not meant to be.
Plus, his career is about to change because he will be playing Elvis in Baz Luhrman's biopic while she continues to do films for television.
Maybe someday they will get back together? And they will live happily ever after.

---