Cheers to ABC for doing some Charmed reunions!
September 16th, 2019 under ABC, American Housewife, Nathan Fillion, The Goldbergs. [ Comments: none ]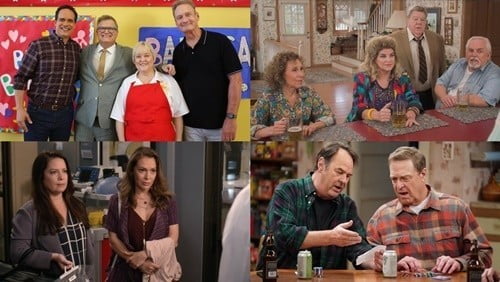 ABC found an interesting way to get us to watch their shows this season. Several of their series are staging reunions the week of October 7th.
For example, on October 9th, The Goldbergs is bringing Cheers' Kirstie Alley, Rhea Perlman, John Ratzenberger and George Wendt to a bar again. Two days later, Diedrich Bader is reunited with his castmates, Drew Carey, Ryan Stiles and Kathy Kinney, from The Drew Carey Show. That Sunday, we get a Castle reunion on The Rookie when Nathan Fillion gets to see his old pals Seamus Deaver and Jon Huertas again. I wonder where Stana Katic is? Too soon?
We also will see reunions from Girlfriends, Charmed, Blues Brothers 2000, Wet Hot American Summer and Crazy Rich Asians.
To the executive who came up with this brilliant idea, I have two words for you. They are thank and you. I can't wait to see all the reunions. Then again, I already watch most shows.
To read all about which reunions are happening on what show and what they are doing, then click here!

---
Always Be My Maybe is the summer Rom-Con we need!
May 16th, 2019 under American Housewife, Netflix. [ Comments: none ]

Friday nights on ABC just got weird for me because I will never be able to watch American Housewife's Ali Wong and Fresh Off the Boat's Randall Park the same. Thanks to their new movie Always Be My Maybe where they play childhood friends who might have a second chance of love. Until Keanu Reeves comes between them.
Now having said that I will be weirded out by the two back-to-back sitcom stars working in a Rom-Com together does not mean I do not want to see it. It makes me want to see it even more. Therefore, I cannot wait to see it when it streams on Netflix May 31st. I will just have to get past my issue.
Seriously though, I am happy that Netflix is giving Asians a movie to be the spotlight in. Take that Constance Wu. It is not about her, it is about her co-star. I am glad he is getting a project that will really show off his comedic brilliance. He can play so many different roles and I hope people start to see that about him. And Wong too.

---
BTWF: Diedrich Bader on Fresh of Prince of Bel-Air
April 25th, 2019 under American Housewife, Before They Were Famous, The Real. [ Comments: none ]

Before Diedrich Bader was average-sized on The Drew Carey, he was the tall guy on Fresh Prince of Bel-Air. How tall was the 24-year-old in that 1991 episode?
Bader talked about this guest-starring role on The Real today, to see what he said, then click here!

---
Who has better pick up lines Clay Aiken or Ruben Studdard?
December 13th, 2018 under American Housewife. [ Comments: none ]

Clay Aiken and Ruben Studdard are currently starring in a Broadway holiday extravaganza and they want you to pick up tickets to see Ruben & Clay's First Annual Christmas Carol Family Fun Pageant Spectacular Reunion Show. What better way to do it, then to use pickup lines.
Therefore, the two American Idols gave it their best cheesy try. When it comes to who won, for the first time, I say hands down, the Velvet Teddy Bear is the true winner. Aiken should be used to coming in second. Sorry Clay, you know I love you. But man, your pickup lines are the worst. I don't know when I have ever looked forward to Black Friday, but now it can not come soon enough!

---
American Housewife's Katy Mixon is pregnant again!
November 29th, 2017 under American Housewife, Katy Mixon. [ Comments: none ]

On May 19th, Katy Mixon welcomed her son, Kingston, and now 4 days after his first birthday she is welcoming her second child with fiance' Breaux Greer. She told Access Hollywood Live, that this time around she is having a girl and that she is a surprise that she was not expecting. For all those people who say you cannot get pregnant while you are breastfeeding, they lied. She said, it was when her milk dried up that she found out she was having baby #2.
Luckily, she is on a show, where her EP told her it is OK to get pregnant if she wants to because her character is not supposed to be stick thin on the sitcom. Granted the EP told her that for the first season, but it works for the second one too. Right?
When it comes to if her pregnancy will be written into American Housewife, she said as of now she does not know. Ali Wong, who plays one of her best friends on the show, is also pregnant in real life and her pregnancy was written into the show that airs Wednesdays at 9:30p on ABC. Which makes you wonder if there is something in the water there. Even though both of them got pregnant on hiatus.

---