Nathan Fillion grows a stache
June 30th, 2020 under Nathan Fillion. [ Comments:

1

]

Nathan Fillion is still a few weeks away from filming the new season of The Rookie, so he is trying out a new look. Like a lot of cops, he grew out the hair above his lip.

Will he be able to keep it? I hope not because I am not a fan of mustaches in general. What do you think of it?

Now, let's move on past the copstache, let's talk about how much more toned he has been this last year. He is looking great!

---
Nathan Fillion says he is remaining sane, but…
April 3rd, 2020 under Nathan Fillion. [ Comments:

none

]

Nathan Fillion just had to get out of his house, so he decided to go to the store and the gym. He took us on his journey, and I think there might be one more stop The Rookie needs to make. Where? To see a doctor. Not the one checks for the things outside of your heads, but the one who delves into your innermost thoughts.
Joking, just like he was. We have to have fun, especially now. Any humor is good humor. Now, I am missing the Good Humor Man. Aren't ice cream trucks essential? Like I said, any humor is good humor.

---
Did Gd unFriended Me? The Rookie is ready is for stage 2
September 29th, 2019 under CBS, Gd Friended Me, Nathan Fillion, Uncategorized. [ Comments:

none

]

Gd Friended Me is back on CBS at 8p, but is he still friends with Miles (Brandon Micheal Hall)? When we last left off, Joy told Miles that someone calling himself Gd told her to find him. What does that mean for the show?
The episode picks up a month after the season finale. Miles is doing his podcast. Cara (Violett Beane) is enjoying life in France working on Simon Hayes (Adam Goldberg) book with him. Rakesh (Suraj Sharma) is busy with his promotion. There is just one thing missing from their lives. Their old friend Gd.
Gd has not been busy. He has not contacted Miles nor Joy since that day. Joy still wants nothing to do with it, so it works out for her. However, Gd sends a little message to Miles and he meets up with Joy. Before Miles sees her, he runs into a soldier. That same soldier's ID was sent to Joy.
Can Miles convince her to help this soldier? Why does he need help? Will Gd friend Miles again? You have to watch to find out.

Then at 10p on ABC, Nathan Fillion is The Rookie. When we last left off the Wilshire Division were dealing with a terrorist attack that left them all changed.
Tonight's episode takes place two weeks later and they are ready to get back to work. Plus, the rookies want to know their test scores. Before they can get their results, they have to do a beat.
Sergeant Gray (Richard T. Jones) assigns himself to ride with Nolan (Fillion). The two find themselves in the middle of a robbery that will put everyone in the city at risk. All cops will have to be on the lookout for these subjects.
Bradford (Eric Winter) is better and tougher than he was before. If Chen (Melissa O'Neil) thought things were bad before, they are going to get worse for her. He is not going to let up on her. Why is he being so tough on her?
Finally, it is time for them to get their test results and someone is not going to advance to the next stage. Who will it be?
The Rookie does not start off slow and that is a good thing for a show that is no longer a rookie.

---
Is Mark Cuban in trouble with the law?
September 16th, 2019 under Do they have something to tell us?, Nathan Fillion, Shark Tank. [ Comments:

none

]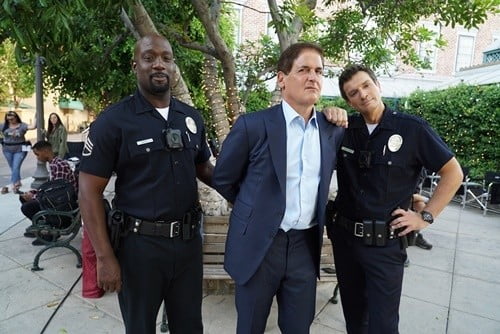 Mark Cuban was seen in handcuffs being escorted away by two police officers. Does that mean the mogul is going from the Shark Tank to the drunk tank? Nope, it was just Cuban, Nathan Fillion and Richard T. Jones having some fun behind the scenes of the season premiere of The Rookie.
You can see the Mavericks owner twice Sunday, September 29th on ABC. First on the business reality show and then on the police procedural. Where he might or might not be arrested.

---
Cheers to ABC for doing some Charmed reunions!
September 16th, 2019 under ABC, American Housewife, Nathan Fillion, The Goldbergs. [ Comments:

none

]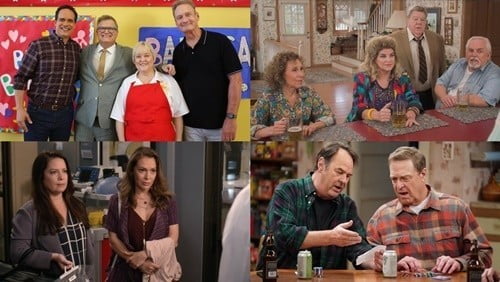 ABC found an interesting way to get us to watch their shows this season. Several of their series are staging reunions the week of October 7th.
For example, on October 9th, The Goldbergs is bringing Cheers' Kirstie Alley, Rhea Perlman, John Ratzenberger and George Wendt to a bar again. Two days later, Diedrich Bader is reunited with his castmates, Drew Carey, Ryan Stiles and Kathy Kinney, from The Drew Carey Show. That Sunday, we get a Castle reunion on The Rookie when Nathan Fillion gets to see his old pals Seamus Deaver and Jon Huertas again. I wonder where Stana Katic is? Too soon?
We also will see reunions from Girlfriends, Charmed, Blues Brothers 2000, Wet Hot American Summer and Crazy Rich Asians.
To the executive who came up with this brilliant idea, I have two words for you. They are thank and you. I can't wait to see all the reunions. Then again, I already watch most shows.
To read all about which reunions are happening on what show and what they are doing, then click here!

---