BTWF: Diedrich Bader for Bud Dry
June 1st, 2020 under American Housewife, Before They Were Famous. [ Comments:

none

]

Before Diedrich Bader was married to the perfect American Housewife, he needed to drown his sorrows in Bud Dry to get over being dumped. How sweet was the 24-year-old in that 1991 commercial?
---
Diedrich Bader wears a tuxedo to the DMV
February 21st, 2020 under American Housewife. [ Comments:

none

]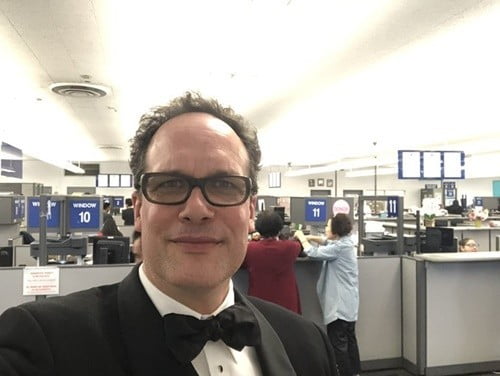 When you and I go to the DMV, we wear comfortable clothes because we know we are about to go through torture for several hours. However, we are not Diedrich Bader. The actor wore a tuxedo for his visit to the Department of Motor Vehicles. Why? He says, "Seemed funnier when I thought of it." I think it is high-larious. It also feels like something his character Oswald from The Drew Carey Show would do.
I really hope that he was there to take a photo for his RealID. Can you imagine the strange looks he will get from all of the TSA agents when they look at it? Now that I think of it, his plan was brilliant. Since I go to the same DMV as him, I am going to wear a gown when I go to get my photo done. They will be used to it by then.
And I cannot wait to get used to American Housewife airing in Modern Family's timeslot starting on April 15th. I love that sitcom as much as I love looking at Bader in a tux!
---
Lots of changes coming to American Housewife
September 27th, 2019 under American Housewife. [ Comments:

none

]

American Housewife is back tonight at 9p on its new night and there some changes coming for the Ottos.
First off, they are getting a new car. Now that Anna-Kat is older, they no longer need a mini-van. They just have to clean it up and out. Katie (Katy Mixon) and Greg (Diedrich Bader) decide to let Taylor (Meg Donnelly) handle cleaning the car. When she screws it up, her parents think it is about time she stops being a screwup. Therefore, they give her a list of things to do. How many of them will she screw up?
Unlike her oldest sibling, Anna-Kat (Julia Butters) is not screwing up as much. So much so, the school feels it is time for her to be with normal kids throughout her day. Katie doesn't like that there is not someone looking out for her baby girl. Therefore, she comes up with a way to watch her even when she is not there. Will Anna-Kat find out?
Finally, there is the middle child Oliver. When his ballet dreams are crushed, ruining his chances to get into Harvard, he comes up with another way to get in. One that is inspired by the likes of Lori Loughlin. His parents tell him he needs to find another way to get in, but he thinks this is on the only way it will happen.
The Ottos have their work cut out for them this season and I cannot wait to see how they do on their new night. They are a good fit with Fresh Off of the Boat, so that is something going for their show. That and it is a really funny sitcom that the whole family can watch together. We need more of those.
---
Cheers to ABC for doing some Charmed reunions!
September 16th, 2019 under ABC, American Housewife, Nathan Fillion, The Goldbergs. [ Comments:

none

]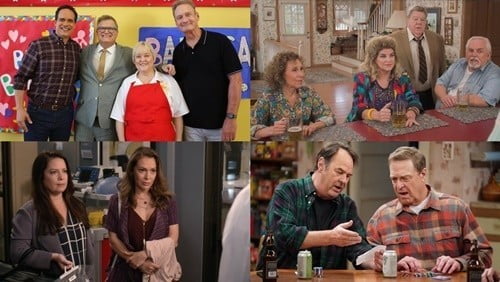 ABC found an interesting way to get us to watch their shows this season. Several of their series are staging reunions the week of October 7th.
For example, on October 9th, The Goldbergs is bringing Cheers' Kirstie Alley, Rhea Perlman, John Ratzenberger and George Wendt to a bar again. Two days later, Diedrich Bader is reunited with his castmates, Drew Carey, Ryan Stiles and Kathy Kinney, from The Drew Carey Show. That Sunday, we get a Castle reunion on The Rookie when Nathan Fillion gets to see his old pals Seamus Deaver and Jon Huertas again. I wonder where Stana Katic is? Too soon?
We also will see reunions from Girlfriends, Charmed, Blues Brothers 2000, Wet Hot American Summer and Crazy Rich Asians.
To the executive who came up with this brilliant idea, I have two words for you. They are thank and you. I can't wait to see all the reunions. Then again, I already watch most shows.
To read all about which reunions are happening on what show and what they are doing, then click here!
---
Always Be My Maybe is the summer Rom-Con we need!
May 16th, 2019 under American Housewife, Netflix. [ Comments:

none

]

Friday nights on ABC just got weird for me because I will never be able to watch American Housewife's Ali Wong and Fresh Off the Boat's Randall Park the same. Thanks to their new movie Always Be My Maybe where they play childhood friends who might have a second chance of love. Until Keanu Reeves comes between them.
Now having said that I will be weirded out by the two back-to-back sitcom stars working in a Rom-Com together does not mean I do not want to see it. It makes me want to see it even more. Therefore, I cannot wait to see it when it streams on Netflix May 31st. I will just have to get past my issue.
Seriously though, I am happy that Netflix is giving Asians a movie to be the spotlight in. Take that Constance Wu. It is not about her, it is about her co-star. I am glad he is getting a project that will really show off his comedic brilliance. He can play so many different roles and I hope people start to see that about him. And Wong too.
---