Alyssa Milano reveals who was the Boss?
July 28th, 2021 under Alyssa Milano. [ Comments: none ]
Have you ever wondered who was the boss on Who's the Boss? Was it Tony or Angela? Well, Alyssa Milano finally revealed who it is. It is Mona, like duh! I mean, the late great Katherine Helmond was the star of the show. There is no doubt about that.
Milano still spoke to Helmond until her passing in 2019. Who does she still talk to from Charmed? She says she only still speaks to Holly Marie Combs. As if we didn't know that?

---
Alyssa Milano shows off her armpit hair
June 7th, 2021 under Alyssa Milano. [ Comments: none ]
While men don't shave under their arms, women do. If we don't, then it is frowned upon.
Alyssa Milano doesn't care what people think. Therefore, she put down the razor and proudly showed off her armpit hair.
Are you ready to do the same? I am not. But it would make life so much easier if I did.

---
Alyssa Milano goes blonde
May 31st, 2021 under Alyssa Milano. [ Comments: none ]
Alyssa Milano is really intense when it comes to politics. However, she decided to lighten up. At least her hair, that is. The actress is no longer a brunette; now, she is a blonde.
Do you know what? It works. She looks like a boss. Ah, so now we know who's the boss.

---
The Micellis are back for Who's the Boss?
August 5th, 2020 under Alyssa Milano, Taxi. [ Comments: none ]

This season we said goodbye to the revivals Will & Grace and Full House. Therefore, we miss seeing our childhoods friends today. We need something else to fill that void. That hole might be filled by a sequel to Who's the Boss?.
That is because Tony Danza and his TV daughter, Alyssa Milano, are working on a sequel to the sitcom. According to Deadline, they are still living together in Angela's house. Tony is retired and Samantha is a single mother.
While Judith Light and Danny Pintauro will not be series regulars, they are trying to work them into the show somehow. I wonder if that will be a deal breaker to whoever whats to pick up the show.
When it comes to who will pick it, I am sure there will be a huge interest. Who's the Boss? is still doing well in syndication, and revivals whose original runs are still on TV do better than those that don't.
The Micellis weighed in about the news. Milano said, "I AM SO EXCITED! #WhosTheBoss is coming back!!! I've wanted to share this for so long and now I can! 😭 We feel the time is right to tell the story of where these amazing characters are today. Can't wait to share their stories with you. So happy." While Danza wrote, "Very excited to bring Who's The Boss back to television! #whostheboss"
Are you as excited as they are that the series could be coming back?
BTW Anytime I hear about Who's the Boss, I think of the Urban Dictionary definition of Tony Danza.

---
Alyssa Milano shares a makeup free Selfie
January 8th, 2020 under Alyssa Milano, No makeup. [ Comments: none ]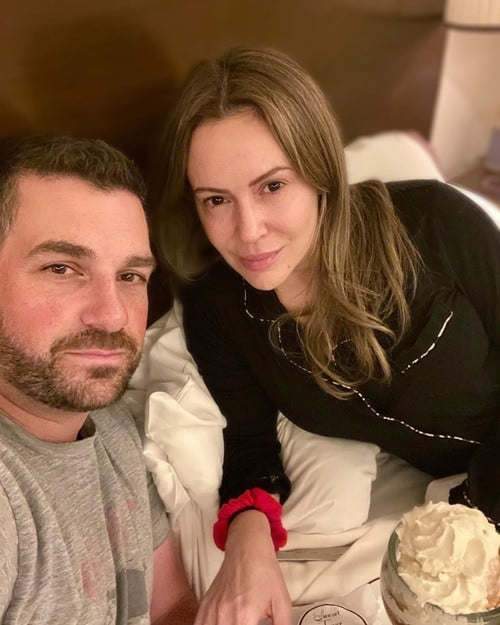 Alyssa Milano shared a revealing photo of herself in bed with her husband, Dave Bugliari, but it is not what you think. The actress was not wearing any makeup. How does she look? Different without eyeliner. However, she is just as beautiful.
I think if she showed this side of herself more often, it could open up different types of roles for her. What do you think?

---