Puppy Love is a creative RomCom
July 6th, 2023 under FreeVee. [ Comments: none ]
There have been so many RomComs that have come up with creative ways of bringing couples together. However, have you heard one where the couple gets together because their dogs have sex, and her dog gets his dog pregnant? You haven't heard of that? That is because Puppy Love doesn't come out on FreeVee until August 14th.
After a disastrous first date, wild child Nicole (Lucy Hale) and socially anxious Max (Grant Gustin) vow to lose each other's numbers, until they learn that their dogs found a love match, and now puppies are on the way! The hilariously mismatched Nicole and Max are forced to become responsible co-parents, but may end up finding love themselves.
This movie has inspired me to get a dog so that my dog could knock up his dog! There are worse ways to meet your soulmate.

---
Gina Rodriguez has a sex swing in her bedroom!
June 20th, 2023 under FreeVee, Jane the Virgin. [ Comments: none ]
Gina Rodriguez and her husband, Joe LoCicero, are going to be on this season of Hollywood Houselift with Jeff Lewis, and they gave Lewis and his team Megan Weaver, Tyler Meyerkorth, Andrew Coleman, and Shane Douglas, a tour of their house, including their bedroom. In their special room, they have a swing. Not any ordinary one, but a sex swing. And they use it every day.
That's right, the sweet girl from Jane the Virgin is not that innocent. And I love it. I am also jealous but impressed. I can't wait to see what else the couple reveals. Although, what can top that?
While that is what we learn about the LoCiceros, I wonder what other hidden gems we are going to see in the houses of Anthony Anderson, Cynthia Bailey, Noah Beck, Kate Bosworth, Reggie Bush, Josh Duhamel, Sara Foster, Regina Hall, and Christina Ricci who also appear this season.
Hollywood Houselift with Jeff Lewis will debut on FreeVee later this year. You can watch the first season now for free on the streaming service.

---
Jury Duty's Ronald Gladden finally got the hug he needed
May 10th, 2023 under FreeVee, Prime Video, Ryan Reynolds. [ Comments: none ]
In case you missed it. FreeVee did a show called Jury Duty which was an 8-episode prank show on one person. That person was Ronald Gladden, and he believed he was serving on a jury even though it was the weirdest case with the craziest scenarios that the producers could come up with. To make it more believable, everyone was an actor except him, including James Marsden, who played himself.
Well, the filming has been over for a while, but Gladden still feels like the cameras are watching him. So much so, he has trust issues.
When Ryan Reynolds heard his story, he knew he was the person to help the juror trust people again. So the actor asked the non-actor to do a Mint Mobile commercial with him. And then Deadpool gave him the hug he so desperately needed. Hopefully, that hug helped Gladden trust people again. I know I would if he hugged me like that, I would be trusting of everyone.

---
Amazon Freevee is looking for the GOAT of reality shows
May 1st, 2023 under FreeVee, Prime Video. [ Comments: none ]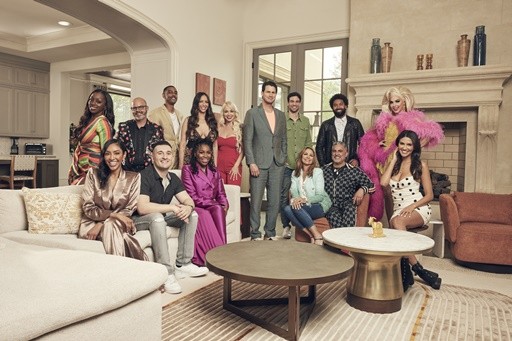 Amazon Freevee has invited 14 reality show contestants to compete on The GOAT to determine who is the greatest of all time.
The contestants will live in GOAT Manor, along with host Daniel Tosh. While they are there, they will face a series of mental, physical, and social challenges. By the end of the competition, there will be only one winner holding the rose with a lit tiki torch. And that person will be a lot richer.
Here are the 14 contestants trying to prove they are The GOAT:
Tayshia Adams (The Bachelor franchise)
Joe Amabile (The Bachelor franchise, Dancing with the Stars)
Kristen Doute (Vanderpump Rules)
Reza Farahan (Shahs of Sunset)
CJ Franco (FBoy Island)
Wendell Holland (Survivor)
Teck Holmes (The Real World, The Challenge)
Justin Johnson/Alyssa Edwards (RuPaul's Drag Race)
Paola Mayfield (90 Day Fiancé)
Da'Vonne Rogers (Big Brother, The Challenge)
Joey Sasso (The Circle, Perfect Match)
Jason Smith (Holiday Baking Championship)
Lauren Speed-Hamilton (Love Is Blind)
Jill Zarin (The Real Housewives of New York City)
Who do you think is the GOAT? Since I don't watch any one of those shows, I don't know who any of them are.
The reality show is filming in Atlanta and will debut later this year.

---
Freevee tricks a man to be on a fake jury with actors!
March 7th, 2023 under FreeVee. [ Comments: none ]
Freevee is the home of Judge Judy's Judy Justice. And soon they are going to have a show about Jury Duty.
It is not a real one, and it is not a fake one. So what is it? Jury Duty chronicles the inner workings of an American jury trial through the eyes of one particular juror, Ronald Gladden. What Gladden doesn't know is that the entire case is fake, everyone except him is an actor, including James Marsden, and everything that happens — inside the courtroom and out — is carefully planned.
Who is this lone juror? Gladden is a solar contractor from San Diego, CA. I can't wait to see his reaction when the case is over, and he finds out none of it was real. I hope the producers hired him to put solar panels on their roofs. It is the least they could do!
So when can you watch this brilliant show? The first four episodes debut on April 7th, and then the remaining four will play out with two new episodes on April 14th and April 21st.
So, you know that moment in the trailer when Marsden stands up and says he is a public figure, and the judge doesn't know who he is? True story time. My friend was recently selected for jury duty, and the judge remembered my friend from a show he did in the '90s. So yes, it is an LA thing.

---