Want to stay at the Home Alone house?
December 1st, 2021 under Airbnb. [ Comments: none ]
Airbnb has given us some cool places to stay over the years like the last Blockbuster and The Fresh Prince of Bel-Air's home. Now, they are giving us the chance to spend the night at the Home Alone house in Chicago for $25.
One person can bring three other people with them to stay at the McCallisters' abode on December 12th.
During your stay, you get:
A cozy holiday scene with twinkling lights and a perfectly t/rimmed tree in celebration of the season./

Booby traps galore (but don't worry – you'll be setting them, not sidestepping them!).

Surprisingly searing splashes of aftershave and ample opportunity to scream into the mirror.

All the '90s favorites their hearts desire, including plenty of Chicago's finest pizza and a candlelit dinner of microwavable Kraft Macaroni & Cheese.

A meet and greet with a real-life tarantula.

A viewing of the film franchise's newest holiday adventure, Home Sweet Home Alone.

A LEGO Ideas Home Alone set to take and build at home.
If this is your dream come true, then you can apply to be a Kevin at Airbnb Home Alone on December 7th.

---
Want to stay at The Bachelor mansion for $5,999 a night?
November 12th, 2020 under Airbnb, The Bachelor. [ Comments: none ]

Due to the coronavirus pandemic, The Bachelor and The Bachelorette are not filming in their normal mansion. Therefore, the owners are looking for ways to make money. How are they going to do that? They put their 10-acre property on Airbnb.
For just $5,999 a night you will have full access to Villa de la Vina. The famed mansion has 7 bedrooms and 8 baths to choose from. Along with "one of the most famous pools in the world, two jacuzzis, a pool table, handcrafted furniture, eye-popping views, and enormous outdoor space."
However, you are not allowed to throw any parties or events while you are there. If you do, they will kick you out with no refund.
It also does not include any contestants from the dating series. Although, I am sure you can buy at least one of them for the night!
There are also a lot of rules to follow. To see what they are, then click here!

---
Will Smith gives his castmates a tour of the real Fresh Prince mansion
September 28th, 2020 under Airbnb, Will Smith. [ Comments: none ]

Last week, Will Smith revealed that he put the real mansion that was featured on the Fresh Prince of Bel-Air on Airbnb. Now, he is giving us, his castmates (minus Alfonso Ribiero and Janet Hubert) and DJ Jazzy Jeff a tour of the inside.
Can you believe in the 30 years since the sitcom premiered, they have never been inside? Shouldn't it be mandatory that the stars of the shows see the inside of their fake homes while their series is in production? You know, before it is featured on HGTV?
Not so fun fact, the home is actually located in Brentwood and not Bel-Air. Is nothing on television real?

---
Want to stay at the last Blockbuster overnight?
August 13th, 2020 under Airbnb, DVD. [ Comments: 1 ]

Remember when you used to go to Blockbuster (when they were on every corner like Starbucks is now), and you wished you could stay there all night long? Well, now you can.

The last Blockbuster in the world is on Airbnb for three nights in September. That's right, you can stay there from the store's closing at 9:30p until its opening at 9a. You can browse their huge library of movies, watch several of them too from the bed they added to their store, and eat lots of sugary snacks and popcorn. However, I would avoid Chopping Mall as one of your movie selections.

Sounds too good to be true? It is. Because of COVID-19, there are a lot of restrictions. For example, you have to live in Deschutes County in Oregon, where the store is located. It is just a little thank you from them to their community. Airbnb is also giving back to their community by making a donation to the Humane Society of Central Oregon.

You know, if it does well, then maybe they can open stores/Airbnbs all over the world again. I would love to spend a night in Blockbuster. I miss reading the backs of DVD cases.

Who knew in 2020, Be Kind, Rewind, would mean Blockbuster being kind to open their store overnight and rewind us to a time when the only killer virus was in a few Zombie based movies like Night of the Living Dead? The good old days.

---
Want to stay at a real Barbie™ Malibu Dreamhouse?
October 17th, 2019 under Airbnb, Barbie. [ Comments: none ]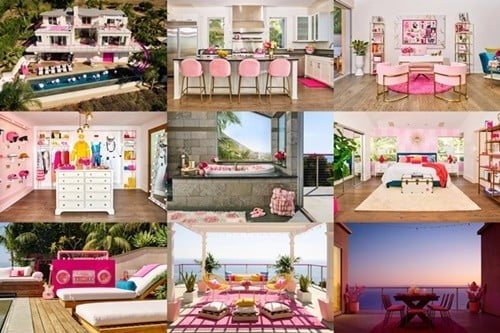 Have you ever wanted to stay in a Barbie™ Malibu Dreamhouse? Well now you can! AirBNB and Barbie teamed up to make our dreamhouse come true. For $60 per night, you can stay at home that is Barbie approved between October 27-29th.
It is being described as, "Located in the heart of Malibu, my Dreamhouse has three floors with ocean views and open spaces for friends and family to hang. My pool is the perfect place to cool off from the California sun, but I never travel without my waterslide, so I'll be taking that with me. And whether you're enjoying an outdoor meal, watching a movie in my personal cinema, or making s'mores under the stars, the best part is just being together."
Heck for $60 a night, even I am thinking about doing it. Who is with me?
BTW I wonder if Ken is included! I guess if he was, it would cost a little more for that service.

---