Look it's Mrs. Cunningham and Cindy Brady
August 19th, 2021 under 70s, The Brady Bunch. [ Comments: none ]
Back in the '70s, every little kid wanted a mom like Mrs. Cunningham and a friend like Cindy Brady. However, the two never met because they were in different decades. Now that Marion Ross and Susan Olsen are both in 2021, we get to see what it would be like to hang out with the both of them.
While we won't personally be able to do it, Josh Gates got to do it on Josh Gates Tonight yesterday. I don't know about you, but I am so jealous of him.
Now that we got that out of the way, can we talk about the Happy Days matriarch never ages? Can you believe that she is 92 years young? We should all be like her when we get that old.
Want to feel old now? The youngest Brady Bunch star just turned the big 6-0 on the 14th. Shady Pines, I am coming your way

---
A scary moment for Marla Gibbs at her Hollywood Walk of Fame Star ceremony
July 20th, 2021 under 70s. [ Comments: 1 ]
Marla Gibbs was finally given a Star on the Hollywood Walk of Fame today after being in the business for over 50 years. However, there was a scary moment actress who turned 90 last month.
According to KABC's George Pennacchio, she looked as though she was overcome* by the heat because it is as hot as she is old here today. Thankfully, after she rested for a bit, The Jeffersons' star told the reporter that "She was overwhelmed by the honor but she says she's fine now! 😁"
Since the show must go on, it did. She was able to get her star, and now whenever we are on Hollywood Blvd, we can see it.
Congrats to Gibbs. It is an honor that was a long time coming.
*This is a reference to The Jeffersons' pilot when she finds out that Louise Jefferson and Helen Willis both live in the luxury Manhattan high rise. She says to them, "Well, how come we overcame, and nobody told me."
To see that memorable line, then click here!

---
Ed Asner dances to Drake's Tootsie Slide
April 28th, 2020 under 70s. [ Comments: none ]

I know Ed Asner as Lou Grant from The Mary Tyler Moore Show and Lou Grant, and the kids know him from Up. Now, we are all going to know him as the 90-year-old man who showed Drake how to do the Tootsie Slide.
Current SAG President Gabrielle Carteris challenged the former one to the #dorkitoutdancechallenge to raise money to give people in need $100 grocery gift cards via On Being Human 2020. He gleefully accepted and showed he is a double threat. I have never heard him sing, so I can't say triple one.
Either way, I hope I have moves like that when I am his age.
Asner challenged Dancing with the Stars' host Tom Bergeron to dork it out, and how could he say no to his old friend. If you want to see him dork it out via dancing, then click here!

---
Gloria Gaynor will Survive the Coronavirus
March 12th, 2020 under 70s, Coronavirus, Gloria Gaynor. [ Comments: none ]

Back in 1979, Gloria Gaynor sang a little song that you might have heard of. It is called I Will Survive? That is something the Disco singer is going to do because she sings it whenever she washes her hands properly. This way she won't get the Coronavirus.
We should all do that too so that we can survive to sing that catchy tune at our grandchildren's wedding. That single never gets old, just like Gaynor.
If you need a how-to poster to wash your hands correctly to her record, then click here!

---
The Island Girls are back on All That this week
February 11th, 2020 under 70s, Alisa Reyes, Nickelodeon. [ Comments: none ]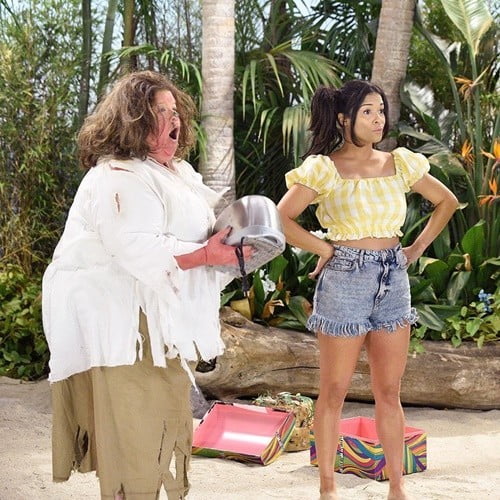 Back in 1995, All That introduced us to the Island Girls. Now, after almost 25 years, they are still stuck on that damn island.
This Saturday at 8:30p on Nickelodeon, we will find out how Fran (Lori Benth Denberg) and Kiki (Alisa Reyes) have survived all of this time there. Better yet, maybe we will discover how it is that the uptight Fran has not killed her very annoying, hyper and bubbly roommate.
There is one mystery that will not be solved, and that is how the actresses still look the same after a quarter of a century. Don't believe me. Watch the skit from the original version. To see it, then click here!

---