Did Loretta Lynn and Kid Rock get married?
August 31st, 2020 under Do they have something to tell us?, Kid Rock. [ Comments: 1 ]

Loretta Lynn and Kid Rock have been friends for a really long, and now it appears that they are much more than friends. So much so, it looks like the 88-year-old Coal Miner's Daughter and the 49-year-old singer get married over the weekend.

The legendary Country singer revealed how their surprise nuptials happened. Her son Ernie renewed his vows to his wife in a beautiful ceremony, and that really inspired Lynn and Robert James Ritchie. That is when she says, "Things got crazy then–my boy @kidrock was there and we've always teased about getting ourselves married. Well, the preacher was already there so we had some fun with it. Sorry girls, he's taken now!"

Who had them on the lists of celebrity couples that would tie the knot in 2020? You are lying if you did.

This is not Kid Rock's first shocking wedding. In 2006, he and Pamela Anderson had a quickie marriage. Just not as quick as this one.

Congrats to the two! I think? I only wish happiness for Lynn, so if this makes her happy, so be it.

UPDATE: Loretta Lynn update the happy news with a sad update, "Well, it didn't last long, y'all but it sure was fun! I guess I better get on here and let y'all know that it was just a joke— @kidrock and I didn't get married over the weekend, but we had a blast"

---
Billy Idol shaved off his spikes
August 31st, 2020 under Billy Idol. [ Comments: none ]

Billy Idol is as known for his spiky blonde hair as his music and his lip snarl. However, now, he is missing one of those things. The Rocker shaved off his spikes because it is Hot in the City of Los Angeles these days. Now, he and his granddaughter, Poppy, have the same hairstyle.

What do you think of Idol being a few inches shorter?

---
Shark Tank's Barbara Corcoran says she is not wearing a bra anymore
August 31st, 2020 under Shark Tank. [ Comments: none ]

One of the things women got to do since the coronavirus pandemic happened is stopped wearing a bra every day. Barbara Corcoran is one of those women. After nearly 60 years of wearing a brassiere, she has decided to take them off permanently.
The mogul was raised to believe she needs to wear one to keep her breasts from sagging. She realized that her boobs are still perky, whether she wears one or not. Therefore, why wear one? She has gone months without putting on an over the should bolder holder and she plans on doing the same for many more months.
Translation, she lets the sharks out of the tank, and they like swimming free! I am sure that the two men, Mark Cuban and Mr. Wonderful, who sit next to her on Shark Tank, will like it too! Let's just hope for the censor's sake, they don't have the AC on too low in Vegas when they are filming the ABC show.
Can I tell you I am jealous of her? Us ladies, who have heavy boobs, don't have the same luxury. We come home, take off her face masks and bras before we can sing Hallelujah.
Finally, if you are not following her on TikTok, you are missing out on her cleaning hacks and other shockingly refreshing and honest confessions.

---
Hot Links!
August 31st, 2020 under Hot Links!. [ Comments: none ]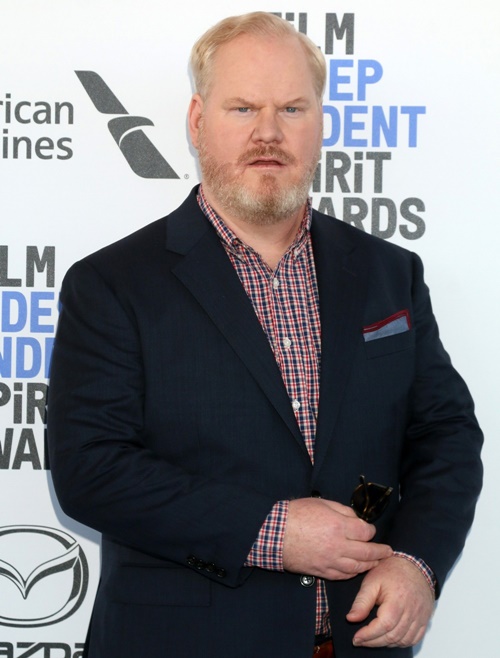 Why did Jim Gaffigan's fans turning on him? – Celebitchy

Nina Dobrev's bubble butt – GCeleb

Why do we give out candy on Halloween? – Grunge

Power Rangers and Little Pony combine – Screen Rant

Eva Longoria's bathing suit body – Drunken Stepfather

Who is rumored to be a drug-abusing, Grindr slut? – Dlisted

---
Jensen Ackles gets choked up as he preps for Supernatural's series finale
August 29th, 2020 under Supernatural. [ Comments: none ]

It is has been 15 years since Jensen Ackles started filming Supernatural with Jared Padelecki, and now the two of them are getting ready to film their series finale.
As Ackles prepares to say goodbye to Dean Winchester, he made a little video revealing two words from the final script. Those words are "the end." As he showed us them, he started to get choked up. He is not the only one, so did I. Are we the only ones, or did a tear come to your eye too?
The final episodes begin airing on October 8th, and the series finale airs November 29th on The CW.

---