Hot Links!
September 22nd, 2019 under Hot Links!. [ Comments:

none

]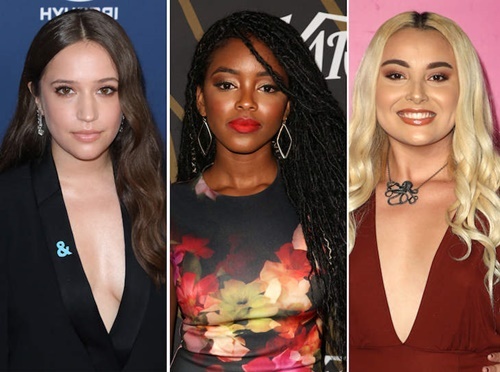 Guess which remake they are starring in? – Dlisted
It is a Royal arse – Drunken Stepfather
Who won the Emmys this year? – Pajiba
Who let Jenny McCarthy on the red carpet? – The Cut
Who got a bikini wax the day she gave birth? – Celebitchy
There is a wild Jurassic Park/Goonies connection – ScreenRant
---
The Jonas Brothers are suckers for Friends
September 22nd, 2019 under Friends (cast), Jonas Brothers. [ Comments:

none

]
https://mobile.twitter.com/jonasbrothers/status/1175788046807183360
Today is Friends' 25th anniversary. To celebrate the milestone, the Jonas Brothers took scenes from their Sucker music video and put it to the sitcom's theme song. It is scary how perfectly the 6 of them were like the original 6 when they danced to The Rembrandts' I'll Be There For You. Priyanka is so a Rachel.
---
Fighting Irish Spring
September 21st, 2019 under Sports figures. [ Comments:

none

]


The University of Georgia Bulldogs is playing Notre Dame Fighting Irish today in Athens, Georgia. Well, Dill's Food City did not want anything Irish in their store for the game this week, so on Monday they told their costumers, "Sorry Dill's customers there will be no Irish Spring at our stores this week. Go Dawgs!" They boxed up all of their soap and left the shelves empty.
When Irish Spring heard about it, they decided to send UGA a little care package of their product. Along with the present, they attached a little note that reads, "Hey @universityofga – Heard you were out of stock in Athens, GA. We're sending a little luck your way. 🍀 Hoping for a good, clean game tomorrow! 🧼 #NDvsUGA 🏈"
And with that, I will now be using Irish Spring soap because they are bad a$$. Which means they will make my bad a$$ smell good.
Good thing we didn't play Notre Dame when I was at the University of Miami. If there was any soap anywhere near the broadcasters during a game, then they would have used it to wash our mouths out with soap. That's because our chant to ND was, "They suck. We swallow." Which was actually one of our cleaner chants! It's great to be a Miami Hurricane!
---
Jennifer Lopez talks about that dress
September 21st, 2019 under J-Lo. [ Comments:

none

]

Jennifer Lopez wowed Milan Fashion Week when she walked down the runway in a replica of the infamous green Versace dress that she wore 20 years earlier at the Grammys. People were stunned that she looked even better at 50 than she did at 29. Yet, she does.
Vogue got to sit down with her and ask her about that dress. J-Jo told them, she was told not to wear that dress because other people had already worn it. She said she did not care and told them she was wearing it. The singer did not think it was that risque, but it was enough for people to ogle at her all night. She could feel them looking at her, but she did not know why.
As the days went on, Lopez began to understand what people saw. She even admits that dress made her the superstar. Which it did. Had she worn any other dress, we probably would not still be talking about her.
---
Brad Pitt and Jimmy Fallon have a food off!
September 20th, 2019 under Brad Pitt, Jimmy Fallon. [ Comments:

none

]

Yesterday, Jimmy Fallon went to the same restaurant as Brad Pitt. The actor wanted to say hi to the Tonight Show host, so he sent him a drink. Fallon did the same. Then Pitt sent him an appetizer and so on. This went on for several courses. Finally, the kitchen was out of food. Then the bit comes to a conclusion that makes me think this is the best bit the show has ever done. I can't think of any other sketch that made me laugh as hard as this one on the late night talk show.
Press play and tell me if you feel the same way.
---