Stephen Amell removed from a flight over a fight with his wife
June 23rd, 2021 under Arrested, Stephen Amell. [ Comments: none ]
Stephen Amell and his wife Cassandra Jean were in Austin for the weekend and were scheduled to fly back to LA on Monday. However, he was removed from the flight because of a verbal fight he had with his wife on the plane before takeoff.
According to TMZ, sources said he appeared to be intoxicated. However, he does not confirm that in a series of tweets this morning.
"My wife and I got into an argument Monday afternoon on a Delta flight from Austin to LA. I was asked to lower my voice and I did. Approximately 10 minutes later I was asked to leave the flight. And I did so immediately. I was not forcibly removed," he wrote. I rebooked myself on a Southwest flight 2 hours later and traveled home without any further issue. I let my emotions get the better of me, end of story. Must be a slow news cycle."
The Arrow star and the America's Next Top Model contestant have been married since Christmas of 2012, and have a daughter, Mavi Alexandra Jean, 7.

---
Drake Bell was arrested for attempted endangering children
June 4th, 2021 under Arrested, Drake Bell. [ Comments: none ]
Drake Bell was arrested yesterday and charged with disseminating matter harmful to juveniles and attempted endangering children.
According to WJW, the supposed incident is said to have happened in December 2017 at one of his shows in Cleveland with a then 15-year-old girl. "While there, Bell violated his duty of care and, in doing so, created a risk of harm to the victim," spokesman Tyler Sinclair in an emailed statement to Clevaland.com.
The Canadian girl is said to have gone to Canadian police about the incident, and they referred her case to Cleveland to do an investigation.
Bell allegedly sent the girl inappropriate messages on social media the months leading up to the concert.
Not much more is known at this time, but Bell's lawyer said all will be revealed at his upcoming court date. The former child star will go in front of the judge on June 23rd, where he is expected to enter a plea of no contest or guilty to the bill of information.
The actor is out on a $2,500 bond and is not allowed to have contact with the accuser.

---
Josh Duggar was arrested on suspicion of receiving and possessing child pornography.
April 30th, 2021 under Arrested. [ Comments: 1 ]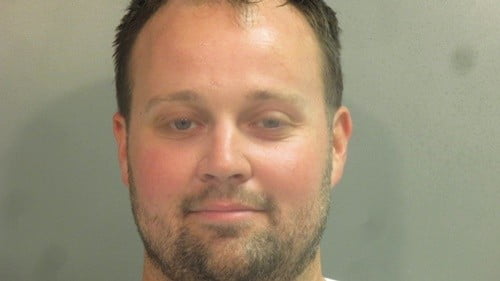 Josh Duggar was taken in by US Marshalls yesterday, and today we know why. United States Attorney's Office Western District of Arkansas said, "According to court documents, Joshua James Duggar, 33. allegedly used the Internet to download child sexual abuse material. Duggar allegedly possessed this material, some of which depicts the sexual abuse of children under the age of 12, in May 2019.
"Duggar is charged by indictment with receiving and possessing child pornography. If convicted, he faces up to 20 years of imprisonment and fines up to S250,000.00 on each count."
He is being held without bail, but that might change on May 5th when he has his detention hearing. If he is released on bond, the judge said he cannot stay in a residence with minors. That means he cannot go home to his wife, who is expecting his seventh child. Nor will he be able to stay with his immediate family, who all have minor children.
Duggar pleaded not guilty on all counts in court today. His trial is set for July 6th, according to KNWA.
If only there was a way to know that this might have been in the cards for him. For example, being accused of molesting four of his sisters and at least one family friend.

---
Ron Jeremy charged with three counts of rape and one count of sexual assault
June 23rd, 2020 under Arrested, Ron Jeremy. [ Comments: none ]

Last week, That '70s Show's Danny Masterson was arrested and charged with three counts of rape. Today, the Los Angeles District Attorney's officce charged Ron Jeremy with "three counts each of forcible rape and forcible penetration by a foreign object and one count each of forcible oral copulation and sexual battery."

The 67-year-old porn star is accused of forcibly raping a 25-year-old woman at his West Hollywood home in 2014. Then in 2017, he allegedly sexually assaulted two women, ages 33 and 46, at the same WeHo bar on different dates. Finally, they say he forcibly raped a 30-year-old woman at the same bar in 2019.

There was one woman, who came forward, but there was insufficient evidence to prosecute her case.

Jeremy is set to be arraigned today. The prosecutors are recommending that his bail be set at $6.6 million. If he is convicted, then he could face a maximum sentence of 90 years to life in a state prison.

---
Danny Masterson charged with three counts of rape
June 17th, 2020 under Arrested, That '70s Show. [ Comments: none ]

Back in March 2017, four women accused That '70s Show's Danny Masterson of raping them, and he denied the accusations. Today, the Los Angeles District Attorney's Office charged him with forcibly raping three women at his home.

The press releases says "The defendant is accused of raping a 23-year-old woman between January and December 2001, according to the complaint.

"In April 2003, Masterson allegedly raped a 28-year-old woman and sometime between October and December of that year he is accused of raping a 23-year-old woman who he had invited to his Hollywood Hills home."

Two other women also accused him of sexual assault, but the DA decided not to file charges. They explained their decision as "one for insufficient evidence and the other based upon the statute of limitations for the crime alleged."

If he is convicted of the crimes, he could face a maximum sentence of 45 years to life in prison.

He will be arraigned on September 18th.

Masterson is married to fellow Scientologist Bijou Phillips, and they have a daughter together.

---