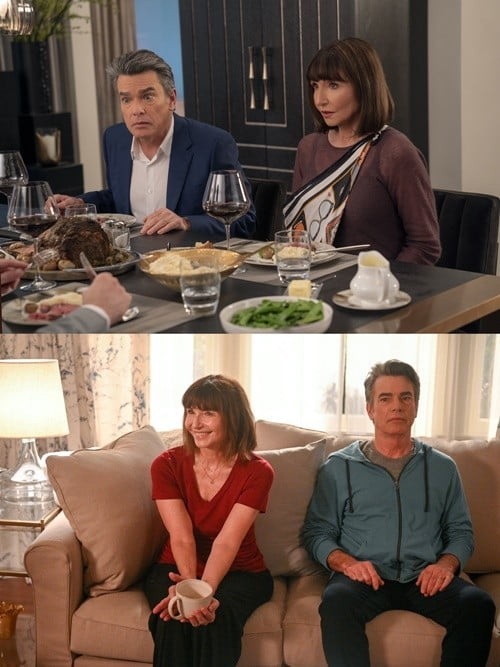 Back in January, I fell in love, actually I became obsessed, with a show called Zoey's Extraordinary Playlist. There is so much I adore about it. One of the things I love most is the sweet chemistry between Mary Steenburgen and Peter Gallagher, who play spouses. Her character has become her husband's caregiver because he is suffering from a rare neurological disorder that has left him trapped in his own body. Even though he cannot communicate, you can still tell that the couple understands, and, more importantly, they love each other.
Their love is my relationship goal. That is until I went to donate platelets, and decided to watch the sixth season of Grace & Frankie while I was there. I knew that Gallagher is playing Jane Fonda's husband on the comedy. What I found out is that Steenburgen is playing his ex on the show.
Now I am totally confused. It is weird going from watching four episodes of them playing a happily married couple to happily divorced co-workers. Therefore, I had to know, was it planned? I got on Twitter and asked them.
Steenburgen told me, "Not planned but lovely, all the same." When it comes to Gallagher, he responded with, "So lovely and so lucky. xo."
If she and Ted Danson were not one of Hollywood's most admired married couples for almost 25 years, and he was not happily married to Paula Wildash since 1983; then I would say that Hollywood is trying to tell them something. However, it is actually telling us something.
We need to watch them in, my favorite new show of the season, Zoey's Extraordinary Playlist every Sunday at 9p on NBC, and Grace & Frankie on Netflix. Can we talk about how this season ended?!?

---