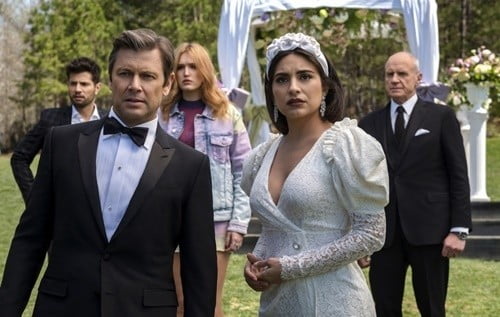 Dynasty is about to begin its third season, and they are getting their third Cristal, their second Cristal Jennings.
Confused? For season 1, Nathalie Kelley played Cristal Flores Carrington. The actress was asked not to return for season 2 and was killed off. She was replaced by Ana Brenda Contreras who starred as Cristal Jennings. She claimed her friend Cristal took her name for a new identity.
Now, Deadline is reporting that Contreras is out and Daniella Alonso is in. Showrunner Josh Reims told the trade, "Unfortunately, Ana Brenda Contreras will not be returning for the third season of Dynasty due to personal reasons. We'd like to thank her for her contributions to the show and wish her all the best. We're excited to welcome Daniella Alonso who will step into the role of Cristal."
Contreras is the second actress to leave the nighttime soap for personal reasons. Nicollette Sheridan quit the show earlier this year to be with her dying mother. Elizabeth Gillies temporarily stepped into the role to play her character's mother.
Therefore, if you do the math that is 3 Cristals and 2 Alexises. Dynasty is more of a soap opera behind the scenes than in front of the camera. Although the final minutes of the season 2 finale were pretty close to perfection.
Season 3 debuts October 11th on The CW with a new Cristal and no Alexis.
---