Wilmer Valderrama is finally getting married
January 2nd, 2020 under Wilmer Valderrama. [ Comments:

none

]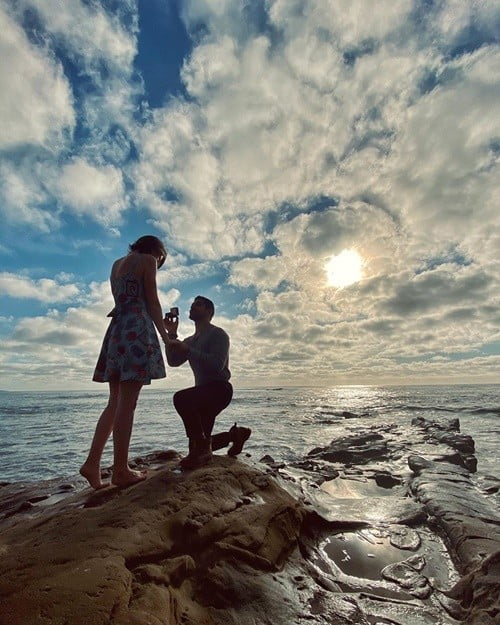 That '70s Show playboy Wilmer Valderrama is finally ready to settle down and get married. After dating Mandy Moore, Minka Kelly, Lindsay Lohan and Demi Lovato, he has finally met the one.
Therefore, he started off the New Year on his knee, and he asked Amanda Pacheco to marry him in La Jolla, California. What did the model say? She said yes, of course. The news was so exciting; it caused a 4.0 earthquake in the area. Or maybe that is just how good their sex is!
Anyways, this is the first marriage for both! Congrats to the two.
Valderrama is turning 40 on the 30th; I wonder if that played a role in his decision? That and now that his mom lives next door him. I betcha she has been telling him it is time for him to make her some grandchildren already!
To see the ring, then click here!

---
Wilmer Valderrama's mom's reaction to him buying her a house is perfect!
January 17th, 2019 under Wilmer Valderrama. [ Comments:

1

]

For Christmas, The Rock bought his mom a house anywhere she wants in the World. Wilmer Valderrama one-upped DJ. Instead of buying Sobeida a home in some random place, he bought it exactly where she wanted. Next to him. A mother's dream! Actually, her dream is to live with her son forever, but this close enough.
Now, that you know what she got, see how she reacted to her baby boy's amazing gift. She thought it was a joke at first and cursed out her son because she thought he was messing with her. When she realized it was for real, she started cry and so did we.
Who knew Fez was such the charmer? Glad he is using That '70s Show and NCIS money for good. Something I am sure his mother is kvelling over!

---
Wilmer Valderrama has seen better days
August 31st, 2018 under Better Days, That '70s Show, Wilmer Valderrama. [ Comments:

none

]

Wilmer Valderrama shared a photo of his face all bruised up, so who wants to mess up his good-looking mug? Was it one of Fez's girlfriend's lovers? Nope, it was actually the makeup department at NCIS. Why did they do it? We do not know, so we just have tune in for all-new episodes that start airing on CBS September 25th.

---
Is Wilmer Valderrama doing a commercial for Jet Lag cologne?
July 8th, 2018 under That '70s Show, Wilmer Valderrama. [ Comments:

none

]

You know how cologne commercials have a naked man lying in a white bed looking all sexy? Well, isn't that what it looks like Wilmer Valderrama is doing here as he asks people for a cure to jet lag? I would buy whatever he was selling!

---
Doesn't it look like Wilmer Valderrama is beating a peepee?
June 19th, 2018 under That '70s Show, Wilmer Valderrama. [ Comments:

4

]

Wilmer Valderrama shared a video of himself hitting a floating punching bag, and the bag looks really phallic. Doesn't it look a peepee?
And I am the only one looking at his punching bag?

---