Surprise '80s actors Anthony Edwards and Mare Winningham are married
February 23rd, 2022 under 80s, Weddings. [ Comments: 1 ]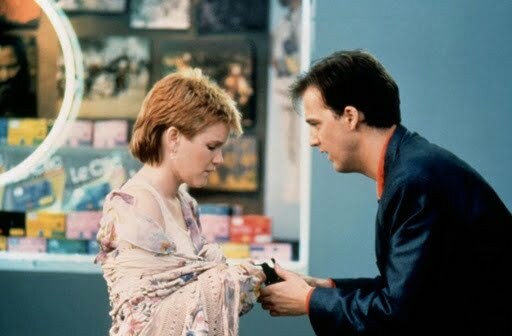 Back in 1984, Anthony Edwards and Mare Winningham auditioned for The Sure Thing. However, neither one got the lead role. Two years later, they starred in the nightmare-inducing movie Miracle Mile. (Side note – It is why I am still scared to go to Park La Brea to visit my friend)
Anyways, that movie was about a bomb, and their friendship never bombed. So much so that in 2018, their friendship turned into dating. And Edwards tells Esquire that the two of them eloped late last year.
The actor, who turns 60 this year, said that they are too old for weddings before praising his wife's acting in the Broadway play Girl from the North Country.
Congrats to the newlyweds.

---
John Corbett reveals that he secretly married his 10
August 4th, 2021 under Jerry O'Connell/Rebecca Romijn, Talk Shows, Weddings. [ Comments: none ]
John Corbett was on The Talk today, and he had a big secret to share with his buddy Jerry O'Connell and the other hosts. His sex in the city days with other women are over.
"Jerry, I can't believe that I forgot to tell you that around Christmas time we got married. Bo [Derek] and I got married," he said. "You know, we're pretty private people. We didn't make an announcement. All our friends and family knew but, this is the first time either one of us has said anything publicly about it because really we haven't had an opportunity. So, you're my buddy, and now I guess I'm telling all of America or the world. After 20 years, we decided to get married. We didn't want 2020 to be that thing that everybody looks back at and hated…let's get one nice this out of it."
That is such a beautiful reason to get married. May their marriage only be filled with hope and good times for the rest of their long lives. You can already tell that the first seven months are full of happiness because he was beaming with joy as he shared the news.

---
Is this the best wedding entrance?
November 4th, 2020 under Weddings. [ Comments: none ]

All around the world, couples have come up with creative ways to make their grand entrance. However, Courtney's brother came up with the most death-defying way to walk down the aisle to his future husband on Halloween. Well, he didn't walk. Instead, he had four pallbearers carry him down in a casket.

They say until death do you part. In this case, it is when they unite.

You know, they say that some weddings feel like a funeral. Not this one. This one feels like it is going to last a lifetime. If it doesn't, imagine what the divorce party will be like?

---
Michael Copon is a married man!
September 21st, 2020 under Weddings. [ Comments: none ]

Last week, Dynasty's Liz Gilles announced that she got married on August 8th. She was not the only actor who said I do on that date. Michael Copon uttered those same words to his now-wife in Virginia Beach.

Copon wrote a beautiful essay to the love of his life. Now, we know what his Power Rangers' power is. It is to make women all over the world want a husband who will say such beautiful things to and about them.
August 8th 2020 was the day I commited my life to my Soul mate…my best friend… and my love Victoria! The day was filled with so much laughter and tears…even @jasonfaunt cried which never happens! 😂 Victoria you are the reason I believe in love… I never imagined I would get this lucky and marry the most perfect woman for me! We laugh together, we cry together, we openly share our opinions, we sharpen each other's souls, we push each other to the road of endless possibilities, we pick each other up when the world tries to knock us down, you make life worth living to the fullest, you make a man like me want to spoil you because you're so endearing and unattached to the material world, we both know time is most important thing over anything money can buy, we both love food and cuddle sessions on movie nights, we are equally yolked and grounded in faith, we both want to change the world… and we will… I know it because you've changed mine… I gave up on love for so many years…it was hard to trust women… so many wanted fame or money… or even just spoke to me because they were a fan…and no one wanted the love I was willing to give… you saw the real me… you opened my eyes to the heart that I had covered for so many years…since we've been engaged we've just grown stronger and stronger in our fight to be the best for each other! Thank you for being a woman worthy of being praised! Our love is strong because God is the center… I can't wait to spend the rest of my life with you! For better and for worse! Till death do us part! Because as old fashion as we both are… we don't believe in divorce and we will never give up on each other! This is the greatest gift a man could receive…a soul mate to build an eternity with!!!! I love you forever Victoria ❤️❤️❤️❤️❤️❤️❤️❤️
Hopefully, the winner of VH1's But Can They Sing serenaded his bride on their special day. It would be the cherry on top of an already perfect day.

---
Niecy Nash is a married again, this time to a woman!
August 31st, 2020 under Niecy Nash, Weddings. [ Comments: none ]

Niecy Nash got married for a third time, and hopefully this time it will be the charm. The Scream Queen broke the news on social media, and there was a lot to absorb in one photo.

Back in October, Nash announced that she was divorcing her second husband, Jay Tucker, and their divorce was finalized in March. Now, five months later she is married again. This time to Jessica Betts, and it is a big surprise. No one knew they were dating.

Nash is taking her wife's name legally. She will still be Niecy professionally, but on her driver's license she will go by Mrs. Carol Denise Betts.

Congrats to the two!

---