Michael Copon is a married man!
September 21st, 2020 under Weddings. [ Comments:

none

]

Last week, Dynasty's Liz Gilles announced that she got married on August 8th. She was not the only actor who said I do on that date. Michael Copon uttered those same words to his now-wife in Virginia Beach.

Copon wrote a beautiful essay to the love of his life. Now, we know what his Power Rangers' power is. It is to make women all over the world want a husband who will say such beautiful things to and about them.
August 8th 2020 was the day I commited my life to my Soul mate…my best friend… and my love Victoria! The day was filled with so much laughter and tears…even @jasonfaunt cried which never happens! 😂 Victoria you are the reason I believe in love… I never imagined I would get this lucky and marry the most perfect woman for me! We laugh together, we cry together, we openly share our opinions, we sharpen each other's souls, we push each other to the road of endless possibilities, we pick each other up when the world tries to knock us down, you make life worth living to the fullest, you make a man like me want to spoil you because you're so endearing and unattached to the material world, we both know time is most important thing over anything money can buy, we both love food and cuddle sessions on movie nights, we are equally yolked and grounded in faith, we both want to change the world… and we will… I know it because you've changed mine… I gave up on love for so many years…it was hard to trust women… so many wanted fame or money… or even just spoke to me because they were a fan…and no one wanted the love I was willing to give… you saw the real me… you opened my eyes to the heart that I had covered for so many years…since we've been engaged we've just grown stronger and stronger in our fight to be the best for each other! Thank you for being a woman worthy of being praised! Our love is strong because God is the center… I can't wait to spend the rest of my life with you! For better and for worse! Till death do us part! Because as old fashion as we both are… we don't believe in divorce and we will never give up on each other! This is the greatest gift a man could receive…a soul mate to build an eternity with!!!! I love you forever Victoria ❤️❤️❤️❤️❤️❤️❤️❤️
Hopefully, the winner of VH1's But Can They Sing serenaded his bride on their special day. It would be the cherry on top of an already perfect day.

---
Niecy Nash is a married again, this time to a woman!
August 31st, 2020 under Weddings. [ Comments:

none

]

Niecy Nash got married for a third time, and hopefully this time it will be the charm. The Scream Queen broke the news on social media, and there was a lot to absorb in one photo.

Back in October, Nash announced that she was divorcing her second husband, Jay Tucker, and their divorce was finalized in March. Now, five months later she is married again. This time to Jessica Betts, and it is a big surprise. No one knew they were dating.

Nash is taking her wife's name legally. She will still be Niecy professionally, but on her driver's license she will go by Mrs. Carol Denise Betts.

Congrats to the two!

---
Raven-Symoné is a married woman!
June 18th, 2020 under Weddings. [ Comments:

none

]

Raven-Symoné has some big news to share. The actress married her girlfriend, Miranda Maday, yesterday in a small sunset wedding at their house.

Raven wrote, "I got married to a woman who understands me from trigger to joy, from breakfast to midnight snack, from stage to home. I love you Mrs. Pearman-Maday! Let's tear this world a new asshole!!! I's married NOW"

Congrats to the two.

---
Orville's Scott Grimes & Adrianne Palicki celebrate their one-year anniversary!
May 19th, 2020 under Weddings. [ Comments:

none

]

Exactly a year ago, Scott Grimes and Adrianne Palicki said I do. Then two months later, she said I don't and filed for divorce. Well, something happened during these last 10 months (filming Orville together probably didn't hurt), and they are back together again.

Although looking at the photo that he shared, I am not sure for how long. Yet, her Instagram tells a different story because she wrote, "Happy anniversary to my husband @scottchristophergrimes. What a bizarre year it's been with all of its ups and downs. Thankfully, we've been able to navigate it together. I love and appreciate you."

If they can survive a divorce filing, they can survive anything. Happy anniversary.

---
Cheryl Burke trades in her trophy ball for a wedding ring
May 24th, 2019 under Weddings. [ Comments:

none

]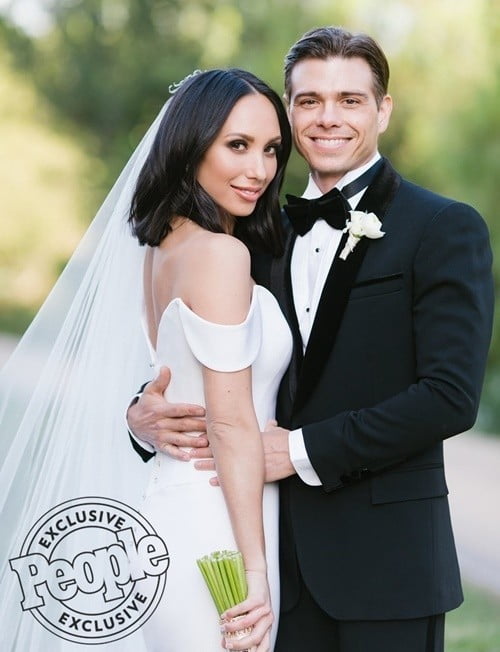 Cheryl Burke and Matthew Lawrence tied the knot yesterday in San Diego in front of their friends, family and Dancing with the Stars stars.
According to People, Leah Remini was her matron of honor while Lawrence's brothers, Joey and Andy, were his best men.
The couple met in 2006 when his brother Joey Lawrence was a competitor on the dancing show. They dated for a year and broke up. Then in 2017, they started dating again and got engaged on her birthday last May. Now they are Mr. & Mrs.

---