90210's Trevor Donovan and Jessica Lowndes
August 11th, 2023 under Beverly Hills 90210 / Melrose Place, Trevor Donovan. [ Comments: none ]
It has been a decade since 90210 ended its run, and Trevor Donovan and Jessica Lowndes are still acting together. However, they are not playing Teddy and Adrianna anymore. Instead, they are doing their take on Barbie and Ken.
They have such great chemistry someone should find them another show to work on when the strike finally ends. I would watch them have fun because that is what makes TV enjoyable.

---
The 'stars' dancing on Dancing with the Stars are…
September 8th, 2022 under Dancing with the Stars, Trevor Donovan. [ Comments: none ]
Dancing with the Stars is moving to Disney+ on September 19th with Alfonso Ribeiro and Tyra Banks as hosts, and this morning they announced who the "stars" are going to be on the inaugural season, the series' 31st.
Celebrities and Professional Dancers:

Fitness model and actor Joseph Baena with partner Daniella KaragachMovie star Selma Blair with partner Sasha Farber

Comedian, actor and singer Wayne Brady with partner Witney Carson

Good Morning America weather contributor Sam Champion, with partner Cheryl Burke

TikTok star Charli D'Amelio with partner Mark Ballas

Heidi D'Amelio ("The D'Amelio Show") with partner Artem Chigvintsev

Country star Jessie James Decker with partner Alan Bersten

TV star Trevor Donovan with partner Emma Slater

Daniel Durant (Oscar®-winning "CODA") with partner Britt Stewart

Teresa Giudice ("The Real Housewives of New Jersey") with partner Pasha Pashkov

Vinny Guadagnino ("Jersey Shore") with partner Koko Iwasaki

"Charlie's Angels" star Cheryl Ladd with partner Louis van Amstel

Jason Lewis ("Sex and the City") with partner Peta Murgatroyd

Drag queen superstar Shangela with partner Gleb Savchenko

Platinum recording artist Jordin Sparks with partner Brandon Armstrong

Gabby Windey ("The Bachelorette") with partner Val Chmerkovskiy
We knew the names were going to be bad because it was moving from broadcast to the streaming service. However, they are worse than we thought. But, I still have someone to root for, and it is Trevor Donovan. Who are you rooting for?

---
Words of Wizdumb from Trevor Donovan
October 25th, 2021 under Trevor Donovan, Words of Wizdumb. [ Comments: 1 ]
Trevor Donovan is starring in GAC Family's Jingle Bell Princess on December 4th. In order to play the part, the actor had to wear glasses. Therefore, he came to a realization, "Nudists must have trouble cleaning their glasses… 🤔 You wear glasses?"
Those are some Words of Wizdumb because now I can't stop imagining how they clean their glass when they are out and about. How do you think they do it? Or do we not want to know?
One thing I do know is that Donovan looks sexy with them on. Don't you agree?

---
Trevor Donovan's epic story about being carded!
June 24th, 2019 under Trevor Donovan. [ Comments: 1 ]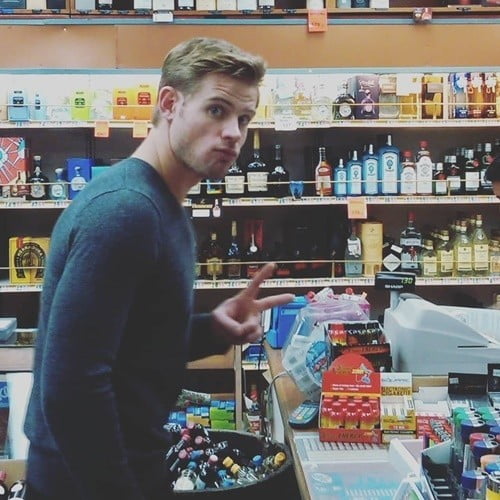 Let's be honest, as you get older, it feels amazing to be carded. It is a pain because you have to take out your driver's license. Sometimes when you do that, other cards fall out.
That is what happened to Trevor Donovan. The man, who celebrated his 21st birthday for the 19 times, explained what happened to him over the weekend. He said, "Got carded at the liquor store. While getting ID an old Blockbuster card fell out. He laughed and said 'Never mind.' 😂"
Who knew that Blockbuster is more proof of age than your Read ID. I realized my old video store card is still in my wallet, so I cut it up because I don't want anyone to know my real age. Like Blanche Devereaux, I keep it so secret that no one will ever find it out.
What other cards do you think dates you? Thankfully, Toys'r'Us is coming back because that would have been dating us all soon.
When it comes to Donovan, I can totally see why the clerk asked for his ID. He still looks the high school student he played on 90210.

---
Is Trevor Donovan really 38 years old?
July 28th, 2017 under Are they really their age?, Beverly Hills 90210 / Melrose Place, Trevor Donovan. [ Comments: none ]

Trevor Donovan shared a photo of himself wearing just a white Speedo and he has me saying 9021-OMG! Who knew all of that muscle was under his clothes. Now we know why his Ken Doll movie never got made, it is because his body is too anatomically correct.

---