Words of Wizdumb from Trevor Donovan
October 25th, 2021 under Trevor Donovan, Words of Wizdumb. [ Comments: 1 ]
Trevor Donovan is starring in GAC Family's Jingle Bell Princess on December 4th. In order to play the part, the actor had to wear glasses. Therefore, he came to a realization, "Nudists must have trouble cleaning their glasses… 🤔 You wear glasses?"
Those are some Words of Wizdumb because now I can't stop imagining how they clean their glass when they are out and about. How do you think they do it? Or do we not want to know?
One thing I do know is that Donovan looks sexy with them on. Don't you agree?

---
Trevor Donovan's epic story about being carded!
June 24th, 2019 under Trevor Donovan. [ Comments: 1 ]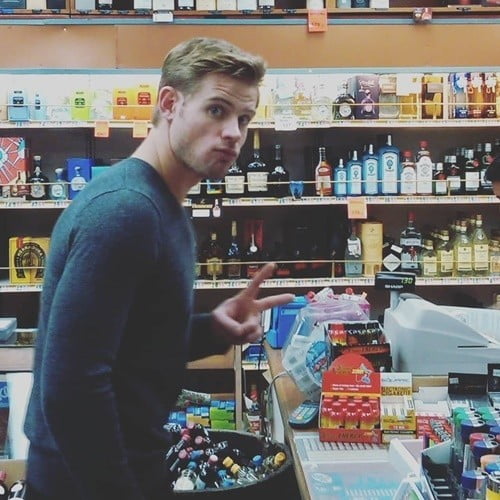 Let's be honest, as you get older, it feels amazing to be carded. It is a pain because you have to take out your driver's license. Sometimes when you do that, other cards fall out.
That is what happened to Trevor Donovan. The man, who celebrated his 21st birthday for the 19 times, explained what happened to him over the weekend. He said, "Got carded at the liquor store. While getting ID an old Blockbuster card fell out. He laughed and said 'Never mind.' 😂"
Who knew that Blockbuster is more proof of age than your Read ID. I realized my old video store card is still in my wallet, so I cut it up because I don't want anyone to know my real age. Like Blanche Devereaux, I keep it so secret that no one will ever find it out.
What other cards do you think dates you? Thankfully, Toys'r'Us is coming back because that would have been dating us all soon.
When it comes to Donovan, I can totally see why the clerk asked for his ID. He still looks the high school student he played on 90210.

---
Is Trevor Donovan really 38 years old?
July 28th, 2017 under Are they really their age?, Beverly Hills 90210 / Melrose Place, Trevor Donovan. [ Comments: none ]

Trevor Donovan shared a photo of himself wearing just a white Speedo and he has me saying 9021-OMG! Who knew all of that muscle was under his clothes. Now we know why his Ken Doll movie never got made, it is because his body is too anatomically correct.

---
BTWF roles: Trevor Donovan on Quintuplets
February 23rd, 2017 under Before They Were Famous, Trevor Donovan. [ Comments: none ]

Before Trevor Donovan was a successful Country singer on Sun Records, he was a waiter on Quintuplets. He looks the same now as he did when he was 26 in that 2004 episode.

---
Did Trevor Donovan's pup catch his bone(r)?
October 11th, 2011 under Beverly Hills 90210 / Melrose Place, Trevor Donovan. [ Comments: 2 ]

Trevor Donovan Tweeted the above picture and said, "I think Tito pee'd", but that is not what I noticed in that picture. All I could see is that it looks like his arfdoable little pup caught his bone(r). Do you think that is the 90210 star or do you think his dog's nail got stuck on his shorts???

---