Kevin Hart is afraid of a butterfly
November 22nd, 2019 under Kevin Hart, The Rock. [ Comments:

none

]

The Rock and Kevin Hart are in Mexico promoting their movie Jumanji. The studio opted to do the junket outside and not in a hotel room. That means they have to deal with all the elements that come with nature like bugs.
Well, Hart is afraid of bugs, including butterflies. Thus, when a pretty yellow one kept flying by him, he screamed like a little girl and tried to run away from it. Later on, a grasshopper decided to say hi. As soon as Hart saw it, he could not stop focusing on it. DJ being the kind man that he is, picked it up to show it to his friend. For some reason, Hart did not want to see it.
If I were DJ, then for Jumanji 3, I would force his BFF to have to film a scene with real bugs. A room full. Think Joe's Apartment amount of creepy crawlies, but without the CGI!
Although, it probably won't happen because here is what Hart wrote about this video, "I don't f*ck with bugs man….for the life of me I can't figure out why they love to f*ck with me…they pick on me constantly. Leave me alone bugs. Enough is enough damn it 🤦🏾‍♂️🖕🏾" Anyone else siding with the bugs over the actor beside me?
---
Kevin Hart went as a teenage The Rock for Halloween
October 30th, 2019 under Kevin Hart, The Rock. [ Comments:

none

]

Tomorrow is Halloween! However, we know today what Kevin Hart is going as today. He dressed up as The Rock when he was a teenager and wore a fanny pack. You know what, he looks like a mini version of DJ. Thus, it makes sense that all he got was a bite-size candy bar.
Not only is this video a treat, but it will also be one when we watch the king-sized trailer for Jumanji: The Next Level on Halloween. Am I the only one who can't wait to see the sequel?
UPDATE: To see the trailer, then click here!
---
Aren't Dolittle and Jungle Cruise basically the same movie?
October 13th, 2019 under Robert De Niro, The Rock. [ Comments:

none

]


Martin Scorsese said, "Theaters have become amusement parks." Some might argue that he is wrong. Then this week, we got two trailers that look like amusement park rides come to life on the big screen. Granted Jungle Cruise is based on one at Disney. However, Dolittle feels like it will be coming to Universal in 2023. Which makes me think the legendary director is right.
When it comes to Dolittle, Robert Downey Jr. as Dolittle, I prefer Eddie Murphy's version. I would rather be on a ride based on the latter one's movie than the one that is coming out on January 17th. What about you?
---
The Rock is not too big for tea time with his daughter!
September 23rd, 2019 under The Rock. [ Comments:

none

]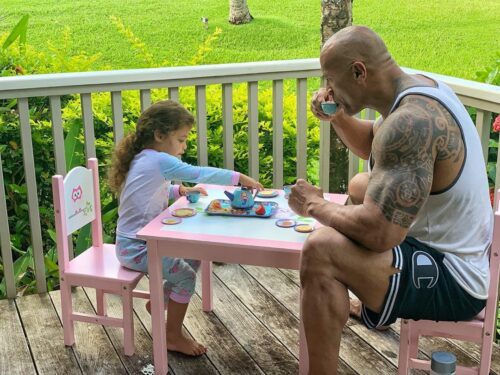 The Rock might be one of the biggest movie stars in the World, but he is not too big for tea time with his daughter Jasmine. DJ and the 4-year-old enjoyed some alone time like most fathers do with their daughters. Just most of those men are not as muscular and inked as he is which makes this photo even awwwwwdorable.
Until you read his caption, "🍵❤️ (daddy may have put a little nip of tequila in his tea, cos it's always 5 o'clock somewhere) #icherishthesemoments #andgodblessmychair." How did that chair survive all of his weight? Granted the photo would have been even better if he crushed it with his size.
Seriously, his three daughters are lucky to have him as a dad.
---
Kevin Hart reportedly underwent back surgery
September 2nd, 2019 under Kevin Hart, The Rock. [ Comments:

none

]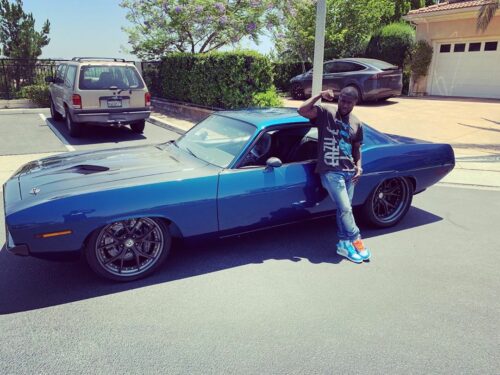 Yesterday morning, Kevin Hart and two other people were in a very serious car crash that left the actor and the driver with "major back injuries." Today, The Blast is reporting that he underwent surgery on his back to stabilize it. Doctors said that he is doing as well as can be expected after going under the knife. However, they did add that he is expected to make a full recovery.
The website also says that he was able to talk, walk and move all of his extremities while he was in the hospital. Which is a good sign.
However, I might be reading too much into The Rock's message to his best friend. DJ wrote, "Stop messing with my emotions brother @kevinhart4real. We have a lot more laughing to do together. Love you man. Stay strong 🙏🏾" Doesn't he make it sound like he is worse off than what is being reported?
Praying that he and the driver Jared Black a speedy recovery.
---