Taylor Lautner is not too old to take a bubble bath
April 14th, 2023 under Taking a bath, Taylor Lautner. [ Comments: none ]
Taylor Lautner might be a married 31-year-old man, but that doesn't mean he is too old to have a fun bubble bath.
So, he spent 45 minutes creating the perfect bath filled with tons of bubbles, got in, and made a hat made of bubbles.
And let's be honest, we all need to let Calgon to take us away every now and again. Although, on days like that, it is more fun to use Mr. Bubble instead.

---
Taylor Lautner's fiancee reveals if she is Team Edward or Team Jacob?
June 30th, 2022 under Taylor Lautner. [ Comments: none ]
Tay Dome is engaged to Taylor Lautner, so you would assume that she is Team Jacob?
Well, she did one of those videos where you show your childhood crush and who you are with today. Who was her childhood crush? It was Robert Pattinson, and now she is his with his Twilight nemesis.
So, at the end of the day, we can say Jacob won! Because Bella didn't choose either the werewolf or the vampire.

---
Taylor Lautner learned a painful lesson
February 21st, 2019 under Taylor Lautner. [ Comments: none ]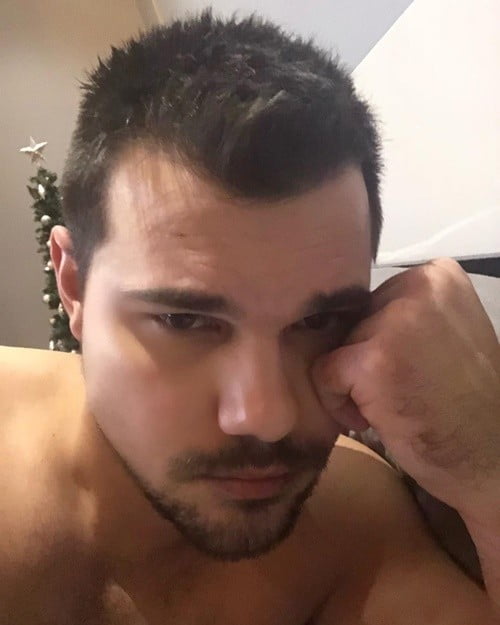 Taylor Lautner showed off his new short do, but the cut was not by choice. The Twilight werewolf explained, "When you try to cut your own hair and it goes horribly wrong so your only choice is to take it all off 🤦🏽‍♂️"
I know he looks sad about it, but I don't think he has reason to be upset about his new hairstyle. Not because it grows back, but it makes me want to howl at the moon. Don't you think he looks sexy with it?

---
Is Taylor Lautner trying to let us know he wants to be Batman?
January 10th, 2018 under Taylor Lautner. [ Comments: none ]

It looks like Warner Bros is going to need a new Bruce Wayne soon, and you have to wonder if Taylor Lautner is throwing his hat into the mix. Especially since he is wearing a Batman mask as a hat. Do you think he would do a good job as the Caped Crusader?

---
Taylor Lautner is faster than a speeding car
June 19th, 2017 under Taylor Lautner. [ Comments: none ]

We know that Taylor Lautner is extremely athletic, but did you know he is as fast as Superman? Case in point, he was waiting for his friend to pick him so that they could drive over to Chipolte together. Only problem is that his friend did not stop.
What to do? You and I would call the cops and tell them that someone was speeding buy our house so that they would get ticket. Not Jacob, he did a run Forrest, run to catch up to his friend and jumped into the moving car. Then he gave his buddy crap for not stopping.
He compared his road runner speed to James Bond, but I felt like he was auditioning to be either the next Flash or Tom Cruise. What do you think?

---