So You Think You Can Dance makes some changes
May 28th, 2014 under SYTYCD. [ Comments:

none

]

So You Think You Can Dance is dancing for its life this season that starts tonight at 8p on Fox, according to some of the Tweets that have been sent out by the Executive Producer, Nigel Lythgoe. So I guess that is why the show is making some major changes this season. One of the things they are doing is asking for Dance Crews to compete for a chance to perform during the finale. While that really isn't a reason for me to watch, the other big change is. Lythgoe Tweeted, "No judge saves from the Top10 this year! And back to only one winner! It will be a tough decision but it will be America's.#Season11 #SYTYCD". While I liked having a male and female winner, it is kind of nice only having one true champion. But the change I like most is that the Top 10 is back in our hands. I mostly disagree with the judges choices, so I am glad that they no longer have the power that they have had. Had they had the power during the second season, Benji Schwimmer never would've made it to the finals, let alone win the whole thing.
Now if SYTYCD really wants to get my viewership again, then have the judges keep their critiques to less than three sentences. I hate how much they talk about themselves or the choreographer or the past contestant, anything but the person competing. I really don't care what they have to say, I am watching for the dancing not them.
Are you still watching? Did you watch and give it up? What would make you watch the once great show again?
---
So You Think You change the elimination process?
July 3rd, 2013 under SYTYCD. [ Comments:

none

]

Yesterday was the first So You Think You Can Dance elimination episode on Fox and Nigel Lythgoe changed things up. Instead of holding off until the end of the show who would not be back next week, the dancing competition decided to do it at the beginning of it. So the bottom 6 knew before they would have dance that they were not liked enough by the fans. To make matters worse 2 dancers were told they were safe, while the other 4 had to dance for their lives. Once they were done, two were told that they would not be moving on in the competition. Well that news is bad, and instead being able to run off to the dressing room to cry, they were forced to dance with their partner that would be back next week. That's gotta hurt.
Well the fans were outraged and they let their voices be heard. So much so that Nigel Lythgoe Tweeted this this morning, "Ok I hear your disappointment in the format. We will certainly address that for next week. However, who gets cut will always be subjective!" He didn't say how they would change it, but I have a feeling they will go back to the way things were.
Personally I gave up the show a few season ago because I hated that the show was more about the Judges' useless comments and not about the dancing. Plus I have always hated that we never had the final say who gets eliminated. Nigel's ego always handled that for us. Although this is the second time in weeks his ego has been cut down to size; first he was fired from American Idol and now the fans are making him change the format for his lone Fox show that I predict will not be back next year.

UPDATE: Nigel Lythgoe Tweeted this about who are decision makers on SYTYCD, "I'm at a loss to understand some people's stupidity. I don't make the decision as to who goes home. The choreo's and judges decide, I report" Like I said I haven't watched the show in a few years, but when I did the judges went to the back and then return to say who they voted to send home and he was one of those judges making the decision. So isn't he technically voting who is going home and not just reporting on it. My point is; if they are going to have the viewers vote, then it should be the viewers who send that person home. We are the ones keeping the show on the air, not them. If we don't watch, then they don't have a show. Right?

UPDATE 2: Nigel Lythgoe announced the changes to the show, "We're taking your advice by revealing America's vote in the beginning and judging at the end. I hope it will inspire the bottom 4? Thank you" I like that so much better, what about you?
---
So you think you can make me cringe?
June 20th, 2013 under SYTYCD. [ Comments:

none

]

So as you know, I for some reason find myself looking at guy's crotches in pictures. Well when Nigel Lythgoe Tweeted a picture of Adam Shankman and himself from the set of a bit they shot for Funny or Die, I was not expecting to see the two So You Think You Can Dance judges in tights so tight that you could see their bits. I mean it is really hard not to look there in these pics.
Since I am feeling generous today, all I will say is that I think I no longer have the temptation to look at male crotches ever again. Where is Jon Hamm in loose fitting khakis when you need him to be in them?
---
Do you Nigel Lythgoe And Maria Menounos have something to tell us?
May 21st, 2012 under Dancing with the Stars, Do they have something to tell us?, SYTYCD. [ Comments:

none

]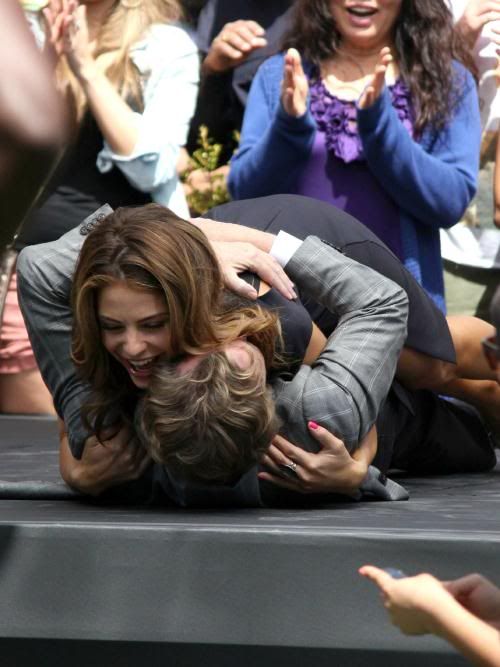 Fame Flynet Pictures
So You Think You Can Dance's Nigel Lythgoe and Dancing with the Stars' Maria Menounus were photographed kissing and then with her on top of him and I have to wonder if the two of them have something to tell us? Probably not because he is almost twice her age and they were most likely doing something fun for his chat with her on Extra. Well that and I really hope not because we already know what they would look like in bed together from the last two pictures and I can't get the image out of my head.
---
Hell's Kitchen and MasterChef start cooking on May 29th!
March 28th, 2012 under Gordon Ramsay, SYTYCD. [ Comments:

none

]

Fox announced premiere dates for their hot summer lineup and it is all about Gordon Ramsay!!! Starting on Tuesday, May 29th, Hell's Kitchen returns at 8p and then it will be followed by his other cooking competition show MasterChef at 9p. That following Monday, June 4th his new show Hotel Hell debuts. HH is like Kitchen's Nightmares, but for Hotels and Bed & Breakfasts. I am so looking forward to those hot summer nights I will be spending with the Chef who uses the f-word more than he does another f-word, you know food.
Now Fox's summer isn't all about Ramsay, So You Think You Can Dance will be back on Thursday, May 24th and then the following week it will moving to its regularly scheduled Wednesday airings. This season the show is only airing one night a week and they have yet to announce how that will change things up. Either way, the show lost me as viewer a while ago because it was too much about the judges' egos and not enough about the dancers.
---