Will Bon Jovi ever play the Super Bowl halftime show?
April 15th, 2020 under Bon Jovi, Howard Stern, Super Bowl. [ Comments: none ]

Every year, I ask myself the same question after the Super Bowl. When will Bon Jovi ever play the halftime show? If ever there was a band, who was made to do it, it is them.
I am not the only one who wants to know, so does Howard Stern. Therefore, today when the rocker was on the show, the shock jock asked him that very question.
The singer with the best a$$ in Rock'n'Roll told him, "No desire, I turned it down many many years ago."
Since Stern knows how to do an interview, he followed up with, "why?" JBJ explained, "I didn't like that you had to team up with other people. And you had these people come in on your stage. And all the demands and then the pressures on it."
Then he added, "It didn't appeal to me play at the New Jersey one. It seemed too obvious. The last time, honest to Gd, we were at all interested was back when they had it in Dallas. And we didn't get it. And I said, 'That's the end of it. I don't want it. I won't even talk about it again.'"
Sadly, we have our answer if they will ever play the SBHTS. They will never do it. Which is a shame because they could have brought down the house. The energy in the stands would have been like something we have not seen in a really long time at the annual football game.
BTW Who did the NFL get to play the halftime show in Dallas instead of Jovi? Back in 2011, Black Eyed Peas, Usher, and Slash rocked out on the field. I don't remember their performance, do you? The last good show, to me, was Bruno Mars in 2014.
Now that Jovi is out of contention, which band do you really want to see get the gig?

---
How boring was the Super Bowl?
February 2nd, 2020 under J-Lo, Shakira, Sports figures, Super Bowl. [ Comments: none ]

Maybe it was because the New England Patriots were not in the Super Bowl, but it was a real snoozefest. How much of one? Some fan fell asleep during the game before the half time show. Maybe he was just trying to rest up for Shakira and Jennifer Lopez's performance. What man didn't rise up for that show?
In this guy's defense, the only time I ever fell asleep during an event was during a Rod Stewart concert in the Miami Arena. (He was my third concert in as 48 hours.) That town will eat you up and spit you out. I miss living there.
Talking about Miami, I hope WSVN's Patrick Fraser finds out who that guy was and why he was sleeping during the football game. If anyone can get all the details, it is him.
If you need something to wake up, then you can rewatch Shakira and J-Lo. To see them move their hips all over again, then click here!

---
For some reason LIV Tyler was excited for Super Bowl 54
February 2nd, 2020 under Liv Tyler, Super Bowl. [ Comments: none ]
https://www.instagram.com/p/B8Fp9nvlaNT/?igshid=10e3ntlm8fp9q
This year's Super Bowl was LIV, which is Roman Numerals for the number 54. However, if you don't speak Roman Numerals, you would think they were wondering why the Kansas City Cheifs and the San Fransisco 49ers were trying to win Liv Tyler. They weren't. Yet, it did not stop the actress from celebrating like it was all about her. We will just say it was!

---
Why is Demi Lovato singing the National Anthem at the Super Bowl
January 16th, 2020 under Demi Lovato, Super Bowl. [ Comments: none ]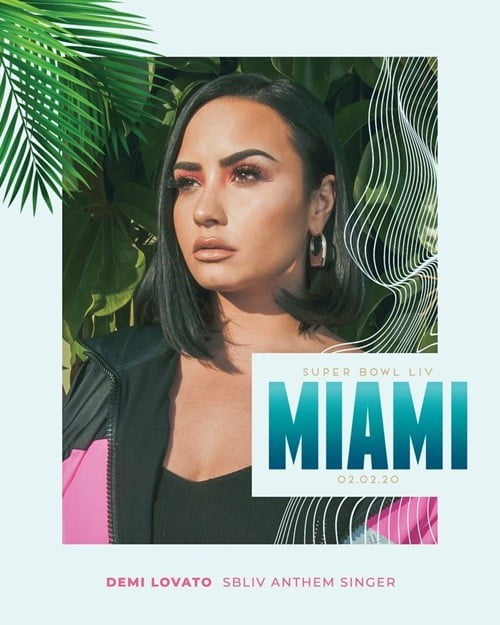 There are lots and lots of singers, who can sing, that would be perfect to sing the National Anthem at the Super Bowl, but they asked Demi Lovato to do it instead.
Why her and not Gloria Estefan. The latter is so Miami and that is where the game is being played. If not her, what about Mr. 305 aka Pitbull. But Demi Lovato. Can she even sing without being produced in a studio? I guess we will find out on February 2nd.

---
2 Divas for the Super Bowl on 2/2/20
September 26th, 2019 under J-Lo, Shakira, Super Bowl. [ Comments: none ]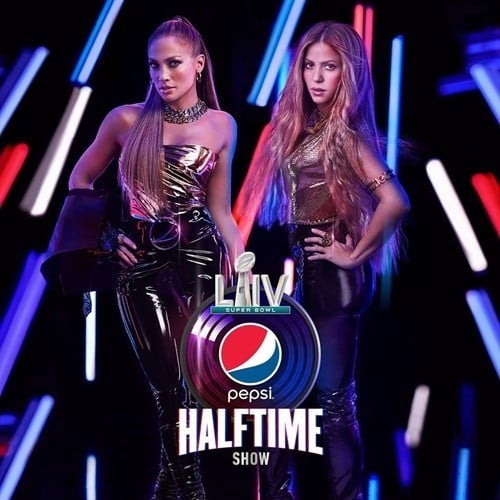 After this year's lame Super Bowl half time show with Maroon 5, the NFL and Pepsi are hoping to spice it up for 2020. Which is why they asked Jennifer Lopez to do her thing for them. Wait, my hips don't lie because it gets even hotter. They also got Shakira to join them in Miami on February 2nd.
While they are good choices, I am surprised they did not ask Gloria Estefan to do it. She is the Queen of Miami and should have been asked. Hopefully, the two Divas will find a way to incorporate her into their musical performance. She can get everyone to do the Conga.

---