Hopefully, Rihanna didn't give birth to a Rude Boy 
May 19th, 2022 under Rihanna. [ Comments: none ]
Rihanna and A$AP Rocky found love, and now they are first-time parents of a baby boy. According to TMZ, the couple welcomed him on May 13th in Los Angeles.
No other details are known at this time. So instead of Rihanna singing What's My Name to us, we are singing what's his name to her?
Congrats to the couple; I hope he takes after her because she is so beautiful.

---
Rihanna and A$AP Rocky found love and have a baby on the way
January 31st, 2022 under Rihanna. [ Comments: none ]
Rihanna has been keeping a secret, and she cannot hide it anymore. So this weekend, she showed off her growing belly while walking in the snow with her baby daddy A$AP Rocky in his native Harlem, according to People.
This will be the first baby for the couple who have been dating on and off since 2013.
No other details are known at this time. But I bet you that Donald Trump will insist that they name the baby, whether it is a boy or a girl, after him. You know, since he got the rapper out of jail in Sweden.

---
Rihanna models her new lingerie
September 1st, 2021 under Rihanna. [ Comments: none ]
It is that time of year. Not everything pumpkin spice time, but it is about something spicy. It is time for Rihanna to introduce us to some of the new pieces of lingerie in her Savage X Fenty line.
Here she is modeling the Ribbon Writing Xtra Box. For less than $50, you can look as sexy as her to turn on the special person in your life. OK, not as sexy as her, but still, you can get a rise out of your lover.
For someone like me, I am happy the bra comes in my size. Other stores ignore us. Thankfully, Riri takes care of our bigger titties.

---
Rihanna's Valentine's lingerie is red hot
January 14th, 2021 under Rihanna. [ Comments: none ]

A few years ago, Rihanna teamed up with Savage X Fenty for a lingerie line. You can't sell intimates and not have something sexy for Valentine's Day. Thus, she does and it is red hot.
The singer is showing off the sexy lace outfits that are sure to get your lover in the mood on February 14th and every other day of the year.
The best part about her naughty but nice underwear is that they are made to make women of all sizes look like the seductresses that they are. Get them apples out because the lady of your nights is going to take you to the Garden of Eden.

---
Rihanna's Valentine line of lingerie is red hot!
January 14th, 2020 under Rihanna. [ Comments: none ]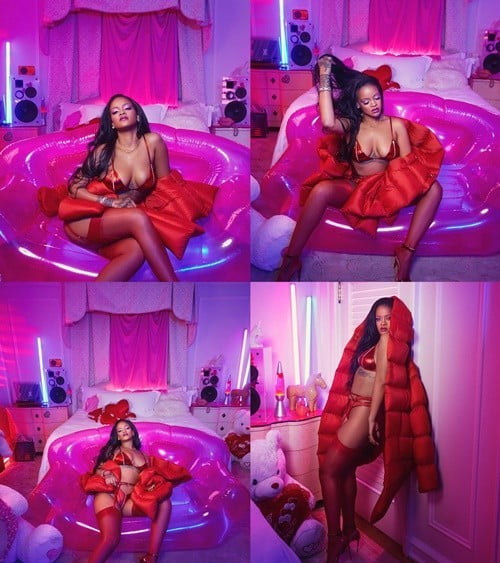 Valentine's Day is a month away and ladies, Rihanna is giving us something to wear on the holiday of love. She has some red hot lingerie from her Savage X Fenty line and it will turn your lovers on. If not, then there is something wrong.
Not only is her lingerie sexy, but they are also reasonably priced. Therefore, women of all sizes can be seductresses, and it won't cost you a fortune. Your lover yes, you no. Even if you don't have someone, these threads will help you get someone.
They make you look so tempting, you can wear the sets the other 364 (365 this year) days of the year!

---