Rihanna's Valentine line of lingerie is red hot!
January 14th, 2020 under Rihanna. [ Comments:

none

]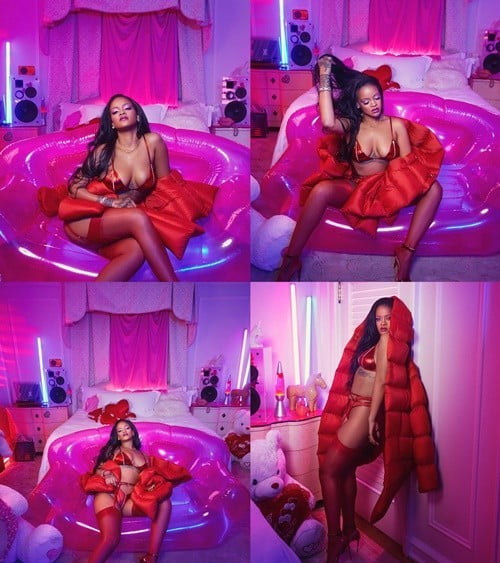 Valentine's Day is a month away and ladies, Rihanna is giving us something to wear on the holiday of love. She has some red hot lingerie from her Savage X Fenty line and it will turn your lovers on. If not, then there is something wrong.
Not only is her lingerie sexy, but they are also reasonably priced. Therefore, women of all sizes can be seductresses, and it won't cost you a fortune. Your lover yes, you no. Even if you don't have someone, these threads will help you get someone.
They make you look so tempting, you can wear the sets the other 364 (365 this year) days of the year!

---
Nothing comes between Rihanna and her book
October 25th, 2019 under Rihanna. [ Comments:

none

]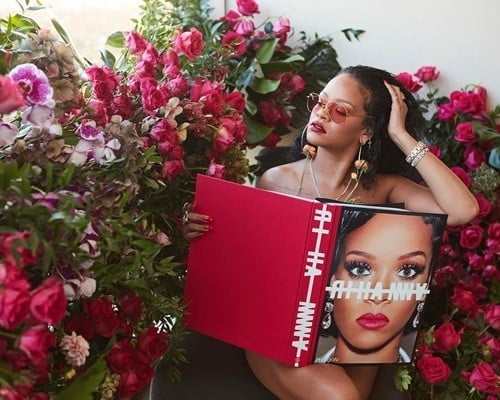 Rihanna has a new book out now that is filled with over 1,000 images of her. In order to let us know about it, she shared another photo of herself reading The Rihanna Book. There was just something missing. Her clothes. I wonder if she is wearing more threads in those photos because she could not wear any less here.

---
Seth Meyers got Rihanna drunk
June 21st, 2019 under Rihanna, Seth Meyers. [ Comments:

none

]

Seth Meyers and Rihanna went day drinking and they got totally wasted. Could be because they drank shots, beer, champagne with a Twinkie in the glass, champagne in a chocolate bunny, Rum, Rye Whiskey with milk and more shots of Tequilla. I would be 💩faced halfway through that menu, but somehow they went all the way to the end.
Granted Rihanna was laughing at/with the Late Night host the whole time and we were giggling with her. In fact, I laughed so much with them, I feel drunk too.
The two drank, played a drinking game, gave each other advice, Meyers tried his really really bad pick up lines on her, she put her makeup on him and he sang and danced to her songs for her. Which is why she could not stop smiling. I had no idea she was laugher until now. I like it.
I also would like to see the NBC host do show his drunk every night from now on. He is even more endearing drunk and there are not that many men you can say that about. At least in all of my experience of getting drunk with boys.
The thing that is great about Meyers is he rarely does viral bits. When he does, they are absolutely brilliant. It is another reason why I say he is the best late night host on the big three. He is second to Conan O'Brien when I compare them all.

---
It's Re-ann-ah not Re-on-na
May 31st, 2019 under Rihanna. [ Comments:

none

]

For years we have been pronouncing Rihanna's name Re-on-na. However, while introducing her Fendi line in Paris to British Vogue, the Barbadian singer pronounced it as Re-ann-ah. I don't know about you, but this American has been saying her name wrong all along. Thankfully, I finally learned how to spell it.
How do you say her name?

---
Rihanna models her sexy Valentine's Day lingerie!
January 9th, 2019 under Rihanna. [ Comments:

none

]

Rihanna knows how to be sexy, therefore it makes sense she would have her own line lingerie. Savage X Fenty is that line and today she modeled the sexiest piece from the brand new Valentine's Day collection. She describes it as "a savage kinda love." You wear that and you are going to get savage love from your lover.

You know what makes this collection even hotter, it is for women of all sizes. Whether you have curves or not, this attire will make any woman feel like a temptress! Did I mention it is also very affordable? Hot!

---