Pennywise is getting a prequel series on HBO Max
February 23rd, 2023 under HBO Max, Stephen King. [ Comments: none ]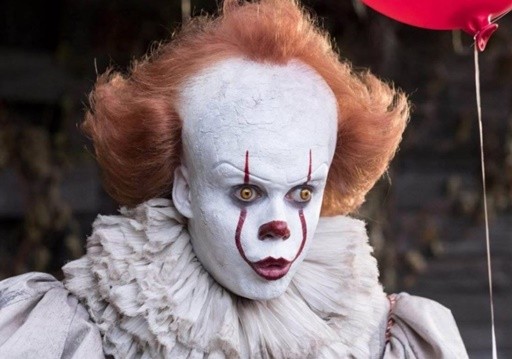 We know what Pennywise was doing in the late '80s, but what was he doing before then? HBO Max is going to answer that question with the prequel series to the recent It movies.
Welcome to Derry is being made for TV by siblings Andy Muschietti and Barbara Muschietti, who gave It life on the big screen. "As teenagers, we took turns reading chapters of Stephen King's 'IT' until the thick paperback fell to pieces. 'IT' is an epic story that contains multitudes, far beyond what we could explore in our 'IT' movies. We can't wait to share the depths of Steve's novel, in all its heart, humor, humanity and horror."
As of now, we don't know much about the production. I hope they get Bill Skarsgård to reprise his role. He was brilliant as the killer clown. Not as good as Tim Curry. But no one is as great as Tim Curry.

---
The one book Stephen King will most likely never write
June 16th, 2020 under Stephen King. [ Comments: none ]

Stephen King has written so many books. However, there is one novel he wants to pen but we might never be able to read it.
The legendary author revealed the premise. "The best novel idea I never wrote (and probably never will) is I JASON, the first-person narrative of Jason Voorhees, and his hellish fate: killed over and over again at Camp Crystal Lake. What a hellish, existential fate!" Then he explained why he can't do it, "Just thinking about the legal thicket one would have to go through to get permissions makes my head ache. And my heart, that too. But gosh, shouldn't someone tell Jason's side of the story?"
I think whoever owns the rights to the Friday the 13th franchise should let him do it. It can't be any worse than the painfully horrendous reboot and Jason X.
Imagine King's take on Jason's take of it all. Now my head aches thinking about it.
I would love to get Jason: Under the Dome or Jason: Thinner or Jason vs Cujo. What mashup would want to see? Even though that is not what King was going for with his idea.
Going off on his idea, then, which other horror movie killers would you like to see his perspective on about them. I am Freddy Krueger girl, so it would be a dream come true to see what the writer's nightmare on Elm Street would be. Maybe we can find out what Michael Myers does on the days that are not Halloween. My favorite would be is what was Christine thinking on her joy rides.

---
What scares Stephen King?
September 10th, 2019 under Stephen King. [ Comments: none ]

Let's be honest, Stephen King has caused us to lose sleep over at least one of his books. Whether it is Pennywise from It, the Dome in Under the Dome, Carrie or The Shining's Johnny.
Therefore, you have to wonder what scares the horror novelist. Today, he revealed what it is on Good Morning America, and it is a lot like a character from his book The Dead Zone. He has sleepless nights over "the current political situation." No explanation needed. Especially since President Greg Stillson is a lot like Donald Trump. It is as if he knew what was going to happen now when he wrote the book in the early '80s. Spooky.
That is not the only thing that scares him. He is also afraid of elevators. He explained why, "You get into an elevator and you think, 'there is a hole under there.'" Now, I am afraid of elevators too.
Even when he is not writing books, he still finds ways to terrifies us. Thus, if you get into an elevator with him make sure to jump up and down. Worst case scenario, you get stuck and he tells you a bedtime story. Can you think of anything more horrifying than King telling you one of his tales? I can't.

---
Halloween is going to be extra scary this year thanks to Doctor Sleep
June 14th, 2019 under Stephen King. [ Comments: none ]

Even since 1980, we have all had nightmares since Stephen King's The Shining went from the pages of a book to the big screen. Now, 40 years later, little Danny's (Ewan McGregor) story is being told again. This time he is an adult and he meets Abra (Kyliegh Curran) who, like him, has her own powerful extrasensory gift. Since he left the Overbrook Hotel, he has been running from his past. Now he has to run to it to save Abra and himself.
If this trailer is any hint what the movie is going to be like, then this Halloween might be the scariest one ever. Forget King's other It movie of the year, this is the one that will be haunting us for years to come.

---
But where will they bury the cat from Pet Sematary?
May 30th, 2019 under Animals, Stephen King. [ Comments: none ]

Leo, the cat from Pet Sematary who gives us nightmares, passed away. His owner and trainer, Kirk Jarrett, broke the sad news with, "It is with great sadness that we tell you that Leo has passed away. He will forever be missed by his human and fur family. May his star always shine bright."
According to Entertainment Weekly, Jarrett adopted his furbaby after the feature was done filming last June. Ever since then the kitty was pampered like the celebrity he was until his passing.
Leo was of the four Maine Coons, who played the undead Chuch, but he is the one that haunts our dreams in the posters. Which makes you wonder will he buried in the same spot as in the Stephen King film in order to bring him back? Although, it did not work out that well for Church's furmily?
The remake will be released on digital June 25th and home video on July 9th. I think they have enough time to add a little tribute to Leo. In other words, they need too because he is the most memorable thing from the horror movie.

---