This cat hates her mom's singing!
June 4th, 2019 under Animals. [ Comments:

none

]

Liz's friend found a kitty on the street and asked her what he should do with it. She offered to take care of the cat until she figured something out. Eventually, she decided to keep the Tuxedo and that decision is something to sing about.
Well, that is not good news to Helen. Every time her furmother sings, the feline goes in for the kill. As in trying to get her mom to stop. Since Liz loves to sing, she has a lot of videos of her furbaby attacking her. You would think she would get the hint, so now it is just another game between the two.
One that makes Liz laugh all the time. As a fellow cat mom, there is nothing better than having a cat that makes you laugh out loud every day. My cats have all found ways to do that, thankfully only one hated my singing as much as Helen hate's Liz's.
---
Would you go to a rat bar?
May 31st, 2019 under Animals. [ Comments:

none

]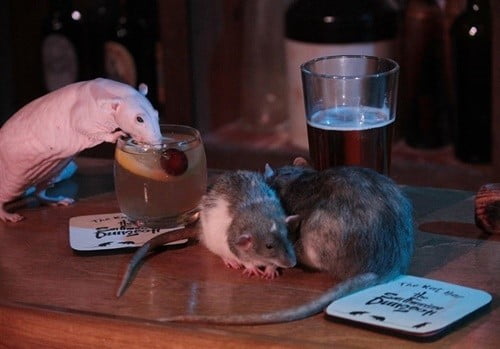 We have heard of cafes with cats, dogs or birds in them, but what about a bar with rats? Wouldn't that get them closed down by the health inspector? Not in San Fransico.
Next month, for three nights only, starting on June 13th, you can drink with the rodents at The San Fransisco Dungeon for $49.99. What do you get for that price? You get a signature drink, a full San Francisco Dungeon tour (including our seasonal show, The Chinatown Gang Wars!), 30 minutes of play time with the rats, and exclusive bar access.
I thought they would call their signature drink Rat Poison, but instead, the rat-tail is called Ama-RAT-o Sour. No matter how many Ama-RAT-o Sours I drink, I could never be drunk enough to drink with rats. I will just stick with Cat Cafes and maybe bring a few of the kitties to the Rat Bar with me for some fun? What?
---
But where will they bury the cat from Pet Sematary?
May 30th, 2019 under Animals, Stephen King. [ Comments:

none

]

Leo, the cat from Pet Sematary who gives us nightmares, passed away. His owner and trainer, Kirk Jarrett, broke the sad news with, "It is with great sadness that we tell you that Leo has passed away. He will forever be missed by his human and fur family. May his star always shine bright."
According to Entertainment Weekly, Jarrett adopted his furbaby after the feature was done filming last June. Ever since then the kitty was pampered like the celebrity he was until his passing.
Leo was of the four Maine Coons, who played the undead Chuch, but he is the one that haunts our dreams in the posters. Which makes you wonder will he buried in the same spot as in the Stephen King film in order to bring him back? Although, it did not work out that well for Church's furmily?
The remake will be released on digital June 25th and home video on July 9th. I think they have enough time to add a little tribute to Leo. In other words, they need too because he is the most memorable thing from the horror movie.
---
This police bust is too cute to bear!
May 29th, 2019 under Animals. [ Comments:

none

]

Deputy Staley, from the Placer County Sheriff's Office, was near the Tahoe City Shell Station and noticed some sort of disturbance. As he walked towards the knocked over trash cans, he saw a head pop up from behind them. When he asked the bear what he was doing, the cub hid under the garbage again. Playing a cute game of peek-a-boo with the police officer! Which is a lot cuter when you are a safe distance away from it.
In fact, the Sherrif's Office wanted to warn their residents, "This is prime time for bears to come out of hibernation in search of food, and they're not shy about getting into your homes, cars, garbage cans, you name it!"
"Friendly tip: please don't engage the bears — they may look cute and fluffy, but they have real instincts!"
As someone, who has seen more than her share of horror movies with bears, I know exactly what he means. They are not all sweet and lovable like Winnie the Poo or Yogi Bear. They like to shred up teenage campers having sex!
---
Will animals react to the Try Not To Ultimate Challenge?
May 27th, 2019 under Animals. [ Comments:

none

]

Anyone who has a cat knows that if you tell to do something, they will not do it. Therefore, Furguson should be the champion of FBE's Try Not To Ultimate Challenge. After all, he is the only cat competing against three dogs, a bird, a bunny and a guinea pig.
How will they do when they are told to try not to laugh, get mad, get mad when someone takes away a toy, move and eat a treat. How did they do? The bird gets to tweet his win. The dogs had it ruff. The guinea pig was not guinea pig to their experiment. The rabbit was ready to hop on out of there. Finally, the cat could care less about all of it, unless you take away his toy.
Why did they do it? In honor of Secret Life of Pets 2 that comes out June 7th. I am glad they did this because it is arfdorable.
The only thing that would have made it purrfect for me, is they could have asked my cat to do it because she loves to watch things on TV. Anytime you need her, let us know!
---