Hugh Jackman and Sir Patrick Stewart broke the same World Record!
February 20th, 2019 under Guinness World Records, Hugh Jackman, Marvel Comics, Sir Patrick Stewart/Sir Ian McKellen. [ Comments:

none

]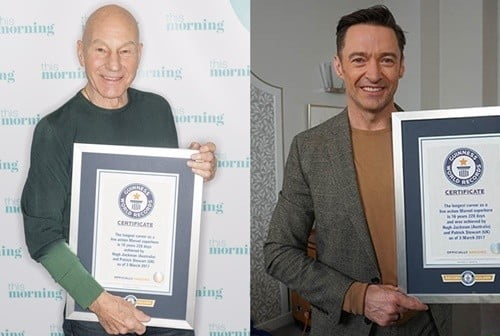 Hugh Jackman and Sir Patrick Stewart are in the Guniess Book of World Records now and they are listed for the same thing. Are they in it for breaking the longest time tied to someone without breaking loose? Nope, but I like that.
They both have the longest career as a live-action Marvel superhero. How long have they been playing Wolverine and Professor X? They have been doing it for 16 years 228 days. Both actors started playing their characters in X-Men and ended it with Logan.
You know Jackman can end the tie if he would just agree to Deadpool vs Wolverine. Is it tempting him yet? I don't think so because he has set his sites on breaking the longest marathon playing badminton, singles, record. He only has to do that for 25 hours, I think that is possible for Stewart!
---
Sir Patrick Stewart returns to the final frontier
August 4th, 2018 under CBS All Access, Sir Patrick Stewart/Sir Ian McKellen, Star Trek. [ Comments:

none

]

CBS All Access brought Star Trek back to the small screen and now they are bringing back a franchise favorite to be part of his own show. After weeks of rumors that Sir Patrick Stewart would be back guiding the Enterprise, he finally confirmed that it is true.
I will always be very proud to have been a part of Star Trek: The Next Generation, but when we wrapped that final movie in the spring of 2002, I truly felt my time with Star Trek had run its natural course. It is, therefore, an unexpected but delightful surprise to find myself excited and invigorated to be returning to Jean-Luc Picard and to explore new dimensions within him. Seeking out new life for him, when I thought that life was over.

During these past years, it has been humbling to hear stories about how The Next Generation brought people comfort, saw them through difficult periods in their lives or how the example of Jean-Luc inspired so many to follow in his footsteps, pursuing science, exploration and leadership. I feel I'm ready to return to him for the same reason – to research and experience what comforting and reforming light he might shine on these often very dark times. I look forward to working with our brilliant creative team as we endeavor to bring a fresh, unexpected and pertinent story to life once more.
#StarTrek @cbsallaccess
People from both Stars are excited about the news. Chewbacca aka Peter Mayhew wrote, "Great to hear @SirPatStew is returning as Jean Luc Picard to the #StarTrek universe. I look forward to seeing him on the bridge again." While Stewart's co-star from Star Trek: The Next Generation, Wil Wheaton aka Wesley Crusher, just typed OMG until he reached the 280 character limit.
Will Wil Wheaton be part of it? We do not know but according to the Star Trek Twitter page, the new show will tell us what the next chapter from Captain Picard's life holds for him. Therefore, I would expect we will a lot of blasts from the pasts on the show.
How are you excited for this follow-up for the fan favorite?
---
Sir Patrick Stewart jumped at the chance to play 💩
July 19th, 2017 under Seth Meyers, Sir Patrick Stewart/Sir Ian McKellen. [ Comments:

1

]

When you think of Sir Patrick Stewart, you think of a distinguished actor even though he has had some interesting roles like Stan's boss on American Dad. Next week, we will hear him voice 💩 in The Emoji Movie and you have to wonder what he was thinking when he found out about the role. He told Seth Meyers on Late Night yesterday how he got offered the part, "It came to me and it came in an email and it was the quickest response I have ever given for any [role]."
Who wouldn't want to play 💩. It is the best role ever. Can you think of any other character that would top it? I cannot. I mean no matter what else Stewart does, he will forever be know as 💩 and that is an honor in my book.
---
Does 💩 watch their hands?
July 13th, 2017 under Sir Patrick Stewart/Sir Ian McKellen. [ Comments:

none

]

We are just over 2 weeks from The Emoji Movie hitting theaters and today Sony released a clip from the film. The scene takes place in the bathroom and we get to meet 💩 and his little Sh!t. The character voiced by Sir Patrick Stewart and his son come out of the toilet and the mini-💩 says, "Should we wash our hands?" A question that has perplexed scholars for the ages!
---
I ❤️ The Emoji Movie trailer!
May 16th, 2017 under James Corden, Movies, Sir Patrick Stewart/Sir Ian McKellen. [ Comments:

2

]

The first trailer is out for The Emoji Movie and I am anything but 😩 about the ️🎞️. It looks like it will make us 😆 from the beginning until the end. Plus, there are so many ✨ in it like TJ Miller, James Corden, Steven Wright and of course Sir Patrick Stewart as 💩. I love that scene of him coming out of the 🚽 with his son. So 😁!
I don't know about you, but I am going to 🏃🏻 to the 🎦 to see on July 28th because it looks like pure 😹! I will even splurge on the 🍿.
---