Star Trek: Picard will be reunited with some old friends for season 3
April 5th, 2022 under LeVar Burton, Sir Patrick Stewart/Sir Ian McKellen, Star Trek. [ Comments: none ]
Paramount+ had some big news to share on First Contact Day (in exactly 41 years from today, humans will make contact with Vulcans for the first time) about Star Trek: Picard's third season, and it is out of this world exciting.
Patrick Stewart will be joined by his Star Trek: The Next Generation co-stars, LeVar Burton, Michael Dorn, Jonathan Frakes, Gates McFadden, Marina Sirtis, and Brent Spiner.
"I remember watching the premiere of 'Star Trek: The Next Generation' almost 34 years ago with my father like it was yesterday. It was the spark that ignited my love for science fiction," said Terry Matalas, season three showrunner and executive producer. "So, it's most fitting that the story of Jean-Luc Picard ends honoring the beginning, with his dearest and most loyal friends from the U.S.S. Enterprise. It would be an understatement to say that giving these characters a proper send-off is an honor. The entire STAR TREK: PICARD team and I can't wait for fans to experience this final, high-stakes, starship-bound adventure in season three!"
I know this news is huge because I sent it to my Trekkie friend, and he told me he needed to be alone with his Enterprise for a little bit. I could hear in his voice he was choked up about hearing that The Next Generation cast are coming together with Picard.
S2 of Star Trek: Picard is streaming now on Paramount+, with new episodes debuting every Thursday.

---
Over 50 people tested positive for COVID-19 on Star Trek: Picard
January 6th, 2022 under Coronavirus, Sir Patrick Stewart/Sir Ian McKellen, Star Trek. [ Comments: none ]
The omicron variant of COVID-19 is so contagious that it seems like everyone is getting it. That is how the people who are involved with Star Trek: Picard felt when they found out that almost 10% of the cast and crew tested positive for coronavirus on Monday.
Therefore production was shut down, and it is expected to resume tomorrow. Hopefully.
Personally, I know people have to work. But I think they should just take off January and let omicron run its course. I mean, when over 50 of the 450 people who work on the show test positive, I would be afraid. Very afraid.
And if you are like me and are afraid that Sir Patrick Stewart was one of them. Deadline is reporting that he is not. He better stay that way because he is a treasure from the universe.

---
Sir Patrick Stewart almost turned down Star Trek twice
January 16th, 2020 under Sir Patrick Stewart/Sir Ian McKellen, Star Trek. [ Comments: none ]

Imagine watching Star Trek: The Next Generation without Sir Patrick Stewart as Captain Picard. Well, if his good friend Sir Ian McKellan had his way, that is what would have happened. Both actors did not understand American television at the time, so Mckellan told his buddy should stay in London and continue to do plays.
Thankfully, other people told him to do it because it is destined to fail because fans of the original will not accept the sequel. Six seasons and four movies later, all of the people in his life were wrong.
They were not the only ones, so was the studio. They wanted him to have hair just like William Shatner, so they put him in a wig. Watch the interview from This Morning today to see what a bad idea that was. Thankfully, everyone learned from their mistakes.
Everyone but Stewart. When they asked him to do Picard, he was ready to turn it down. Thankfully the producers talked him into it with their briliant idea.
To find out Stewart was right to say yes this time around, check out Star Trek: Picard on CBS All Access starting on January 23rd.

---
CBS All Access is bringing back our childhood for the children!
January 13th, 2020 under Paramount+, Sir Patrick Stewart/Sir Ian McKellen. [ Comments: none ]

CBS All Access teamed up with Dreamworks Animation to reboot some of our favorite shows from our childhoods. Beginning on January 17th, they will be streaming all new versions of Mr. Magoo, Lassie, and George of the Jungle. They join the updated versions of Danger Mouse and Cloudy with a Chance of Meatballs.
I might be too old to watch all of this, but why should I stop being a kid?
For adulting, I will be watching Star Trek: Picard that was picked up for a second season before season one even debuts on January 23rd. I also can check out season two of The Twilight Zone with special guest stars Morena Baccarin, Colman Domingo, Ethan Embry, Jenna Elfman, Tavi Gevinson, Tony Hale, Abbie Hern, Gillian Jacobs, Sophia Macy, Joel McHale, Chris Meloni, Billy Porter, Jimmi Simpson, and Daniel Sunjata.

---
Hugh Jackman and Sir Patrick Stewart broke the same World Record!
February 20th, 2019 under Guinness World Records, Hugh Jackman, Marvel Comics, Sir Patrick Stewart/Sir Ian McKellen. [ Comments: none ]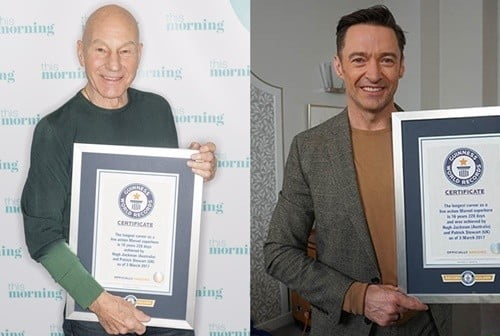 Hugh Jackman and Sir Patrick Stewart are in the Guniess Book of World Records now and they are listed for the same thing. Are they in it for breaking the longest time tied to someone without breaking loose? Nope, but I like that.
They both have the longest career as a live-action Marvel superhero. How long have they been playing Wolverine and Professor X? They have been doing it for 16 years 228 days. Both actors started playing their characters in X-Men and ended it with Logan.
You know Jackman can end the tie if he would just agree to Deadpool vs Wolverine. Is it tempting him yet? I don't think so because he has set his sites on breaking the longest marathon playing badminton, singles, record. He only has to do that for 25 hours, I think that is possible for Stewart!

---