This season of The Simpsons' is going to be nuts
September 11th, 2023 under The Simpsons. [ Comments: none ]
On October 1st, The Simpsons is going to debut its record-breaking 35th season on Fox.
Just like roaches after a nuclear bomb, this show won't die! And that is A-OK with me because they get better with each season.
Plus, we never know what they are going to predict. For example, they knew, almost 30 years ago, that a president of the United States was going to be arrested during the same summer that a Barbie movie was released. Spooky! Just like this season's Treehouse of Horrors will be! Because they always are.
But they will never be as spooky as the animated sitcom's predictions. So watch the show carefully because you never know what they are going to get right for the year 2042. If we make it to 2042. I hope the roaches like The Simpsons because that might be all they have to watch in the future.

---
The Simpsons predicted two of this summer's events in 1994
September 4th, 2023 under The Simpsons. [ Comments: none ]
via babygirl77769
If someone would've told you that The Simpsons would predict the future better than The Jetsons, you would think they were crazy. But they are sane.
The animated sitcom has predicted things like the 2014 Super Bowl winner and Donald Trump was going to be president. And they have predicted something else about the latter.
In 1994, they wrote that there was going to be a Barbie movie and that the president was going to be arrested. And that came true this summer.
I need to meet the psychic on their writing staff because they do a better job of predicting the future than the woman I have been paying for years.

---
Fox will spend two more years with The Simpson, Family Guy and Bob's Burgers
January 26th, 2023 under Fox, Seth MacFarlane, The Simpsons. [ Comments: none ]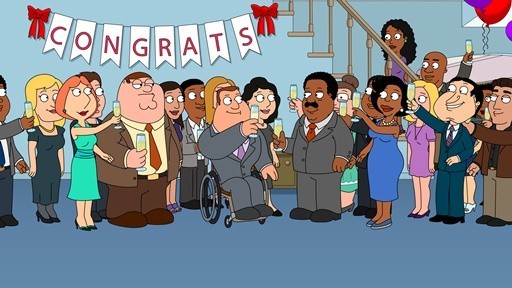 Fox announced today that it picked up The Simpsons, Family Guy, and Bob's Burgers for two more seasons. That will bring their totals to 36, 23, and 15 seasons, respectively.
"With this trio of renewals, we celebrate excellence in animation on FOX, our wonderful, long-time partnership with 20th Television and the brilliant creators and incredible voices behind these forever favorites," said Michael Thorn, President, Scripted Programming for FOX Entertainment. "Three-plus decades of The Simpsons, more than two decades of Family Guy and over a decade of Bob's Burgers proves the enduring power of the animation genre on our network and the infinite fan affinity for these outrageously funny comedy classics."
The Simpsons' renewal means it broke its own record of the longest-running scripted show. At this rate, the show will outlive its voice actors.
The three animated series join The Great North and Krapopolis in the 2023-2024 lineup.

---
Yeardley Smith married her security guard
June 14th, 2022 under The Simpsons. [ Comments: 2 ]
Yeardley Smith did something fun this weekend. The voiceover actress married Detective Dan, a man she met who provided security for her at a Simpsons event.
The two fell in love, and now her husband is going to protect his wife every day for the rest of their lives.
Along with being married, the couple also hosts a podcast together called Small Town Dicks. I hope for Smith's sake that title is referring to his job!
This is the 57-year-old's third marriage. Hopefully, it will be a charm!

---
Nancy Cartwright talks about how primitive things were when The Simpsons started
January 25th, 2022 under The Simpsons. [ Comments: none ]
The Simpsons are going to turn 35 this year. The cast are all bazillionaires who are treated like royalty when they record their episodes today. However, it was not always that way.
Nancy Cartwright, who has been voicing Bart Simpson since 1987, talked about how primitive things were when they were part of The Tracy Ullman Show and the early years of The Simpsons.
The voice actress said, "We were finding our own. We were learning how to record in a booth that wasn't meant for recording in. I was way pregnant. We were sharing one microphone. It was taking two hours to record 30 seconds. I'm like, 'Do these people have any idea what they are doing?'"
Did the cast mind? Nope because they were having fun. And, for Cartwright, who was the only professional voiceover artist in the cast, she was looking forward to seeing how animation would play during primetime. While the genre was popular in the '60s, only three new nighttime cartoons launched between 1970 and The Simpsons.
Did she, in her wildest dreams, think it would still be going strong over 30 years later? All she has to say to that is, "Thank you! Thank you, the fans. We wouldn't be here if it weren't for you." Nice to see someone acknowledge us!
I love hearing stories like this. I am so happy she shared it with us, the loyal fans of more years than we want to admit, because that would make us old. Something her characters like Bart Simpson, Maggie, and Nelson Muntz never get.

---