Sean Patrick Flanery's epic jump in a public Powder room!
June 15th, 2015 under Sean Patrick Flanery. [ Comments: none ]

We have seen people take Selfies in the bathroom, in the shower, on the toilet, but I don't think we've ever seen anyone do an epic jump on top of the porcelain throne. That is all going to change because now you can see Sean Patrick Flanery do just that.
As cool as the leap was, it would've been cooler if the Boondock Saints star didn't have a perfect landing and his foot went into the bowl. Now, that would've gotten a 9 from me. If there was #2 in there, I would've given him a 10. Since, both feet landed on the seat, I will give him an 8.1. What do you give him?

---
Sean Partick Flanery shares a Selfie from an airplane Powder room
July 16th, 2014 under Sean Patrick Flanery. [ Comments: none ]

We have seen Selfies in bathrooms around the world and I can't remember seeing anyone take one from an airplane one. But Sean Patrick Flanery joined the Selfie Mile High Club by doing just that. Do you think he is Simply Irresistible or that place should be a Dead Zone for self photos? Let's just say if I was wearing a belt right about now, I would be touching it!

---
Sean Patrick Flanery can lock me up any day!
January 2nd, 2012 under Sean Patrick Flanery. [ Comments: 1 ]

Sean Patrick Flanery Tweeted the above picture and said, "There's a new sheriff in town." As soon I saw that picture I was looking for the handcuffs because I would love for him to put me in restraints any day. Ever since Simply Irresistible, I have found him to be just that. If you have never seen that movie, you should watch ASAP because it is once of the sweetest chick flicks ever made.

---
Sean Patrick Flanery is Young and Restless!
March 9th, 2011 under Sean Patrick Flanery, TV Soaps. [ Comments: none ]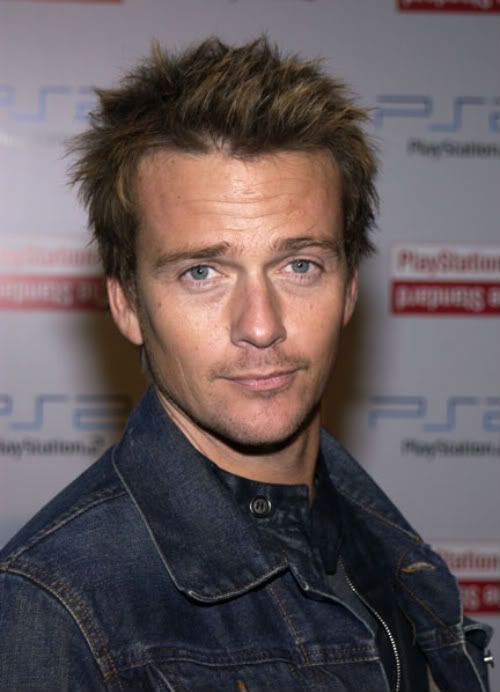 (Photo from WireImage)


Sean Patrick Flanery is the latest big screen star to join The Young and the Resteless. According to TVGuide.com he will be playing a country veterinarian named Sam who is linked to Sharon Case starting in mid-April. All I have to say she is a lucky woman because I would like to do kissing scenes with him. So can you guess I will now be watching Y&R?

---
Capture Citizen Jane tonight on Hallmark!
September 12th, 2009 under Brat Pack, Hallmark, Meat Loaf/Jim Steinman, Sean Patrick Flanery. [ Comments: 1 ]

Tonight on Hallmark they are premiere the inspirational well-acted movie Citizen Jane. It is the story of a woman whose fiance', unknowingly to her, killed her beloved aunt. In one day she lost the man she loved and the woman she loved like a mother and she makes it her personal mission to put the man away who took her away from her.
Ally Sheedy is so believable as the woman who solves her aunt's murder with the help of a cop who never gave up and by reading the mystery novels her aunt loved so much. Meat Loaf is so good as cop, that part of me thinks that he might've made a wrong career choice but then if he had we never would have heard his powerful voice and that would be beyond awful. Sean Partick Flanery looks all nice on the outside in the movie, but you can see him as the evil killer that he plays in it.
The movie is so well done, that you never lose interest it and when the movie ends you can see that this can be made in to a series of movies for the network and you will really want to see more of them. In real life Jane Alexander went on to help other families solve the murders of their loved one. Sadly she died two days before production started and you know she will be watching this movie with her aunt in heaven enjoying it as much as I did and you will. So make sure to make sure to watch it tonight on Hallmark at 9p!

---