Sean Patrick Flanery using the Powder room
June 1st, 2020 under Sean Patrick Flanery. [ Comments: none ]

Sean Patrick Flanery leaked this photo of himself using the boys room to share the simply irresistible message he read while he was taking a leak.

That message is, "that moral compass you are holding shall hang between your legs… and swing with every step. Go forth now, and create… and let that creation punctuate the consciousness of even the dead. Shake… tuck… button… and change the world. Godspeed, sir."

So men, go out there and use your little head to direct your big head. Don't they already do that? Sorry, men!

---
Caption Sean Patrick Flanery
August 21st, 2019 under Caption the Celeb, Sean Patrick Flanery. [ Comments: none ]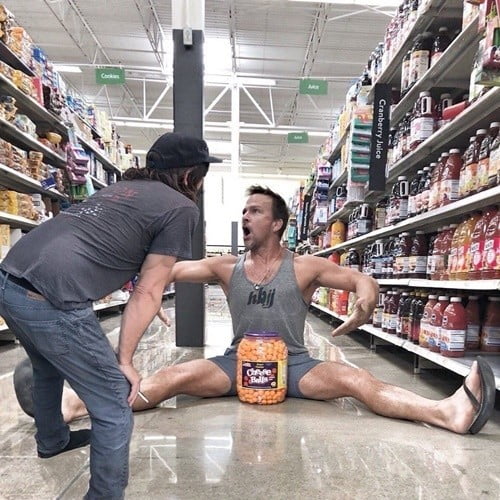 This photo of Sean Patrick Flanery has caption me written all over it, so go ahead and do it.

---
Has Sean Patrick Flanery hit hard ties?
May 20th, 2019 under Hard times, Sean Patrick Flanery. [ Comments: none ]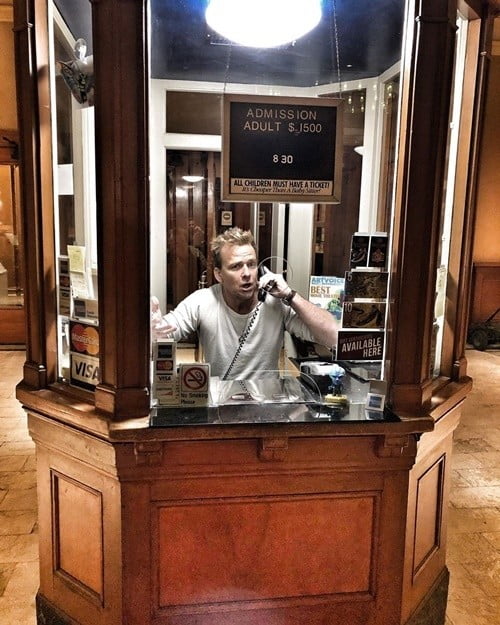 We are used to seeing Sean Patrick Flanery inside theaters on the big screen in movies like Power, Simply Irresistible (one of my all-time favorites) and Saw 3D. However, this weekend he was seen actually selling the tickets in front of the movie theater. Has the actor hit hard times?
Far from it. He was in Buffalo, NY for Nickle City Con and they held a screening with Q&A at a local theater there forThe Boondock Saints. Thus, he was in the booth greeting fans as they came to see him.
BTW I miss beautiful ticket booths like that one at movie theaters. SPF always looks good, but sitting in there makes him look, well, simply irresistible. It has me touching my pants' belt. Men is that true?

---
Sean Patrick Flanery shares his post-colonoscopy drugged up video!
May 3rd, 2018 under Sean Patrick Flanery. [ Comments: none ]

Sean Patrick Flanery is 52 years old and that means it is time for him to get a colonoscopy. Therefore, he went in to get it done and the doctors gave him some anesthesia so it would be easier to stick a camera 5 feet up The Dead Zone aka his butt hole.
When he woke up, he detailed the procedure as though it was an action shoot. Since he has been acting for over 30 years now, it probably seemed normal for the actor coming off of moonlight to describe it that way. Although, by the way he chronicled the procedure, it sounds like it would be the worst episode of The Adventures of Young Indiana Jones ever.
Thankfully, his colon got the same reviews from the doctors as I gave to Simply Irresistible, "flying colors." While I could watch the latter film a million more times, I think I will pass on his seeing his latest movie. It is probably a lot scarier than Saw 3.

---
How will Sean Patrick Flanery have children?
April 11th, 2016 under Sean Patrick Flanery. [ Comments: none ]

Not only is Sean Patrick Flanery an actor, he is also a martial artist. Over the weekend The Boondock Saint decided to go down the stairs in his own special way. The Jean-Claude Van Damme way, as in he did a split down the banister. I think if he does that again, he won't be having an Young Indiana Jones anytime soon or possible ever.
Seriously, you got to admire him for doing that with a smile on his face because most men would have a completely different expression on their faces if they attempted that. One of pain and anguish.

---