Meat Loaf's daughter says that he isn't haunting her…yet
February 15th, 2022 under Meat Loaf/Jim Steinman. [ Comments: none ]
On Saturday, Discovey+ streamed an episode of Ghost Hunters, which turned out to be Meat Loaf's final television appearance. That is because the actor passed away last month.
In honor of the singer being on that episode, his daughter Amanda made a TikTok telling his fans to watch. She also said that he hasn't haunted her…yet.
Since a lot of people didn't understand what Aday meant, she made another video explaining what she was referring to. She said, "Dad and I joked about the idea of him haunting me. Meaning opening doors, turning on taps, knocking on walls. Your general concept of a haunted house. He would become the ghost in my haunted house."
Since his death is still new, I am sure it will take a while for him to haunt her. But I am positive he will do it. And the team from Ghost Busters will come by to film an episode where they get to say hi to their old friend.
When it comes to haunting, just imagine how terrifying and awesome his boos with his vocal range.

---
Meat Loaf's final Ghost Hunters gets an airdate
January 28th, 2022 under DIscovery Networks/Discovery+, Meat Loaf/Jim Steinman. [ Comments: 1 ]
Last week, Meat Loaf passed away after a short undisclosed illness. However, back in September, he filmed his final episode of Ghost Hunters. Today, Discovery+ announced that The Haunted House on the Hill is going to start streaming on February 12th.
This is not Meat's first appearance on the paranormal investigation show. He made his debut in 2009 and has remained friends with Jason Hawes ever since. Because of that friendship, the late Rocker took part in several investigations throughout the years.
For Meat's final investigation, he traveled with the TAPS team to a farmhouse in Tennessee, where rumors of terrifying activity have plagued the property for decades. Now that there are new homeowners who own the residence, they want to reassure the community that their home doesn't harbor any dangerous entities.
Hopefully, Meat and TAPS were able to send the bats out of hell home.
And maybe in a few months, Hawes can find out if Meat is haunting his home.

---
RIP Meat Loaf
January 21st, 2022 under Meat Loaf/Jim Steinman, Obits. [ Comments: 1 ]
Meat Loaf passed away yesterday at the age of 74. His family wrote on Facebook, "Our hearts are broken to announce that the incomparable Meat Loaf passed away tonight surrounded by his wife Deborah, daughters Pearl and Amanda and close friends."
Meat Loaf started his career on the stage in musicals like Hair and The Rocky Horror Show (and its the movie), and then he met Jim Steinman. It was a match made in Rock'n'Roll heaven that created one of the greatest selling albums of all time, Bat Out of Hell.
That album created such Rock Operatic songs like Bat Out of Hell, Paradise in the Dashboard Light, Two of out Three Ain't Bad, and You Took the Words Right Out of My Mouth. It went on to sell over 40 million copies worldwide since its release in 1977.
Meat toured the world with that album, but he was plagued with health issues throughout his career. However, in 1993, Meat and Steinman teamed up for a sequel to the top-selling album and produced hits like I'd Do Anything for Love, Rock'n'Roll Dreams Come True, and Wasted Youth.
Along with recording music and touring, he continued to act in movies and TV shows like Wayne's Worl, Spice World, Fight Club, and Celebrity Apprentice, to name a few.
I can still remember the first time I heard Paradise when I was 12, and it felt like a rite of passage. So much so I ran out and bought the album, and I became a fan who followed him throughout his career. I met him a few times at fan and press events and tried to be cool around a man whose music I admired so much. However, when I saw him in concert, I went wild during Wasted Youth, and he looked at me like I was crazy. A few songs later, he told the audience, after two young girls tried to give him roses, that when he is singing, he can't see or hear anything. That made me feel special. I know, but it did. And that concert remains one of my all-time favorites because he put on a show. I wish I saw him perform live again, but it was not meant to be.
We lost Steinman last April and losing Meat now takes a big chunk out of my formative years. Steinman's lyrics with Meat's voice is what the Gds of Rock'n'Roll dreamt of. And I assume that Steinman wrote Bat Out of Hell IV, so Gd needed Meat up in heaven to record it. And that is why we lost him.
Today, let's remember Meat and belt out one of his tunes because that is the only way to sing time. Even his ballads were full of power! I can't stop screaming (my poor neighbors) Modern Girl. It was one of his smaller hits that was not written by Steinman, but it speaks to me the loudest.

---
RIP Jim Steinman
April 20th, 2021 under Meat Loaf/Jim Steinman, Obits. [ Comments: 1 ]

(This is a playlist of his great words put to music)
Jim Steinman, the greatest lyricist of my lifetime, passed away yesterday at the age of 73, according to Variety.
You might know Jim Steinman's name, his face, or his voice, but you know his words. That is because he wrote the lyrics to at least one song that you have belted out. His stories can be heard in all of the songs on the three Bat out of Hell albums for Meat Loaf, Total Eclipse of the Heart with Bonnie Tyler, two of the Rock ballads for the movie Street of Fire, and It's All Coming Back to Me Now for Celine Dion to name a very few.
When I was in fifth grade, I remember the first time I heard Air Supply's Making Love Out of Nothing At All. I said I want that to be my wedding song. I didn't know what the lyrics meant, but that didn't matter. They touched me, and they still touch me. And I still want that song to my first song at the wedding I am never going to have.
Years later, I would hear the coming of age song Paradise By the Dashboard Light sung by Meat Loaf. I dreamed of losing my virginity to it. I didn't. In fact, I have never sung it in the bedroom. But I have belted it out with plenty of men at bars or in the woods with the help of some alcohol. What woman hasn't asked a man, "Will you love me? Will you love me forever?…"
Then years later, we wanted to know what is that one thing that Steinman and Meat would not for love.
I loved Steinman's words so much; I made them an answering machine greeting. I took Meat's spoken words from the opening of You Took the Words Right Out of My Mouth. He says, "On a hot summer would you offer your throat to the wolf with the red roses?" I said seductively, "Will he leave me a message?" He says, "Yes!" "Will he leave me his name?" "Yes!" "Will he leave me his number?" "Yes! On a hot summer night would you offer your throat to the wolf with the red roses?" "Yes!" "I bet you say that to all the boys!" I did!
He didn't only work with Meat; he also recorded Total Eclipse of the Heart and Holding Out for a Hero with Bonnie Tyler. Let's be honest; we have all sung Total Eclipse of the Heart with passion at least once. It is not an easy song to sing because Steinman wrote Rock Operas with each one of his songs. That is why Celine Dion's It's All Coming Back to Me is her most powerful tune. The movie Streets of Fire was really on fire with his two epic tunes Tonight Is What It Means to Be Young and Nowhere Fast.
You need a voice to sing one of his songs as he intended. It is not an easy thing to do but try today. Let our voices rise him up to heaven. Although, my neighbors have already threatened to call the police if I don't stop singing his songs.
Steinman might not have children, but his songs are his babies, and we can enjoy them forever. So let's enjoy them as they are meant to be enjoyed. However, my cat would like ear pods, so she doesn't have to hear me singing anymore. My neighbors in a four-block radius agree with her.
Thank you, Jim Steinman, for your words. I will always hold them dear to my heart.
If you want to know more about the making of one of the best-selling albums of all time, you can watch the documentary of the making of Bat Out of Hell on Tubi TV. I have had it in my My List for over a year. Today, I am finally watching it.

---
Meat Loaf gives a health update on when he will be back on the road
August 23rd, 2019 under Meat Loaf/Jim Steinman. [ Comments: none ]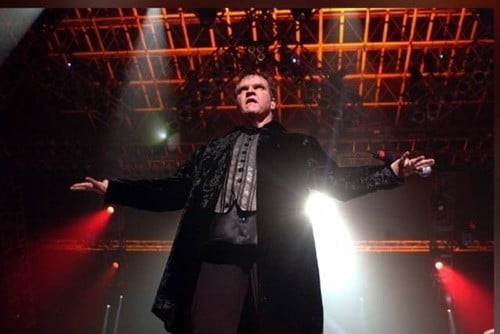 It has not been a good few years for Meat Loaf's health. The singer has had four surgeries to repair his back. Just when he was getting better, he fell off a stage in May and broke his collarbone and sternum (I broke both of those at different times and they take a while to heal. The latter never stops hurting). That fall was much worse than we knew and he revealed how bad it was in a lengthy Facebook post yesterday.
To all would who care and like to know . I am hoping that I will start doing some shows this year , some storytellers type shows not too many though . When I fell in Dallas on May 4th and Fractured my collarbone and my sternum that really sit my recovery from 4 back surgeries in a bad place . I spent 31 days in the hospital because of that fall . Why, a sternum injury I guess is very dangerous . I went to the "Bat Musical " the other night and came on stage for a couple of Minutes , and got the audience to sing " Took the words " . I sang a little . My back after 4 surgeries is getting better but not there yet . My voice is great getting all the music together for the next record…
I had dinner with Paul and Randy Twice last week . We will do shows again and we will record again . It would have been sooner but the fall in Dallas cost me 6 months with my recovery . So I have to come up with a theme for the album , now it requires coming up with the songs that fit the emotional theme for the album . I never just put together songs and record them , they have to fit the theme . So "13 Roads to Bat " has a theme and each road on the cover will represent them , like Forgiveness , Truth , Denial , Deception , Love , Hate and etc . So now if any of you would like to help name the roads that would be great . If you live in Australia all the better . The last album was just to complicated for people , and I never had the chance to tour it or do press about the Album . I am not kidding you Jim thought it was our best album we had ever done , now a lot you are scratching your head going… WHAT !!! that's ok ! All
the characters I developed for each song were 19 year old Serial Killers . Unlike all the records before the characters I developed used my voice to sing the songs . The last record I wanted them to use there voice to sing the songs , I know too extreme . Ok, sum up, give me some Road names , watch for Shows later this year , not very many , but we will be out there . Love you all and this proves why a tribal Leader in Oklahoma gave the tribal name of "Never shuts up "
Meat
PS How about giving me some likes all of you that read this all I am getting now is unlikes since the beginning of the year . I may paranoid but it fells like FACE BOOK is doing it on purpose ??????? !!!!!!! Love Ya !
So far I have seen some really great road names , I knew all brains could come up with great names .
Oh , one more thing I lost 70 pounds but gained ten back . So it's 60 pounds .
Meat is like a bat out of Hell and I am sure he will be on the road again before we know it. If you have never seen him live, make sure to get tickets. He puts on one of the best concerts I have ever seen. Now, that he is svelte, I am sure he will put on an even bigger show. I can't wait to see skinny Meat. You can say he lost the Loaf. That was bad!

---