Sarah Hyland shows people why you don't brush dry curly hair
September 27th, 2020 under Sarah Hyland. [ Comments: none ]

I have long, thick curly hair, so I never brush it outside of the shower. Why? Take a look at Sarah Hyland's hair after she did just that. It is as big as the petite actress.

Thankfully, as soon as she washes her locks, the curls will be back, and the mane will be tamed.

---
Celebrity Game Face leaves four couples with more than egg on their faces
July 1st, 2020 under E!, Kevin Hart, Sarah Hyland, Terry Crews. [ Comments: none ]

This Monday at 10p on E!, four celebrity couples are going to go face to face on Celebrity Game Face. Kevin and Eniko Hart, Terry and Rebecca King Crews, Sarah Hyland and her fiancé Wells Adams, and Joel and Sarah McHale will all play the games from the comfort of their own homes, and that is the only thing that is comfortable for them.
The four couples will compete in several embarrassing challenges for a good cause. At the end of the night, a charity of their choice will be a little richer thanks to them. One couple even wins the coveted Hart of a Champion trophy, which is a gold statue of baby Kevin Hart. I am assuming it is the same size as he is now.
Before a winner is named, they are going to play several games and diss each other throughout the night. That should be a lot of fun. I wouldn't be surprised if Adams, the Bachelor's bartender, wins it all like he won Worst Cooks In America: Celebrity Edition. He is funnier than you think. However, is he funnier than the two comedians and a comedic actor? We will find out on Monday.
Hopefully, if it does well, E! will pick up as a series. Who doesn't like watching celebrities make fools of themselves? I know I do!

---
Sarah Hyland goes Ariel red
May 19th, 2020 under Sarah Hyland. [ Comments: none ]

Not only is Sarah Hyland stuck at home because of the coronavirus pandemic, but she is also out of a job because Modern Family ended. Therefore, she decided to change up her hair color.

Gone are her dark brown locks, and hello is Ariel red. Why did she pick this #QuaranTINT? The actress says, "I wanna be where the people are…"

Does her new look make you want to kiss the girl, or do you think she looks like a poor unfortunate soul? I think Prince Eric would be willing to go under the sea with her. Just don't tell her fiance' Weels Adams.

---
Wells Adams can't wait to hug someone other than Sarah Hyland
May 13th, 2020 under Sarah Hyland. [ Comments: none ]

Us Weekly sat down with Wells Adams to see how he is doing the Coronavirus quarantine. He seems to be handling it well. By well, I mean binging a lot of bad television shows like Outerbanks and Too Hot to Handle.
Talking about too hot to handle, is he getting cold on handling Sarah Hyland? When he was asked what is the first thing he is going to do after quarantine? He said one of the first things he wants to do is, "hug somebody that's not my dog or my fiancée." What does it mean he put the dog first?
Before we give him too much slack, let's be honest, we all feel that way. It is not that we don't love the person we are staying home with but after two months, we would like our chests to feel someone else's chest. Anybody else's chest.
When it comes to chests, he better have a chest full of cash saved up for their wedding because he fiancee has been going through the bridal magazines to plan for their big day.

---
Sarah Hyland is having a bad hair day
December 4th, 2019 under Bad Hair, Sarah Hyland. [ Comments: none ]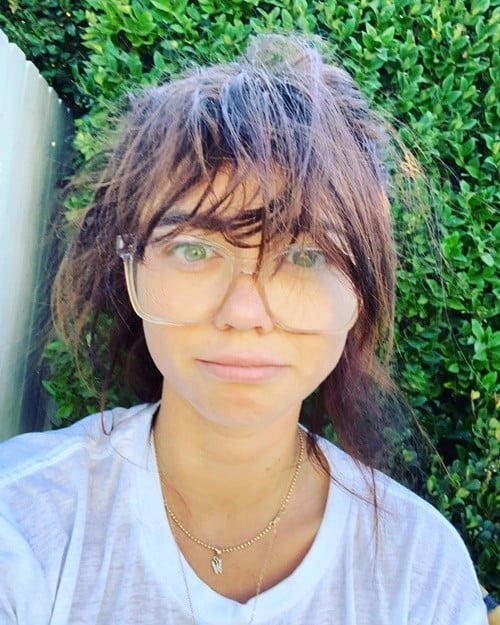 Sarah Hyland has naturally curly hair that she straightens for work. However, I don't know what I would call this hairdo besides a hairdon't.
In her defense, we all have bad hair days. It is just no one cares when we do. Nor do we look as good.

---