Ariel Winter calls out her TV family for not inviting to their picnic
June 24th, 2021 under Ariel Winter, Modern Family, Sarah Hyland. [ Comments: none ]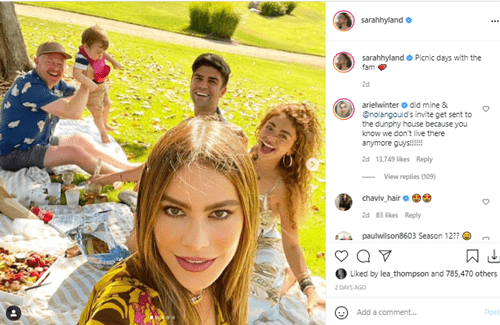 Over the weekend, Jesse Tyler Ferguson, Sofia Vergara, and Sarah Hyland all got together for a picnic. Where were the other cast members from Modern Family?
It seems like we got an answer. Ariel Winter posted this comment to her TV sister, "did mine & @nolangould's invite get sent to the dunphy house because you know we don't live there anymore guys!!!!!!" Me and ow.
It sounds like we are not going to have a friendly reunion with this cast anytime soon.

---
Ariel Winter sliced off the top of her thumb by accident
May 7th, 2020 under Ariel Winter. [ Comments: none ]

Since we can't dine out like we used to, we have been forced to cook for ourselves. Ariel Winter is just like us, so she decided to try to cook a Greek meal because that is her heritage.
She told Access Hollywood how making a simple meal went oh so wrong. While she was cutting up a peeled tomato, she wound up cutting something else. That something else was the tip of her thumb. She was talking to her boyfriend while using a new knife, not really paying attention to what she was doing, and watched as her thumb got a little shorter. Since the actress cut an artery, she was bleeding profusely. Thus, her boyfriend grabbed the tip and took them both to the hospital.
When they got there, he gave the nurse the severed fingertip. The nurse returned it to the couple in a plastic bag. They didn't know that, and she accidentally threw out the blood-soaked bag. When they realized what they had done, they went back to get it.
Now, she can laugh about what happened, back then, not so much.
No word if she will ever try to make a Greek dish again. I wouldn't if I was her.

---
Burt Reynolds is The Last Movie Star
February 16th, 2018 under Ariel Winter, Burt Reynolds. [ Comments: none ]

Remember a few years ago when Ariel Winter shot a movie with Burt Reynolds? Well that film, The Last Movie Star, finally got a trailer. It is really going to bring them in for the matinee shows starting on March 28th. As in, it is a good feature for the older audiences. Them and me because I actually want to see it. It is a good film to watch on a rainy day.

---
Ariel Winter is the lady in red!
October 17th, 2017 under Ariel Winter. [ Comments: none ]

Ariel Winter posed on the cover of Lapalme Magazine in a low cut maroon couture gown, and she was barely recognizable. Had it not been for her cleavage, I would not have known it was her. You know, since we are used to seeing her chest as much as her face these days.

Don't get me wrong, I think she looks gorgeous here. She just does not look like the Alex we are used to on Modern Family.

---
Ariel Winter talks about her why we always see her underbutt in shorts
September 5th, 2017 under Ariel Winter. [ Comments: none ]

Whenever Ariel Winter wears shorts, we can see her underbutt. I am sure you thought that was just her trying to show it off, butt we are wrong. She took to Twitter to explain why her Daisy Dukes show off her petals, "I literally do not try and show my ass when I wear shorts…my ass just eats them up and then I don't notice…awkward af."
There is a simple solution to her problem, wear longer shorts. An inch or two would make a huge difference. But hey she is happy with her body, so let her do what she wants.

---